"Never discuss religion, politics or money in polite company." Maybe that makes for polite etiquette, but not talking about money with your kids is doing them a HUGE disservice. If they can count, than it's time to start teaching money, its value and how to be financially savvy for life. Here are 20+ fun kids activities to play and learn with coins.
---
Teaching Money to Kids of All Ages
Coins make for an affordable and simple math manipulative, and provide for an unending number of ways for your kids to learn about money through hands-on play. Check out these 20+ kids activities that go beyond just counting coins to introduce your little learners to money, its value, saving, science, global geography and more.
Learning through Play with Coins
At the most basic level of teaching money to kids is helping them identify different coins. Start with simply sorting spare change. Check out all the different ways to learn about money just through this simple Money Sorting activity from What We Do All Day. You can also use a Coin Sorting Tray as demonstrated on Mama Papa Bubba.
Use coins as manipulatives for Fine Motor play. This set-up from Best Toys 4 Toddlers is super simple.
Add a fun early literacy skill twist with this fun idea and printable from Buggy and Buddy to sort coins with beginning letters sounds.
This set of play money includes actual-size bills and accurately detailed coins. Childr… [More]

Price: $9.99

Talking cash register brings money math to life! Students can practice coin identificat… [More]

Price: $54.99

Teach kids the importance of money recognition; adding and making correct change throug… [More]

Price: $29.99
Teaching Money – Learning Monetary Value
Once your children can identify and decipher between different coins, you can start to work on understanding that each coin carries a specific value. For preschoolers, these fun and free printable coin poems from Buggy and Buddy will help reinforce your child's ability to identify each coin, and teaching them how much each coin is worth. My absolute favorite teaching money printable ever is this one that visually depicts the value of a dollar from Carrots are Orange.
You can also reinforce coin recognition and value with this simple piggy bank printable (FREE) from Totschooling. Once your preschooler or kindergartener has mastered coin recognition, they may be ready to play some games with money. Start with this free printable Money Matching game from Life Over C's. A variation on Memory Games, players have to count coins on cards and match them to cards depicting their value.
Another way to explore monetary value is demonstrating how to exchange money for goods and making change. These 5 STEAM activities for preschoolers with bubble gum balls does both of those at the simplest of levels for your little learner, with a super fun picture book to reinforce the message too!
For older kids, try Money Battleship. This fun game tests coin recognition, value and adds some basic addition to the mix. Learn all the options for play and how to set-it up from School Time Snippets. Further emphasize the value of money with this simple STEM challenge from You've Got this Math. Can you build a bridge on budget? All you need is spare change, LEGO blocks, and their free printable challenges.
Science Experiments with Coins
Teaching money can go far beyond just coin recognition and the value of coins. The real fun stuff happens by doing science experiments with coins. Just like they make for an abundant and readily available math manipulative, they also make for an easily accessible science material and source of metal!
For a very basic preschool STEM activity with coins, that tests both surface tension and fine motor skills, try Drops on a Coin. It will keep them entertained forever, with little mess, minimal materials and a fun free printable to track results individually or as a group.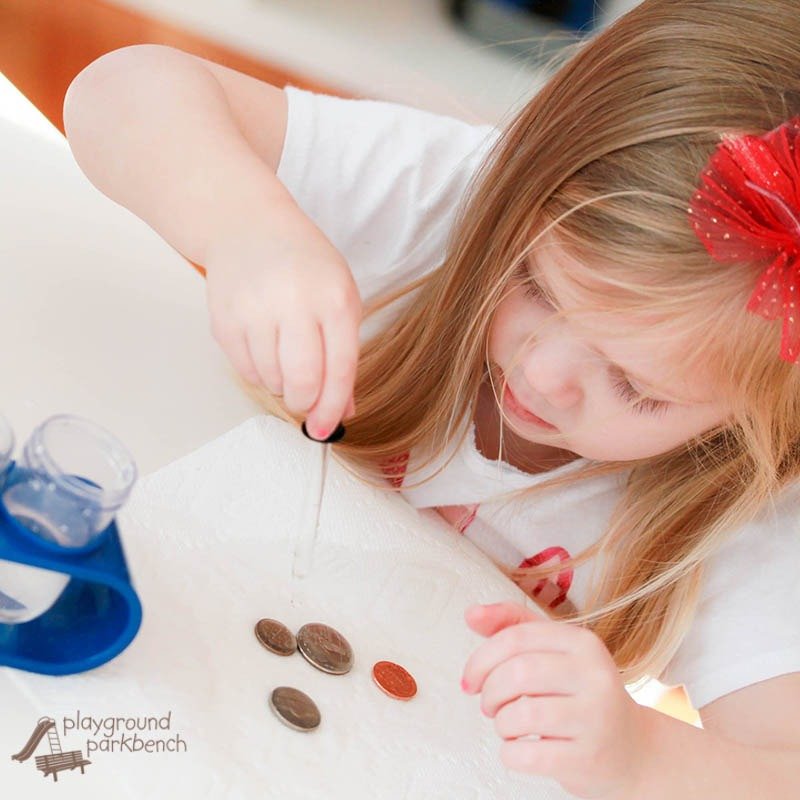 Another quick STEM activity for preschool involves a little more chemistry – Clean Coins! Your little scientist will be wowed and eager to determine what liquid makes their coins shiny and new again.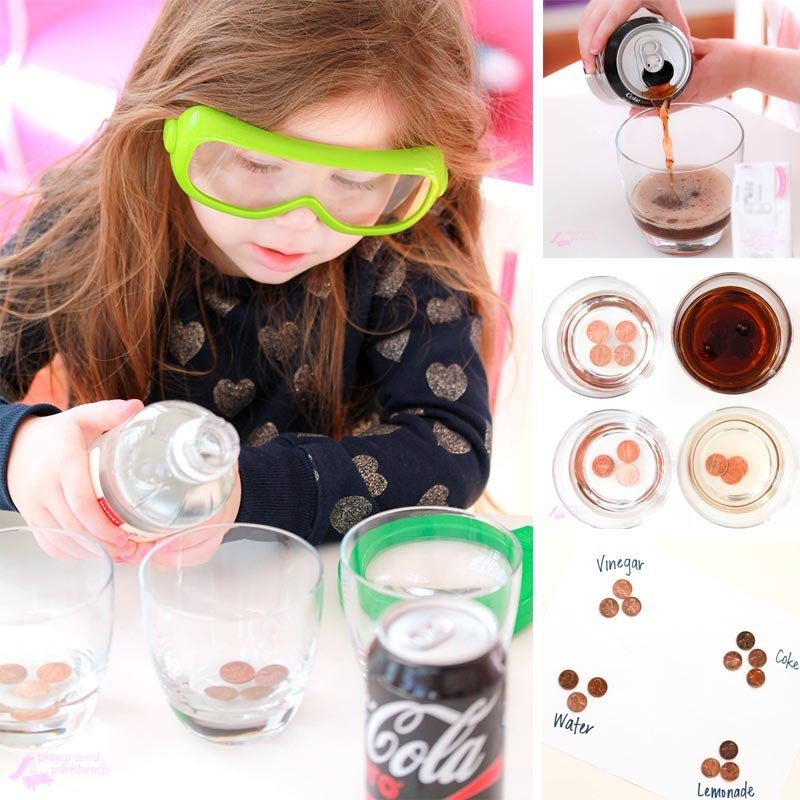 Did you know that not all coins are made the same? Over the years, our Treasury has changed their metal make-up. Test their metal and learn the history and value of the penny with some cool science for kids.
For some more fun exploring pennies and their metal make-up, try to make Green Pennies! It will explain why the copper Statue of Liberty is green too.
Saving and Financial Savvy for Kids
The ultimate goal in teaching money to your kids from a young age is establishing financial savvy for life. The earlier you start saving, the more it pays off – thanks to the magic of compounding. Make sure your kids have their own piggy banks – you can even make a DIY piggy bank out of a mason jar.
Or use multiple jars to teach kids about money, and how to spend, give and save, like this simple set-up from Mess for Less. A great way to encourage giving back while teaching your kids about money is to hold a Coin Wars fundraiser at your school – there's no cost, and you'll be amazed how much money you can raise with spare change!
Explore Geography, History and Culture
Take it beyond math and science, and use coins to explore geography, history and even culture! If you have lots of 'funny money' from international travels, you can use your coins to explore the world and learn a geography. Grab your free printable world map from Mama Smiles, or for older kids, download this printable Currency Collections page set from Rainy Day Mum to document currency from different countries, its name, and exchange rate.
I also absolutely love this idea from Schooling a Monkey to Design Your Own Coins! Learn about why coins look like they do, how their value is determined and some fun historical facts about coin design… then make your own.
Make a game of geography. Kids can toss this globe and identify continents; countries; … [More]

Price: $7.99

Spin your way into geography with this Puzzle Globe; which highlights landmarks and ani… [More]

Price: $29.99

Bring the whole world to any room in the house! This huge; vinyl floor mat is sure to g… [More]

Price: $36.99
---
At what age did you start teaching money and financial lessons to your kids? What is your favorite activity to teach them about the value of money? You can find all of these and more on our STEM for Kids – Math and Science boards. Be sure to save this list for reference as you begin your teaching money journey with your family.
Love it? PIN THIS!