I received a complementary copy of The Bubble Gum Girl to facilitate this post. As always, opinions remain 100% my own.
If your girls are fans of Pinkalicious and Lady Bug Girl, they are going to love The Bubble Gum Girl
.  Katie, the real-life Bubble Gum Girl, empties all the money in her piggy bank to buy as many pieces of bubble gum as she can, beginning quite an adventure. And inspiring an afternoon of hands-on learning with bubble gum with these 5 simple STEAM activities for preschoolers. See them all and enter to win an autographed copy of your very own at the end of this post.
---
STEAM Fun with The Bubble Gum Girl
As mother to two young girls, I go out of my way to find books for them to read with adventurous, female heroines – more than just damsel in distress, princess marries her prince type stories. Fortunately, thanks to great new authors like Jim O'Brien, there are awesome options out there today. The Bubble Gum Girl
tells the story of a little girl, Katie, inspired by Jim's own daughter, who empties her entire piggy bank to buy as much bubble gum as she can. She wants to make it last, but her willpower fails her. As she eats more and more of the "soft, sweet and oh so delicious" Super Sugar Mega Bubble bubble gum, she gets carried away on quite the adventure.
Armed with the girls new favorite bedtime story and a $3 bag of giant assorted gumballs
, Katie and her bubble gum adventures inspired some hands on learning with these 5 STEAM activities for preschool.
5 STEAM Activities for Preschoolers
You may have heard your child's teacher use the term STEM – science, technology, engineering and math. More frequently today, STEM also includes Art, creating STEAM. In today's modern world of cutting edge innovation, design and aesthetics matter as much as the engineered parts inside (think iPhones). Introducing STEAM content at an early age, lays the groundwork for the next generation of creators and innovators.
With our giant, colored gumballs, we undertook 5 simple STEAM activities:
Sorting
Counting
Introduction to Value of Money
Patterning
Create or construct
Sorting with Gumballs
My 3 year old kicked things off by sorting the gumballs by color.  This is one of her favorite activities, and an innate ability in young children.  Their little brains are pre-wired to observe and discern differences.  It is also one of the earliest math skills you can reinforce in little learners. And you can do it with any number of math manipulatives, or we love doing it seasonally with our favorite candy or craft supplies!
The gumballs were the perfect size for these fun pincher tweezers from the Learning Resources Fine Motor Set
too, adding a fine motor skill challenge to the mix!
Counting with Gumballs
With my 4 year old, we did a few more advanced math activities. We retold the story in our own words, and recalled Katie purchased 25 gumballs. She searched for the part of the story to confirm this fact, and then counted out 25 gumballs of her own.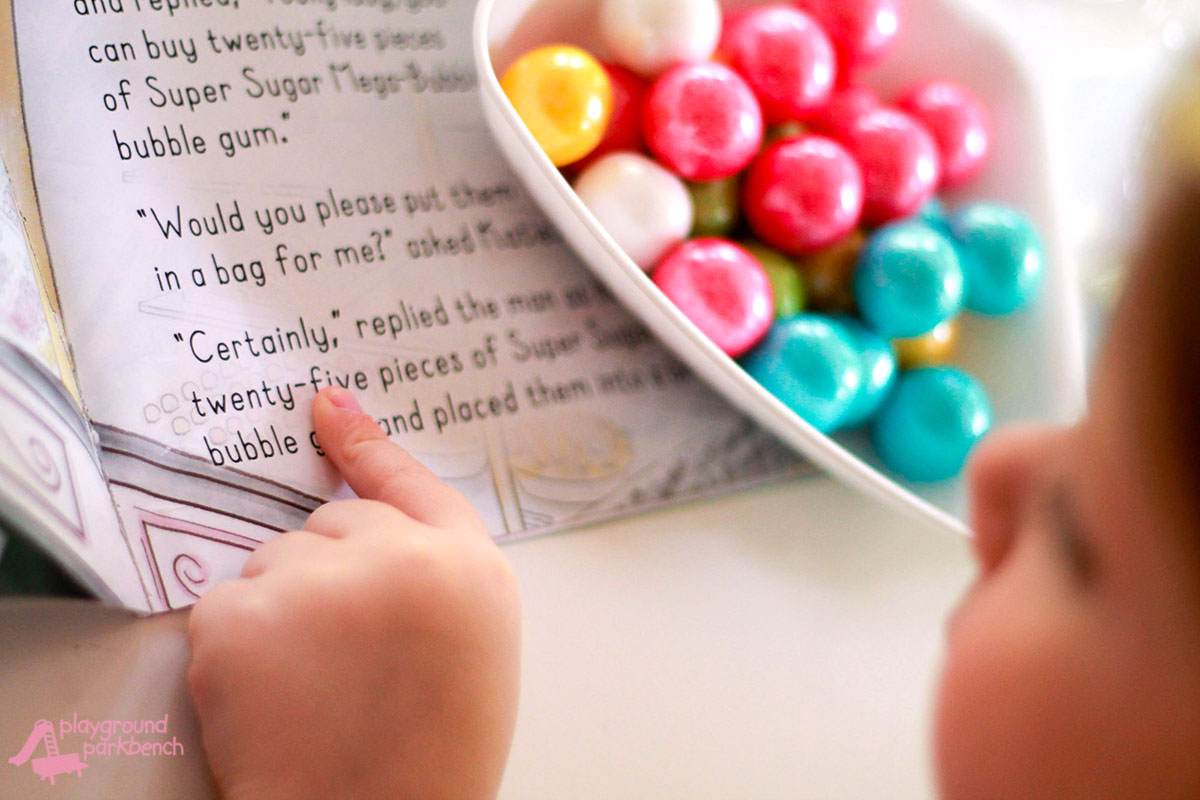 Early preschoolers (2-3 year olds) should be able to count to 10. Once they have mastered that, they should work on counting to 20. Once they have achieved that, counting to 100 (typically mastered in kindergarten) becomes fairly easy once they recognize the pattern. One-to-one correspondence – being able to count out a select number of objects and recognizing vs. just reciting a list of numbers is the next step in counting.
The Value of Money
Children are never too young to understand money has value. This was our first foray into learning how much each coin is worth. Again, we recalled the part of the story where Katie empties her entire piggy bank to buy her gumballs. If gumballs cost one penny each, how many gumballs can you buy with 3 pennies?
My 4 year old quickly grasped the idea that one penny equaled one gumball. The next step, that one nickel equaled 5 pennies was a little harder to grasp. In her mind all coins were equal, and she wanted to award gumballs on a one for one coin basis. So we went back to gumballs. 5 pennies, 5 gumballs… but you could also buy 5 gumballs with one nickel. What if you have 2 nickels? Suddenly, it clicked – equating the money to objects helped her and she quickly added 5 more gumballs.
To help reinforce this concept, we went back to the 25 gumballs. She counted out 25 pennies to buy the 25 gumballs. Then, we stacked them in piles of 5, and traded them for nickels. I then showed her how 10 pennies and 2 nickels were the same as a dime, and all 25 pennies was the same as a quarter.  She was definitely intrigued, but it's definitely something we will continue to work on.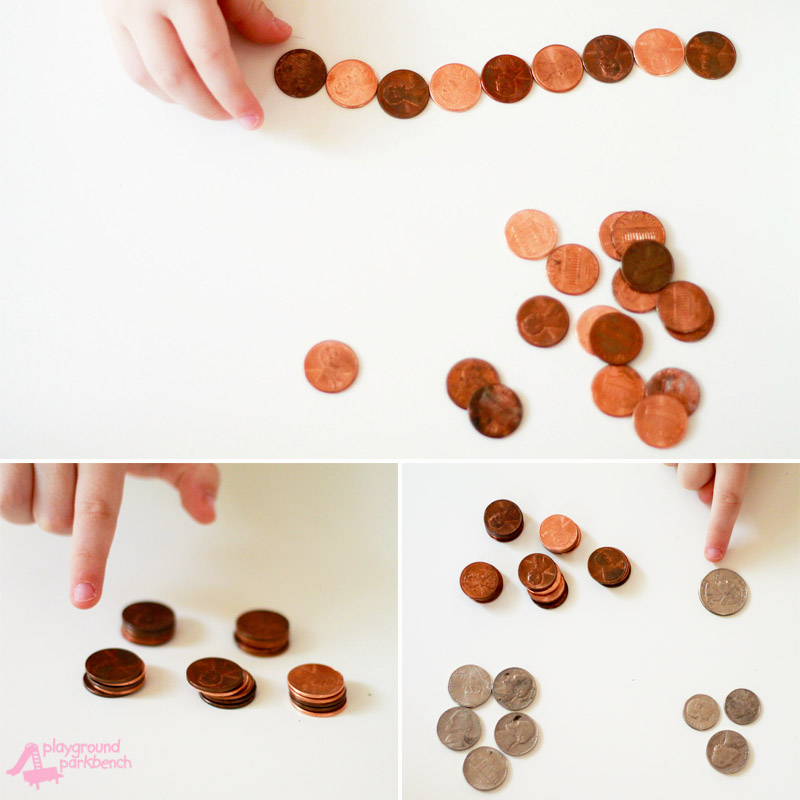 Patterning with Gumballs
After the money brain buster, we went back to something she was more comfortable and familiar with – patterning. Recognizing patterns is a natural next step from sorting, and little kids are also hardwired to recognize patterns in the world around them, an ability that is regularly used in both mathematics and science.

Create or Construct
After making several patterns, she picked one she liked best and we turned it into a necklace! We strung the gumballs on fine gauge yarn
using a darning needle
. It was definitely a little tough to poke the initial holes through the gumballs, so I helped out with that. I would recommend making the holes first, then letting your child string the gumballs with a darning needle on the yarn.
You could also poke holes and let them explore a little engineering with gumballs, constructing with gumballs and toothpicks. Build up from a styrofoam sheet
base, and see how high they can build their gumball tower. We previously did a similar STEM challenge with marshmallows.
Learn More about The Bubble Gum Girl
Want to learn more about The Bubble Gum Girl and its author, Jim O'Brien? Visit The Bubble Gum Girl online, Facebook, and follow the author on Instagram! Learn how the story went from his daughter's favorite bedtime story to published book. Purchase a copy from The Bubble Gum Girl (free shipping through 9/30/2016), or enter to win an autographed copy of your very own below!
A Year's Worth of STEAM Activities for Preschoolers
Want more ideas for encouraging your little innovator? Check out STEAM Kids, an amazing ebook featuring more than 50 STEAM activities perfect for kids ages 3 and up. Get yours today!
---
And of course no bubble gum activity session would be complete, without tasting and trying to blow some bubbles of our very own!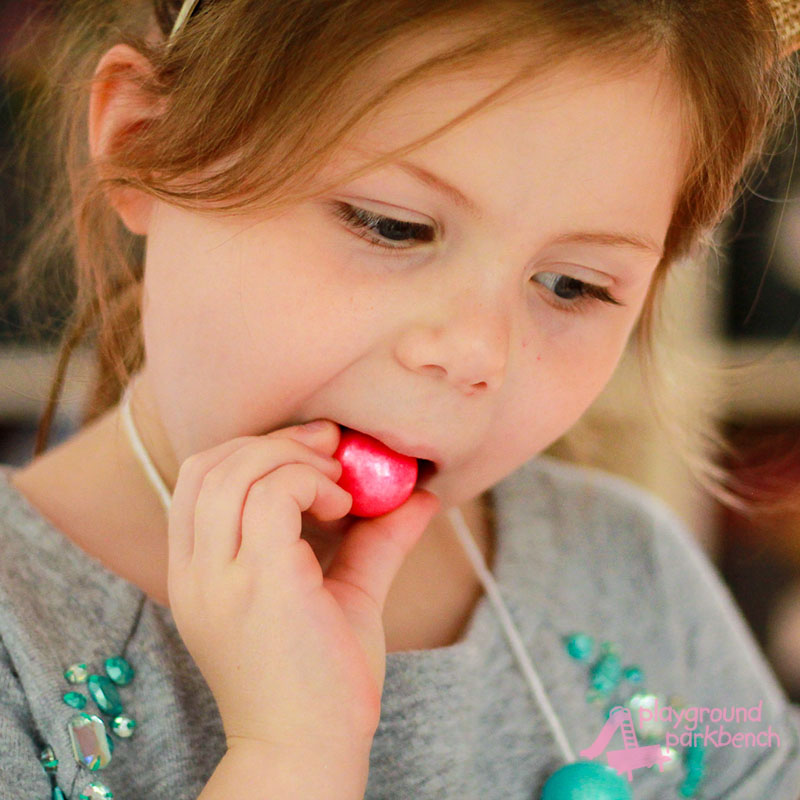 For more fun book-inspired activities for kids, explore a little history with this engineering challenge, Build a Bridge for 21 Elephants, or take inspiration from the the famous Russian artist Kandinsky and Elmer! You can find all of these and more awesome book-inspired learning activities for kids on our Read! Read! Read! board on Pinterest.
Love it? PIN THIS!