My dear friend Beth, at Days with Grey, sent me complimentary sets of her Kindergarten Readiness Activities on Cards for Preschoolers, Breakfast Invitation Activity Cards and Preschool Alphabet Activity Cards to facilitate this post. Learn more about these activity card sets, and how to get your own below. As always, opinions remain 100% my own.
Among my fellow preschool parents, the most common topic of discussion is whether or not our kids are ready for kindergarten. When weighing whether or not to send my oldest to kindergarten, my mom, a retired kindergarten teacher, helped me put together this printable kindergarten readiness checklist for parents.
And while that lists the skills your child needs, what if your child doesn't have those skills yet? How can you help them develop those skills at home? That's where Beth's Kindergarten Readiness Activities on Cards come into play!
---
How would you like to drink your coffee hot every morning?
Beth is a former kindergarten teacher turned stay-at-home mom with 3 boys. She started sharing the simple kindergarten readiness activities she did each morning with them at home on Instagram, coining them Breakfast Invitations. The ideas are simple, can be set up in seconds to minutes before you go to bed at night or before you wake up the kids in the morning. You get the kids started, and then leave them to play and develop their skills, while you enjoy your coffee hot and get the morning started uninterrupted.
Her following has grown rapidly, because she not only shares simple activities anyone can do with their kids – but she uses her background as a former kindergarten teacher to share the why behind each one too.
Example of a Breakfast Invitation Activity
I put Beth's Breakfast Invitation Activity Cards to the test with my 2.5 year old. I chose Primary Color Sort, and had it set up in seconds. I put down 3 sheets of primary colored paper, and I even outsourced the object gathering to my 4 year old. She carried over red, blue and yellow toys, while my 2.5 year old sorted them to the right color paper.
I deployed this activity while I prepped their lunch. They sorted and classified toys by primary color for a good 20 minutes, with the endless supply of objects available in our playroom. I returned to the playroom with lunch ready to go and used the language Beth provides on the back of each activity card to reinforce their learning. We talked about how they SORTED and CLASSIFIED by color, and then we counted the objects, and my 4 year old could identify which group had MORE or LESS.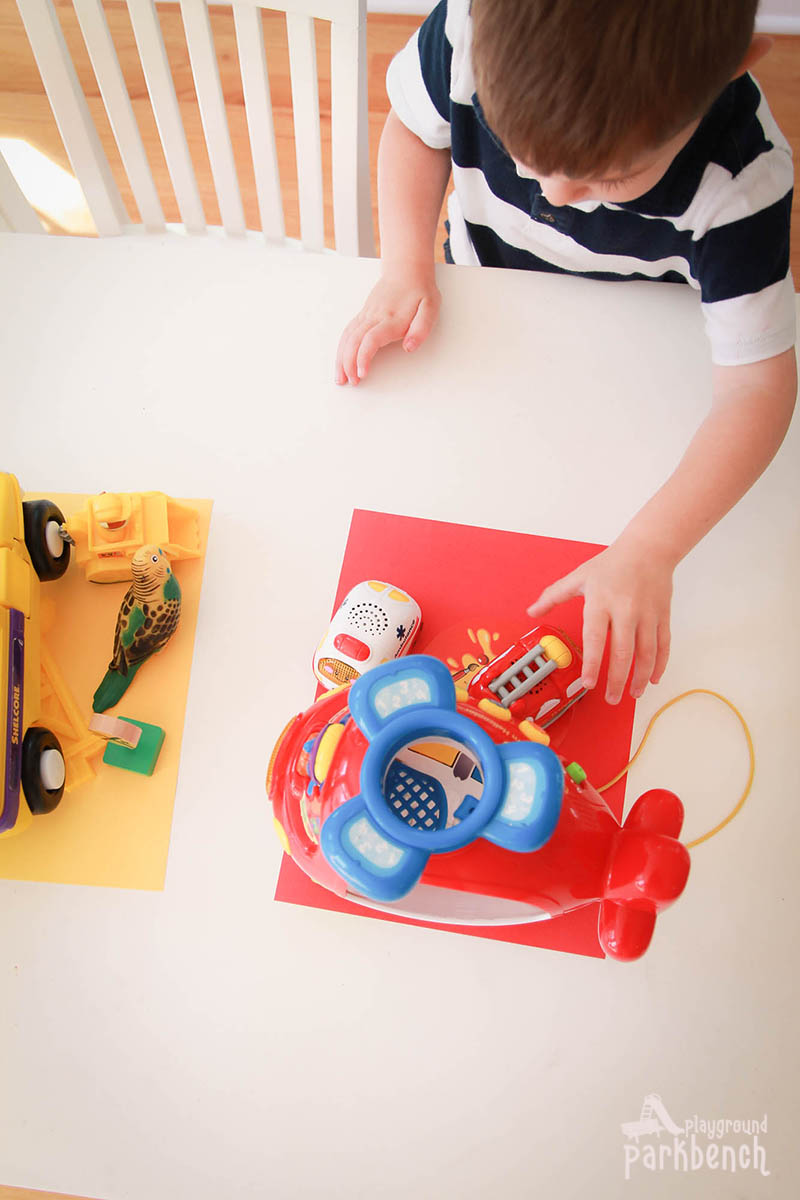 All of these are reinforcing skills your child will need for kindergarten readiness: sorting, comparing object attributes, describing differences and comparing numbers using more than and less than language. Don't worry if you aren't an early childhood expert – Beth gives you all this information on the back of each activity card.
20+ Kindergarten Readiness Activities in a Set
The Breakfast Invitation Activity Cards feature 20 different simple activities just like the one above. She also has a set of Preschool Alphabet Activity Cards, featuring two activities for every letter of the alphabet, for 50 kindergarten readiness activities. Both sets of cards come printed on high-quality cardstock, with options to have them punched and ringed together, as well as adorable custom carrier bags you can add to your cart too. The Breakfast Invitation Activity Cards also come in a digital version, so you can save and easily access kindergarten readiness activities from your phone any time.
Visit Days with Grey's store to purchase your kindergarten readiness activity cards today!
---
Is your preschooler ready for kindergarten? Before you send them off to their first day, be sure to read my 10 tips for parents before the first day of kindergarten! For more awesome kindergarten readiness activities, be sure to follow my Preschool and Kindergarten boards on Pinterest.
Love it? PIN THIS!