Channel your child's enthusiasm for the night sky with these 30+ learning through play, constellation activities for kids.
"Mommy, look – I see stars!" There's something truly magical to kids about the night sky. Maybe it's because they aren't often out after dark. Or maybe it's because the night sky and the patterns of the stars have mystified humans for centuries. If your kids are interested in learning about space and stars, these 30+ constellation activities for kids will have them learning and entertained for days.
---
30+ Constellation Activities for Kids to Explore the Night Sky
Want to help your kids explore the night sky? These 30+ constellation activities for kids are designed to let your future astronauts touch, feel, create and learn about stars, space and constellations through hands-on play. These are a great addition to our Studying the Stars series. If you would like children's books to complement your study, be sure to check out these 12 Books About Stars, perfect for your little stargazers.
20+ Ways to Make Your Own Constellations
For centuries, we have stared up at the night sky and seen pictures in the stars. There are 88 officially recognized constellations, 48 of which were known and named by the Ancient Greeks and Babylonians. These star formations are the perfect inspiration for kids to make their own – whether replicating known constellations or inventing ones of their own imagination.
DIY Constellation Viewers
First, since kids are often asleep during peak stargazing hours, you can make your own constellation viewers they can use to see star formations in the middle of the day.  Whether you want to project them on the wall or see them through a telescope (aka cardboard tube), both options can be found below.
DIY Constellation Projector  with FREE Printable Templates | Playground Parkbench
DIY Telescope | Highlights
DIY Constellation Flashlight | Handmade Charlotte
Constellation Art Activities for Kids
The beauty of the night sky is the perfect inspiration for kids to create their own art. How do I differentiate between ART and CRAFT? These Art constellation activities for kids are all about the process – with unique end results for every child.
Starry Night Sky Art Project for Kids | Buggy and Buddy
Invitation to Paint the Night Sky | Munchkins and Moms
Gorgeous Sticker Resist Starry Night Cards | The Artful Parent
Constellation Art with Rocks and Sidewalk Chalk | Creekside Learning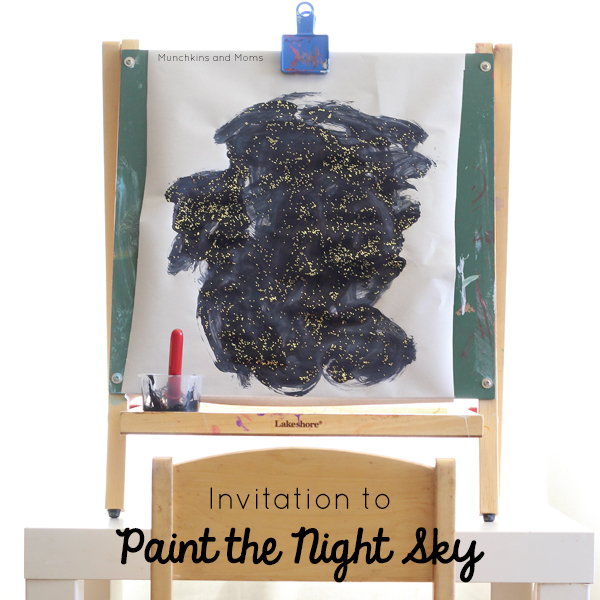 Constellation Crafts for Kids
Unlike the constellation art activities above, these constellation activities for kids have a more specific end result. Many make awesome room decor, perfect for the little stargazer in your life.
Space Rocks Fridge Magnets | Adventure In A Box
Mini Constellation Jar | Kiwi Co
DIY Constellation Coasters | Assemble
Hanging Glow in the Dark Star Constellation Craft | A Little Pinch of Perfect
Starlit Night In A Cup | To Be A Kid Again
Constellation Craft for Kids | Gift of Curiosity
Learning About Constellations Crafts and Activities | Artsy Momma
Fine Motor Challenges with Constellations
Laying out stars and connecting them to create recognizeable star formations is an awesome fine motor activity for kids. The older the kids, the smaller the stars you can use. Take your pick from the challenges below – there are even a few edible options that can double as fine motor play and snack!
Pipe Cleaner Constellations | 123 Homeschool 4 Me
Constellation Geoboards – For Elementary-Aged Kids| Babble Dabble Do
Geoboard Constellation Activity – For Preschool & Kinder Kids | Schooltime Snippets
Marshmallow Constellations | Munchkins and Moms
Constellation Fruit Gummies | Left Brain Craft Brain
Connecting DIY Star Magnets | Lalymom
Sticky Constellations – Perfect for Toddlers | And Next Comes L
Constellation Lacing Cards | The Idea Room
Candy Constellation Game | Handmade Charlotte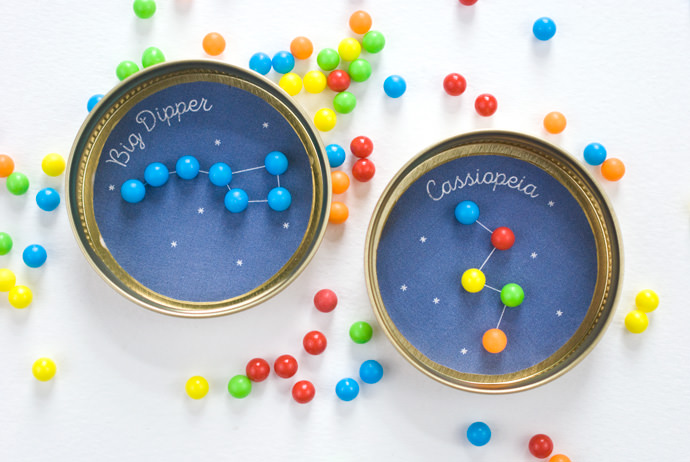 Constellation Inspired Learning Activities for Kids
Beyond just making constellations, there are lots of awesome ways to use star formations for even more literacy and STEAM learning – from exploring electricity with magnetic lights to learning more about the myths and stories behind the constellations and their names.
Make Constellations Using DIY Magnetic Lights | Buggy and Buddy
Night Sky Felt Play and Math Games | Fantastic Fun and Learning
Fun Science Experiment with Fizzy Stars | Fun A Day
N is for Night Sky Letter Recognition Activities | Fantastic Fun and Learning
Constellation Cards and Myths for Kids | How Wee Learn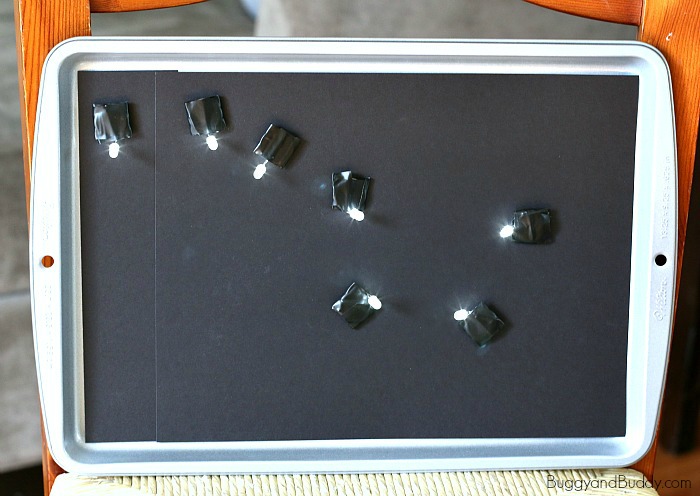 Hands-On Sensory Constellation Activities for Kids
Last but not least, the youngest of learners will love these sensory play constellation activities for kids – that let them touch and manipulate the stars to their little hearts content. These sensory activities make great brain breaks for older kids too.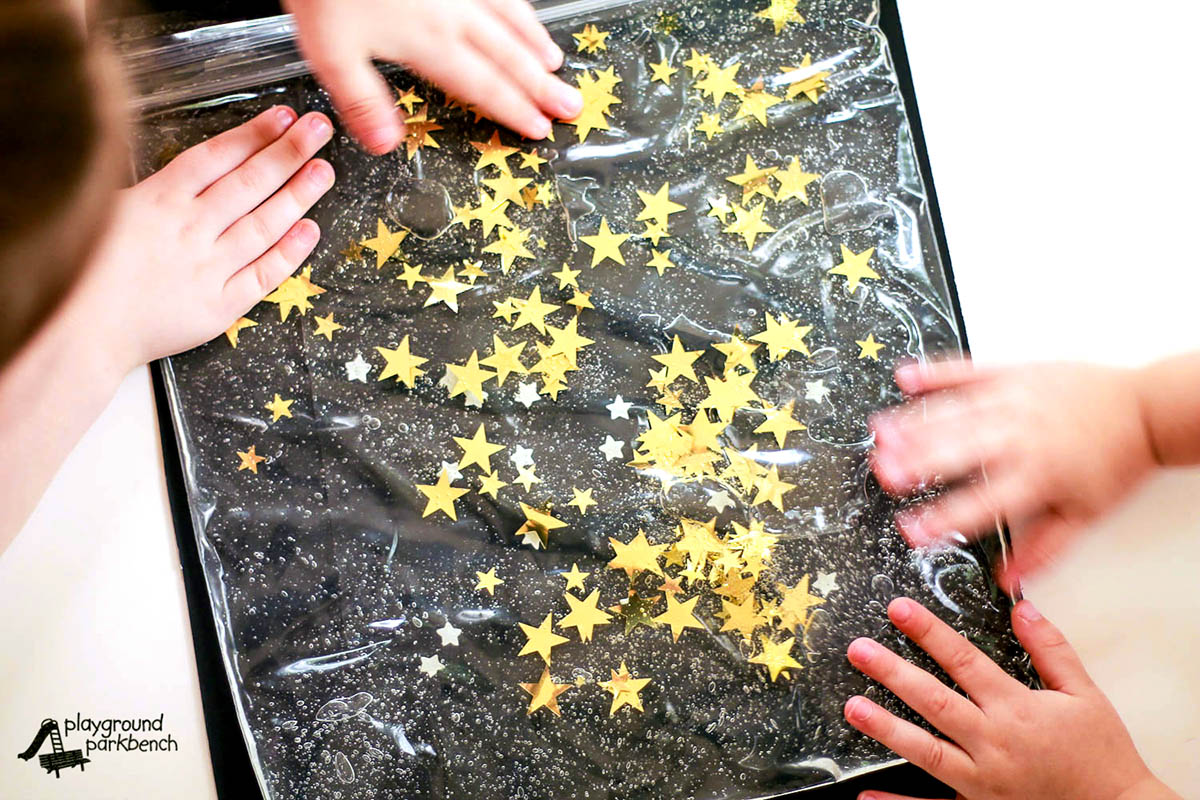 Starry Night Sensory Bag | Playground Parkbench
Star Gazing Discovery Bottles | Playground Parkbench on Pre-K Pages
Galaxy Slime | Twodaloo
Glow in the Dark Solar System Sensory Play | Playground Parkbench
Starry Night Sky Slime | The Kindergarten Connection
Stretchy Night Sky Playdough | Twodaloo
Everything You Need for Constellation Activities for Kids
The list below covers our favorite supplies and resources for constellation activities for kids for your convenience. Find all our favorite books about stars for kids here. Happy star gazing!
---
What is your favorite constellation to search for in the night sky? For more awesome Space and Constellation Activities for Kids, be sure to check out our complete Studying the Stars series.
Love it? PIN THIS!