A few years ago, inspiration struck in the form of mini red Solo cups and fond memories of my college drinking days… and the festive holiday party games for kids – Jingle Bell Toss – was born. Would you believe I was actually hesitant to hit publish on the post? It's since been shared more than 100,000 times, and featured by Good Housekeeping and Country Living, among many others. But the question I get more than any other? How do you play Jingle Bell Toss? So for those who's college days may be a little hazy, here's how we like to play…
---
How to Play Jingle Bell Toss
To be honest, while playing with the kids at home as toddlers, at first we had no official rules beyond "Don't throw jingle bells at each other." As they have gotten older and better understand how to play games (and for all your competitive rule sticklers out there), we have concocted a few differents methods for playing Jingle Bell Toss.
Traditional Jingle Bell Toss
For those whose college memories are a little foggy, for traditional Jingle Bell Toss, aka Pong, you can use regular sized Solo cups and large jingle bells
. Set up six to ten cups in bowling pin formation at opposite ends of your table. One player stands at each end of the table, and you take turns tossing bells towards the opposite side's cup formation. You get two bells to toss per turn, one at a time. Remove cups as the opposing side gets bells in them. The first player to get a bell in every cup wins.
A few tips: I do not recommend putting any liquid in the cups when playing with bells. This, however, makes the cups less stable. You can double up the cups or weight them with extra bells for added stability. Unless you have an official Beer Pong table
– in which case you can just drop your cups in the slots as usual.
Original Jingle Bell Toss Rules – 4 Ways to Play
When playing with kids, I found the fixed boards with the miniature red cups
 a more frustration-free way to play. You can see the complete tutorial for building your holiday party game Jingle Bell Toss boards here. When playing with the mini cups, you may want to use these smaller jingle bells
.
Simple Jingle Bell Toss Rules
Set up playing boards at opposite ends of a long table. One player stands behind each playing board. Two jingle bells are needed for play. On your turn, you get two tosses, one bell at a time. You score one point for every bell that lands in a cup. Alternate turns. You can play for a set number of turns, or to a set score.
Minute to Win It Jingle Bell Toss Rules
For kids holiday parties, to give everyone a chance to play, it's fun to play a Minute to Win It version of Jingle Bell Toss. Set up playing boards at opposite ends of a long table. A player stands behind each board. Each player receives a cup of small jingle bells, and has a minute to get as many bells as they can into the opposite playing board cups.
Relay Race Jingle Bell Toss Rules
If you have more space, you can play a more action-packed version of the game. You can make more than just two boards and set them up on the floor, across from where players line up to play. Create even teams of two or more players. Each team sets up an equal distance across from their playing board, and gets 10 jingle bells. The first player on every team tosses two bells towards their team's board. If they miss, they must retrieve them, and return them to their team, before the next player on their team takes their turn.
Play continues until a team gets all 10 bells in their playing board's cups. To make it easy to keep track of jingle bells by team, you should give each team their own color of jingle bells
– one team gets red, another green, a third silver, etc.
Best of 10 Jingle Bell Toss Rules
Set up playing boards at opposite ends of a long table as in Simple Jingle Bell Toss or on the floor at a set distance as in the Relay Race version. Each player gets 10 jingle bells to toss. The player who gets the most bells out of 10 in cups, wins!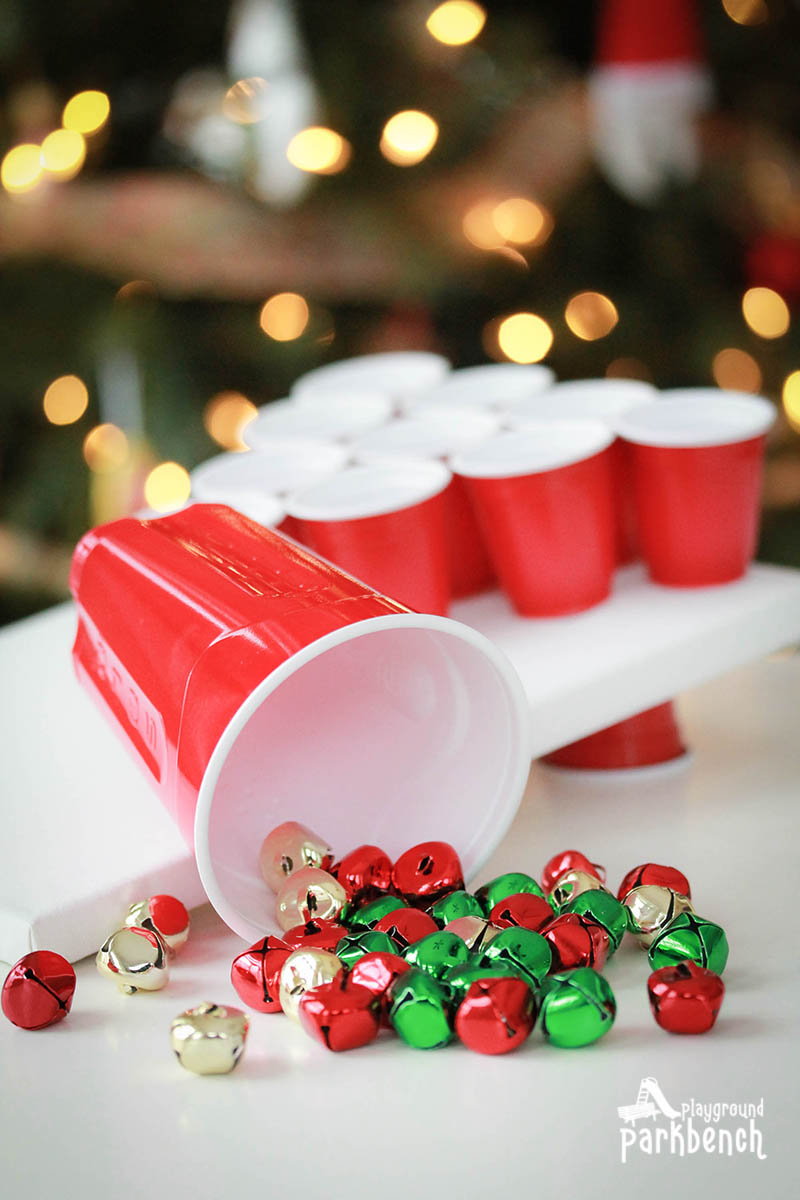 See them all in action!
Catch them in action in our Facebook video below… be sure to follow me on Facebook to catch all our fun.
---
How will you play Jingle Bell Toss this holiday season? Be sure to check out our Valentine edition, Cupid's Arrow Toss, and our favorite Kids Party Games for all year round. You can find all of these and more on my Games for Kids board on Pinterest.
Love it? PIN THIS!