This is a sponsored post on behalf of Learning Resources. As always, all opinions remain 100% my own. Grab your kids dance songs playlist and see my latest guest post on the Learning Resources blog, to see why family dance parties are one of our favorite after school brain breaks for kindergarten!
The school bus pulls up, and your child trudges out, mentally exhausted from too many hours seated behind a desk. She is irritable, emotional, and the thought of trying to get her to sit and start her homework leaves you both completely overwhelmed. The same sentiments might even apply to you or your husband when you get home from work. The good news? You can cure those after school blues in just 10-15 minutes with these 70+ quick and easy brain breaks for kindergarten (and they work for big kids too!).
The Importance of Brain Breaks for Kids
There is a reason kids learn largely through play in preschool – little bodies were not made to sit and focus for extended periods of time. And the truth is, that doesn't really change as quickly as our school system forces it to. Research shows children under 3 have the ability to focuse for 5-10 minutes max, while children ages 3 – 9, need a brain break every 15 minutes! You can probably bet your kids are not getting a break from their desks every 15 minutes, so by the time they get home, they definitely need one.
What is a Brain Break?
No matter whether you are talking about brain breaks for kindergarten, your tween or yourself, it's simply a chance to reset and recharge, preferably involving getting up, moving and getting the blood flowing back to your brain.
While you might need to take a walk around the office and grab a cup of coffee after a long meeting, your kids might need a family dance party, open-ended exploration or just a chance to burn off some pent up energy.
Our Favorite Brain Breaks for Kindergarten and Beyond…
So now that you know why brain breaks are so important, I highly recommend incorporating 1-2 of the choices from the list below into your after school routine. Give your kids a chance to reset, recharge and take a break before anything else: homework, sports, or even inquiring about their day. Try it for a week, and see the results!
Family Dance Party
Learning Resources has the BEST kids dance songs playlist. Grab it to use for a daily afterschool family dance party, and see all the reasons why music, movement and dancing not only make for a great brain break, but are huge boosters for physical development, memory and more.

Get the perfect kids dance songs playlist from Learning Resources here.
Indoor Obstacle Course
Bad weather days often lead to even fewer brain breaks at school, as recess becomes center time in the classroom. On those days, your kids will come home and need one more than ever. You can still get them moving, even indoors, by using your furniture and toys to create a simple indoor obstacle course! Check out our snowy day version for inspiration…
Hula Hoop Games
Using simple props, like Dollar Store hula hoops, set up some gross motor challenges outside. It will get your kids moving, and working on gross motor skills like balance, coordination, and throwing. Check out these 5 hula hoop games for kids to get you started.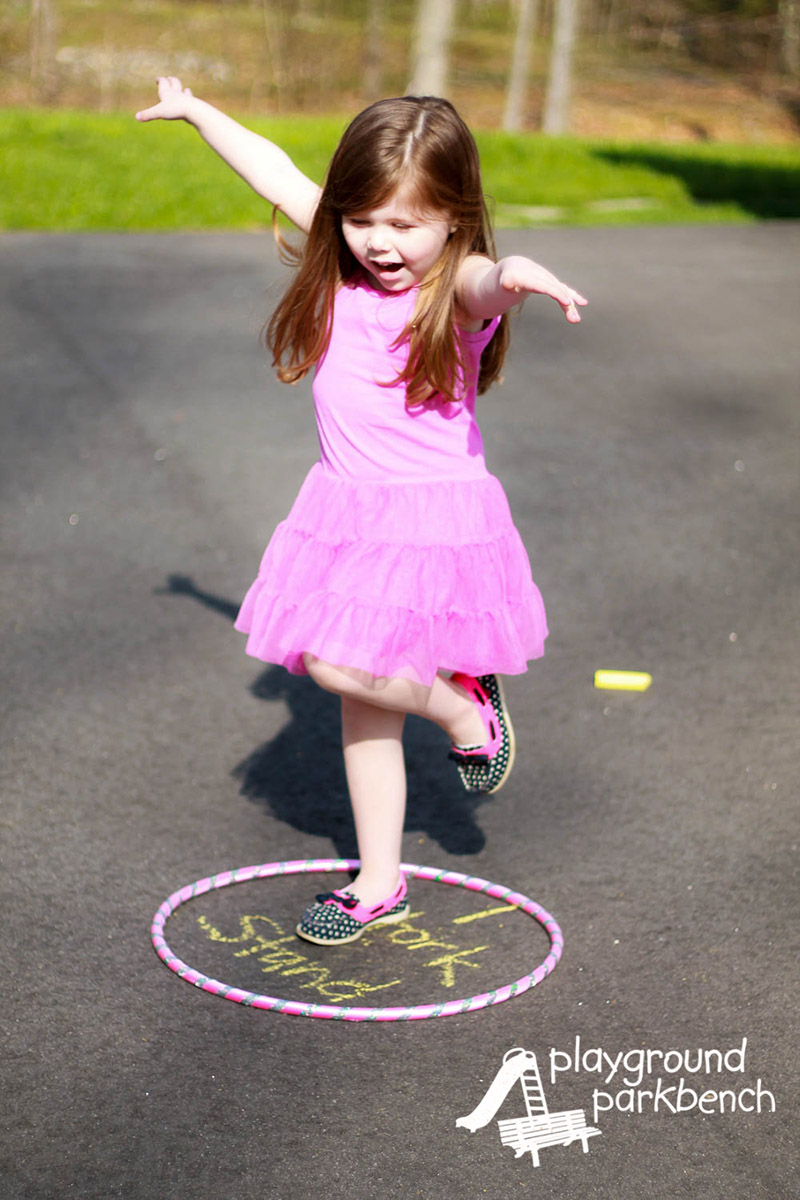 A Year's Worth of Simple Party Games
My kids LOVE to play games – and I love them to because it's a super easy way to give them a brain break through play, while they are still learning. And bonus – most of these are adaptable so that all three of my kids (from age 6 to age 2) can all play together. Over the years, I've invented one for every holiday and season. Find all my favorite simple party games for kids here.
Sensory Bins and Activities
After games and active play, the next family favorite brain break is sensory play.  Sensory play can be anything from a sensory bin to playing with playdough. It's open ended play, with a set of materials to encourage free exploration and creativity while engaging your child's senses through texture, color and even smell!
Some of our favorite sensory brain break for kindergarten include Sensory Bags – like our Starry Night Sensory Bag from our Studying the Stars series, Sensory Bins – like this Monet Inspired Sensory Bin with colored rice and cupcake liner lily pads, and even play dough set-ups – like this invitation to dress your princess with play dough!
Using very simple basic materials, your kids will get a much needed brain break as they play, imagine, create often for hours. With these sensory activities, I can usually set them up in minutes, and often have to cut my kids' playing short to get them to come eat dinner or move on to our next activity.
More Brain Break Ideas for Kids
Looking for more quick and easy ways to cure your kids after school blues? Try these brain break ideas from some of our favorite Kids Activity bloggers around the web:
---
These brain breaks for kindergarten are really great for kids of all ages – though often, kindergarteners need them the most as they adjust to the rigors of 'real school' for the first time.  For more great brain breaks for kindergarten ideas, be sure to follow our Active Kids and Sensory Play boards on Pinterest.
Love it? PIN THIS!