This shop has been compensated by Collective Bias, Inc. and its advertiser. All opinions are mine alone. #FreeToBe #CollectiveBias
School is out. The kids are home. And before breakfast is done they are clamoring for the day's entertainment.  With just a few basic supplies, let them be free to compete in their own backyard games with these 5 action-packed Hula Hoop Games for kids. It's the perfect entertainment, whether for kids party games or just an afternoon boredom buster.
---
The Hula Hoop Games
This summer, as excitement builds toward the Summer Olympics, let your kids compete in some backyard games of their own: The Hula Hoop Games! These are simple enough for toddlers, while still requiring enough skill that even teenagers and adults might like to join in during your next summer BBQ.
And best of all, they require limited materials: 5 hula hoops, colored washers, sidewalk chalk
and foam arrows
. You can find hula hoops at your local Dollar Store, and I got a box of 20 large washers at the hardware store and spray painted them.
Game 1: Hula Hoop Hopscotch
Lay out your hula hoops in a hopscotch formation, and hip, hop your way from start to finish! Fastest competitor wins.
Game 2: Washer Races
Spray paint your box of large washers to match the colors of your hula hoops (we used red, pink, aqua and purple). Once dry, mix them up all together in a bucket.  Lay out a hula hoop in each color, and set the bucket 10-15 yards away.  Time competitors to see who can race back and forth to sort all the washers fastest.
Game 3: Washer Toss
Lay out your hula hoops in a line with the bucket at the end. Our hula hoops varied in size, so I laid them out largest to smallest, to increase the level of difficulty.  Each competitor gets 4 washers to toss, scoring points based on the hoop they land in. Mark point values in hoops with sidewalk chalk. Most points wins.
Game 4: Arrow Toss
Hang two hula hoops in the air.  I hung ours, one above the other, from our swing set. Then, using foam arrows, work on throwing form and follow through, scoring points for arrows thrown through the hoops.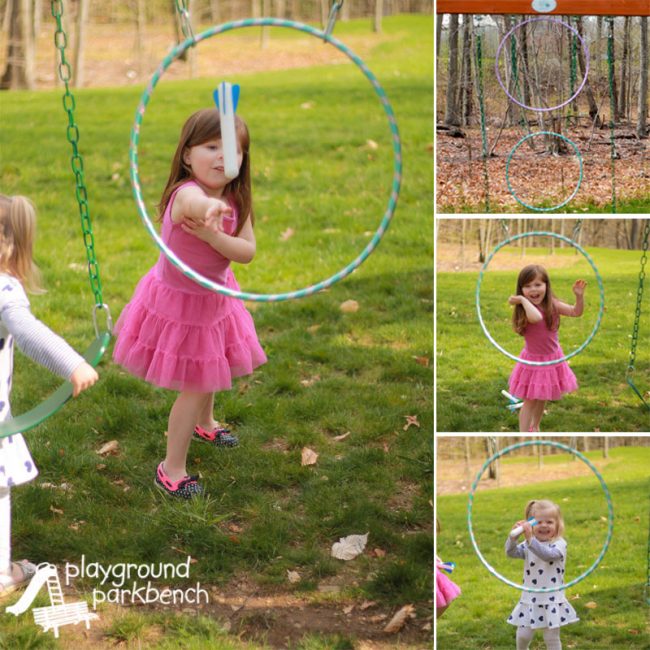 Game 5: Physical Challenge
For the last of the Hula Hoop Games, lay your 5 hoops down in a circle.  Using sidewalk chalk, write a physical challenge in each hoop.  Time competitors as they complete all 5 challenges. Fastest to complete wins.  Our 5 challenges included: a stork stand, two twirls, three jumping jacks, four jumps, and five circles around the hoop.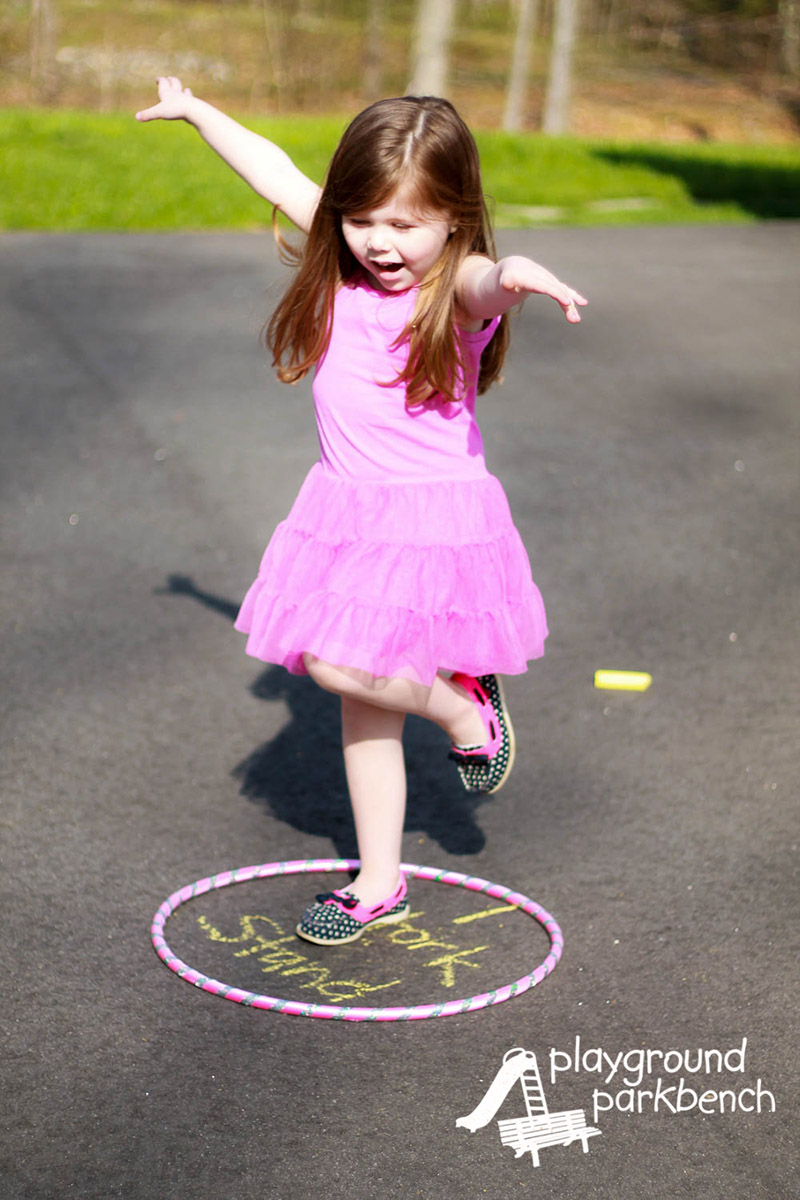 Free to Be with all® free clear
Everyone in my family has sensitive skin.  My oldest, especially, suffers from skin irritations and eczema and cannot use anything – detergent, shampoo, body wash, lotion, sunscreen – containing dyes or fragrance.  Even on daily allergy medication, she used to scratch herself until she bled, and always wanted to wear long sleeves and pants to cover up the marks.
Swapping out all our personal care and laundry products for dye and fragrance free ones, like all® free clear, she is now off daily allergy medication and her skin is completely clear. All® free clear detergent is the #1 detergent recommended by Dermatologists, Allergists, and Pediatricians for Sensitive Skin, the #1 Sensitive Skin Brand and was awarded the Seal of Acceptance by the National Eczema Association for having no dyes, perfumes, certain chemicals, and irritating residues.  It removes everyday and seasonal allergens, including  cat and dog dander, dust mite matter, ragweed, grass, and tree pollen, and still fights tough stains, whitens whites, and brightens colors.
Most important to me, my daughter is free to be! She plays outside, enjoying the warm weather in sundresses, without being self-conscious. And she won the backyard Hula Hoop Games!
Join the all® free clear community and sign up to be the first to try and discover new products, content and get special offers from all® free clear! You can find all® free clear detergent, both liquid and mighty pacs®, all® free clear fabric softener, all® free clear dryer sheets (I was so excited to discover these!!!) at most grocery stores nationwide.  I buy ours at our local Stop & Shop in the detergent aisle.
---
If you enjoyed this post, check out a year's worth of kids party games for all holidays and occasions, including Backyard Golf Ball Hunt, Jingle Bell Toss and Cupid's Arrow Toss. You can find these and all our favorites from around the web on our Game for Kids board on Pinterest!