We love sensory bags at our house.  Ever since I made our first sensory bag, Jumbled Snowman, over a year ago, they are always a guaranteed hit.  It is a great way to provide hands on play for toddlers and preschoolers. So of course our Study of the Stars would not be complete without a little constellation sensory play.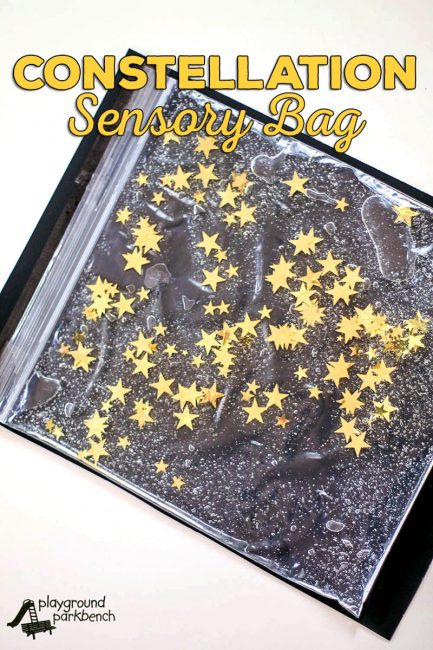 ---
 Constellation Sensory Play
Sensory play is a great way to engage your young child's senses as their little brains and skills are developing.  It allows them to tangibly interact with the world around them in a safe and stimulative manner.  I personally love using sensory play to engage them in hands on learning, particularly when the real world focus of our study may be otherwise out of reach… just like the constellations!
Their fascination with the stars began last month with the Star Gazing Discovery Bottles we made for our monthly contribution to Pre-K Pages. We've since read books about stars, made our own DIY Constellation Projector, and earlier this week, used our projector to make glow in the dark constellation cards for our playroom walls. Now, we put those constellation cards to use as a fun fine motor challenge with our Starry Night Sensory Bag.
Making your Sensory Bag
My favorite thing about sensory bags – they are super affordable to make.  For this one, I got ALL the materials at the Dollar Store, so it literally cost me $4 to make, with materials left over. You can also make them in 30 seconds, and the kids will be entertained by them for days! Cheap, quick, engaging… and no clean-up.  Meets all my favorite kids activity requirements!
Supplies
Gallon storage bags
Clear hair gel (16 oz)
Star-shaped confetti

Black poster board
Glow in the dark constellation cards
Cost: Less than $5
Prep Time: Less than 5 minutes
Clean-Up Time: None
I grabbed all our supplies at my local Dollar Store, including the gallon storage bags.  I would recommend using a higher quality Ziploc brand bag (which we normally use for our sensory bags).  If they have a printed label on the bag, you can easily remove it with a Magic Eraser, and it stands up better to all the manipulation by toddlers.
I found an awesome bag of gold star confetti in the party section of the Dollar Store. Just make sure you use foil confetti, and not paper or it will disintegrate in the bag.
To make your bag, empty the contents of the clear hair gel into the gallon storage bag.  Shake in the star confetti (I used about 1/3 of the bag pictured above). Before sealing your bag, lay it flat and squeeze out as much air as possible. To make the stars really shine, I taped our bag down to a piece of black poster board, cut to the size of the gallon bag.
Starry Night Sensory Bag
The girls will play with the Starry Night Sensory Bag for days.  It's a great fine motor skill challenge just to move the stars around in the bag.
To add to the challenge, I placed our various glow in the dark constellation cards under the bag.  Then the girls tried to move the stars to map to the various star formations.
And of course they like just feeling the cool of the gel, and squishiness of the bag too!
Fun for all ages…
And just in case you think your child might be too old for a sensory bag… last weekend, my in-laws were visiting.  My father-in-law was playing with the girls in the playroom, found our Constellation Sensory Bag and wanted to know what it was. The girls eagerly told him and showed him how to play with it.  When I carried them upstairs for bed, he was still diligently at work.
That night, after everyone went home, I was straightening up the playroom, and found this:
You can make your own star formations too!
---
If you enjoyed this post, be sure to check out our complete Studying the Stars series.  Stay tuned as our studies expand to space next week. You might also enjoy this Invitation to Paint the Night Sky from my friend Clarissa at Munchkins and Moms.  You can find all of these (and more awesome activities) on my Sensory Play and STEM for Kids – Science boards on Pinterest!