Big M (age 4) is obsessed with the movie, Brave, and pretending to be Merida.  So much so, that she often runs around the house with a plastic coat hanger (her bow) pretending to shoot arrows.  My husband and father-in-law have fed her obsession by taking her for archery practice at Cabela's.  Building on her interest, I created this simple Valentine's Day Game for kids– Cupid's Arrow Toss! For more party game ideas, be sure to check out a Year's Worth of Awesome Kids Party Games here.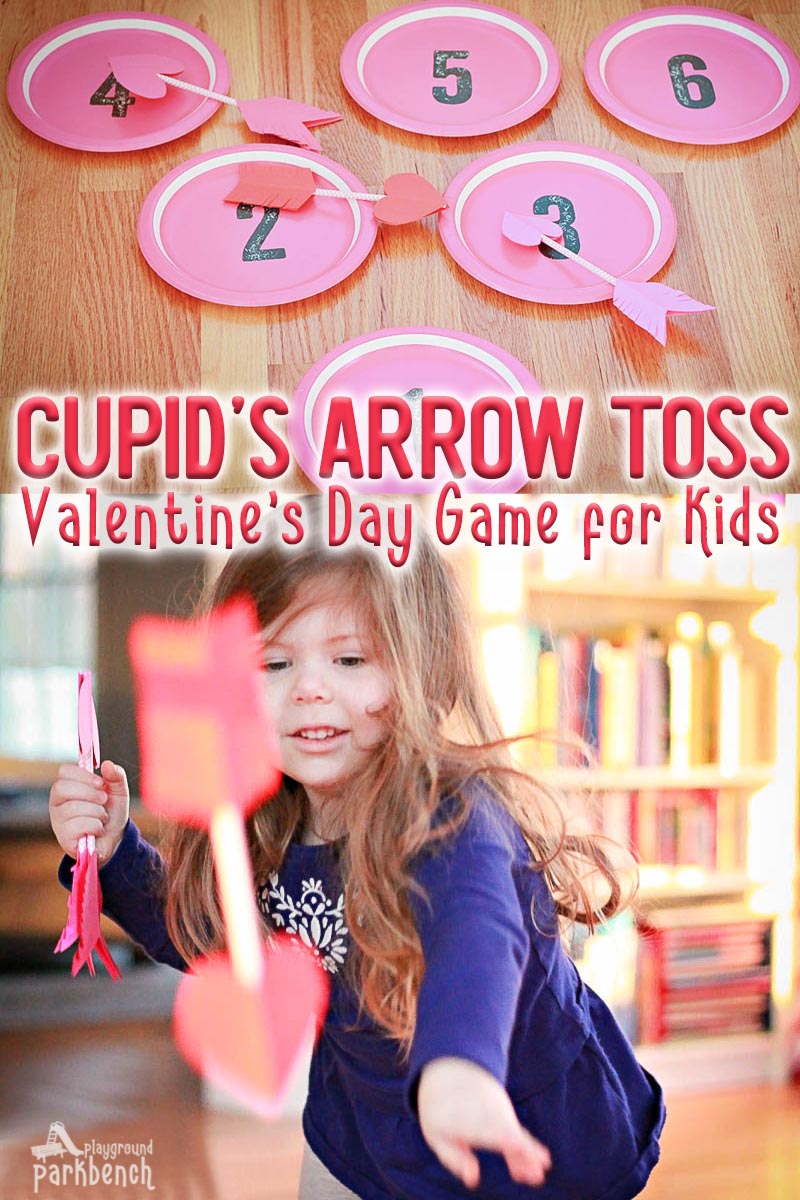 ---
Valentine's Day Game: Cupid's Arrow Toss
Cupid's Arrow Toss is a Valentine's Day Game that meets all my basic activity requirements: minimal materials required, affordable and incorporating multiple development skills.  First, let's cover how to set it up and the minimal, affordable materials required.
How to Make Cupid's Arrow Toss
To make the game, you only need a few materials, all of which you can likely find at the Dollar Store or Target Dollar Spot (two of my favorite activity stalking grounds!).
Supplies
Pink paper plates
Pink or Valentine-themed straws
Large number stickers

Red and pink card stock or construction paper
Hot glue (for use with adult supervision only)
Cost: Less than $5
Prep Time: Less than 15 minutes
Clean-Up Time: Less than 2 minutes
First, pull 6-10 paper plates out and add your number stickers to the center of each plate, numbering them 1 through 6, or 10, depending on how many you choose to use.  Next, you need to make your arrows.  For each arrow, you will need one straw, two hearts and two arrow shapes.
Use hot glue to affix the hearts to one end of the straw, sandwiching the straw between the two hearts, and the arrows to the opposite end.  Use scissors to make fringe on the arrows.
Set up your paper plates on the ground like bowling pins, and hand over the arrows to your kids to play the game!
How to Play the Valentine's Day Game
There are several ways you can play Cupid's Arrow Toss, varying my age and development level.  For my toddler, Lil' M, we worked on using a good pencil grip to hold the arrow and number recognition, calling out the number her arrow landed on.
For Big M, my preschooler, we worked on the full gross motor motion of throwing the arrow, overhanded – aim, pull back, step and release, and follow through.  She would call out the number she was aiming for before throwing her arrow (not that it always made it there!).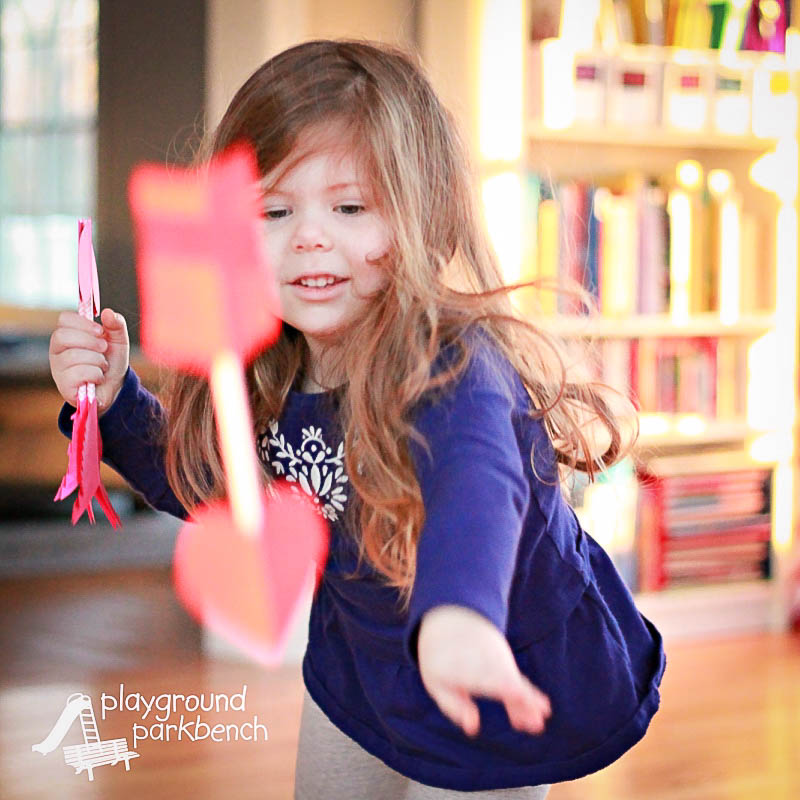 For older kids, you could add an additional math component, keeping score by adding up the numbers on which their arrows land.
Our Valentine's Day Game has been a fan favorite at home this month.  I've kept it on the shelf in the playroom, and pull it out once or twice a week when the natives are starting to go stir crazy! If you enjoyed this game, you might also like Top 10 Valentine's Day Party Games for Preschool and Valentine Bingo with printable game cards.  You can find all of these, as well as more of our favorites from around the web on our Games for Kids board on Pinterest.
More Valentine's Day Fun
Looking for some more Valentine's Day fun? Check out some of these great ideas from our favorite Kid's Activity bloggers!
Easy Valentine's Day Cookies for Kids | Playground Parkbench
Stitched Felt Heart Favor Pouch & Keychain | Moms & Crafters
Bubble Wrap Heart Decorations | Crafty Kids at Home
Valentine Pet Project for Kids | Sunny Day Family
Fun and Romantic Easy-to-Make Valentine Card | Our Good Life
My Little Pony Free Printable Valentines | Our Whimsical Days
Hand Knit Hearts | Nemcsok Farms
Homemade Lip Gloss | Study at Home Mama
Heart Love Bugs Craft | Rhythms of play
Valentine's Day Smoothie | HEN Family
SaveSave
SaveSave