Confession… this *may* be inspired by my college tailgating days.  I knew these miniature red cups would come in handy this holiday!  First, I turned them into a holiday version of cup and ball, and today, we have more holiday party games: Jingle Bell Toss! If you love this, be sure to check out a year of kids party games too.
---
Holiday Party Games – Jingle Bell Toss
This one is a blast for toddlers, preschoolers and grown-ups alike!  It cost less than $10 in craft supplies, and I made it in less than 5 minutes.  It was a huge mommy win (except for setting it up for the first time in the playroom directly under the napping baby's nursery).  The girls were thoroughly entertained with tossing, chasing and celebrating successfully landing their jingle bells in the cups.
Jingle Bell Toss Supplies
The best part is the supplies necessary to create this festive holiday party game are minimal and super affordable.
Supplies:
24 mini red cups

2 pieces of cardboard, foam board or canvas
Small jingle bells

Hot glue
Cost: Less than $5
Prep Time: Less than 5 minutes
Clean-Up Time: None
Making Your Holiday Party Game
Arrange 10 mini red cups like bowling pins on your board of choice.  I used two small canvases I had leftover from our Art History series, but you can literally use anything that will support the weight of the cups and you can prop at a slight angle.
Place hot glue around the bottom edge of the cup, and affix cups to board.  Repeat for second board.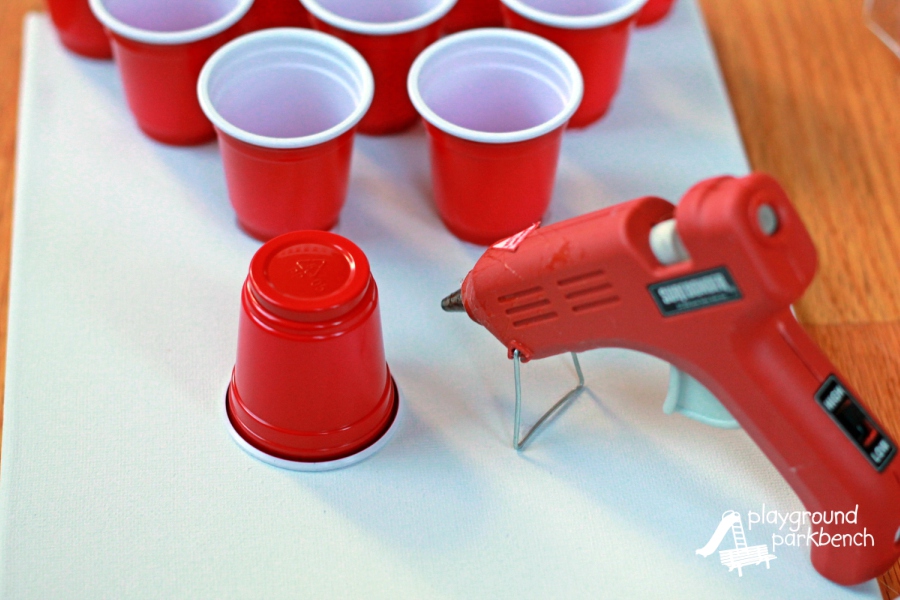 Flip your board over and a hot glue two cups to the top two corners of the underside of your board, creating small legs.  This will prop the board at a slight angle during play.
Time to Play Jingle Bell Toss!
Set the boards up directly across from each other with several feet in between.  Have players stand behind the board on either side with a handful of jingle bells.  Toss bells underhand and try to get your bells to land in the cups on the other side!

---
I must admit, I think I had as much fun playing this as the girls did!  Big M (age 4) was really getting the hang of it.  Lil' M (age 2) thought it was fun just throwing the bells up in the air and chasing the misses.
A Years' Worth of Games for Kids
If you enjoyed this post, be sure to check out all our kids party games and activities! I also absolutely love this Gingerbread Scavenger Hunt from my friend Laura at Sunny Day Family. You can find all of these and more on our Room Mom Ideas and Games for Kids boards on Pinterest.
Want to remember this one?  PIN THIS!