One skill preschoolers are expected to master before entering kindergarten is shape recognition. My 3 year old is a much more active learner than her older sister, so I often have to get a little creative with more active, hands-on play activities to hold her attention. This simple activity, re-purposing an alphabet toy, worked awesome for teaching shapes to preschoolers.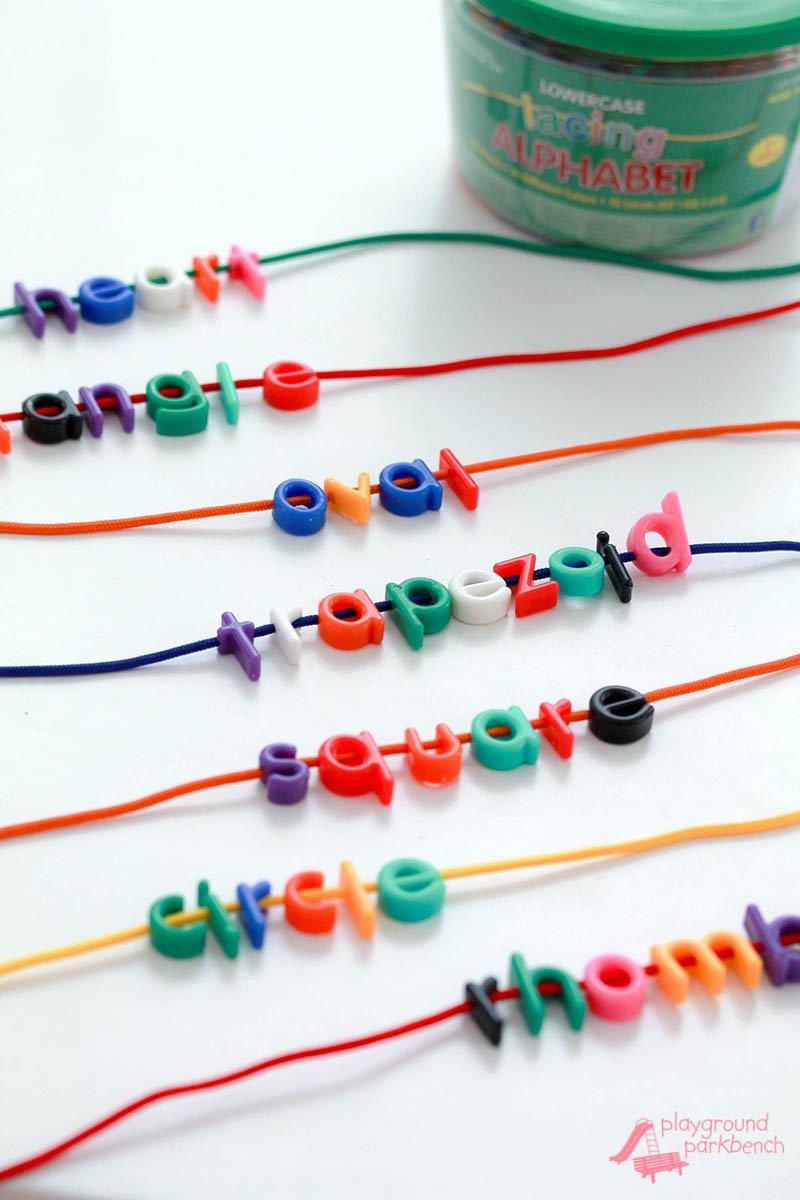 ---
Teaching Shapes to Preschoolers
There are many different facets of teaching shapes to preschoolers. Before entering kindergarten, children should be able to recognize and name a number of different shapes, including:
Circle
Oval
Square
Rectangle
Heart
Star
Crescent
Rhombus (or diamond)
Once they can name and recognize shapes, can they form the shapes themselves? And eventually, can they recognize the words to name each of the different shapes? This simple, hands-on activity does all three of those at the same time.
Making Shapes with Laces and Letter Beads
I give full credit to my 5 year old for coming up with this activity. The Learning Resources Lacing Alphabet is always a big hit in our house. And one day, after making necklaces with their names, she wanted to spell out shapes, and then started trying to make the shapes out of the laces.
Since her 3 year old sister is working on shape recognition and formation, I used her idea to help her preschool sister learn! Spell out the name of each shape on a lacing string. Then, lay out the strings and encourage your preschoolers to form the shapes written on the laces. If they need a guide, you can print this teaching shapes sheet for reference, to help them identify the shape names on the laces.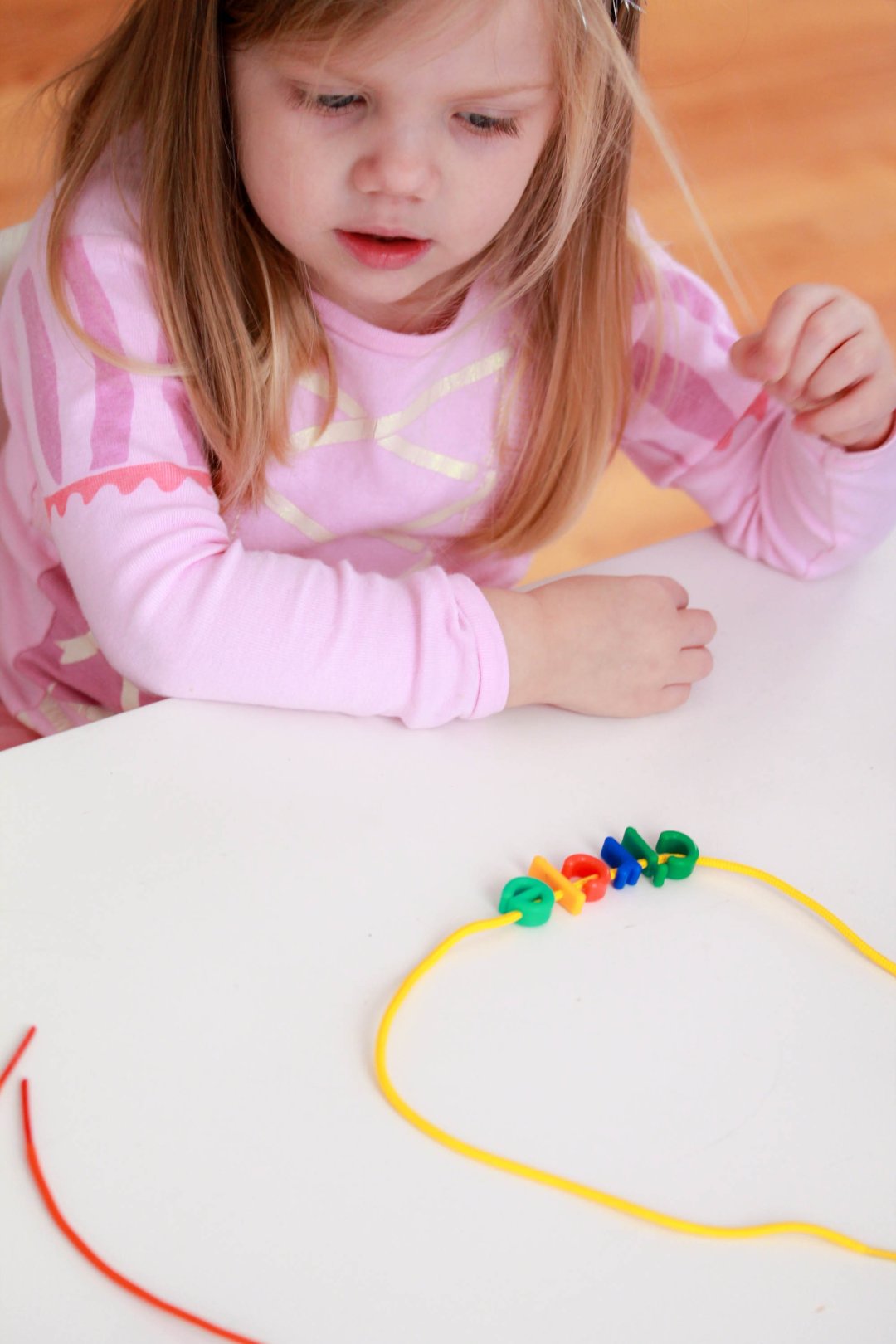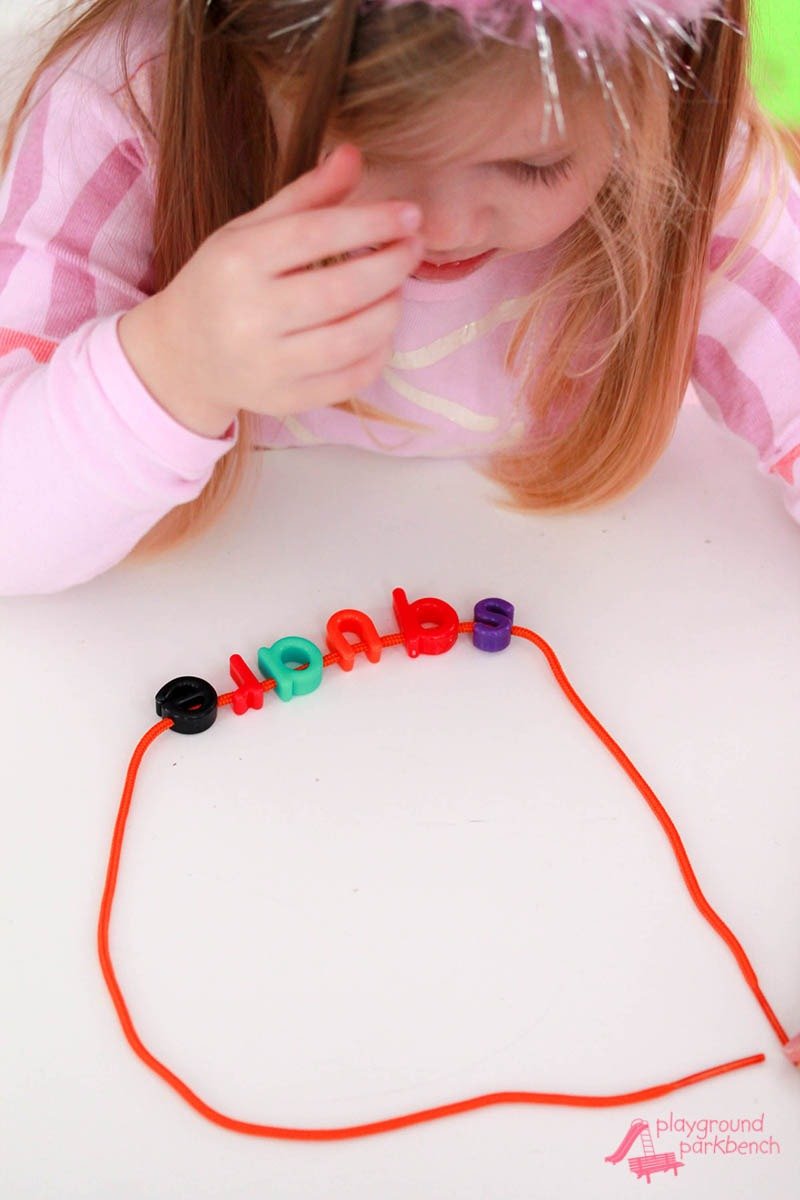 Trapezoid is a little advanced for most preschoolers… by my 5 year old just likes to say the word, so insisted we add that one to the mix. My preschooler's favorite was heart. She was quite proud of this one!
Printable Teaching Shapes Reference Sheet
You can download the one page Teaching Shapes reference sheet for FREE from our Printables Store below. With this simple one page reference sheet and the shapes spelled out on the lacing strings, you have a complete preschool math center ready to go!
Just click to add it to your cart, complete the checkout process, and download from the order completion page. Please note – this is a downloadable printable only. No paper copy will be mailed to you.
---
More STEM Fun for Preschool
Looking for more simple, hands-on ways to teach STEM to preschoolers?  Your preschooler will love this easy way to re-enact What Makes Night?, part of our Study of the Stars and Space series. Be sure to also check out more simple STEM fun with coins, from teaching kids about money to playing and learning with coins! You can find all of these and so many more on our Preschool and STEM for Kids – Math and Science boards on Pinterest.
Love it? PIN THIS!