You get everyone out of the car, and they race into the house.  As you schlep extra bags, coats, the baby carrier and anything else left behind, you follow to find a trail of evidence in their wake.  Backpacks thrown on the kitchen counter.  Coats draped across the stairs.  Boots kicked off in the family room.  Lots of extra work for me, and it drove my OCD husband to the verge of insanity. The smallest room in the house, a mudroom can be a mommy sanity saver! An organized mudroom equals an organized family. See how we maximize our 6'x7′ space with these small mudroom ideas, in the latest from our Family Organization series.
---
An Organized Mudroom = An Organized Family
In August, we moved into our forever home.  My goal from moving day was to be organized from the start.  As I shared in last week's kitchen pantry organization post, in the design phase of our new home, we gave up a walk-in pantry to make room for a mudroom off the garage. BEST.DECISION.EVER!
I am pretty much the only one in and out of the kitchen pantry, making it relatively easy to keep up with its chaos.  The mudroom is used by every member of the family, every day, multiple times per day.  And if well organized and the space efficiently maximized, even a small mudroom can be life changing, time saving and overall, a total mommy sanity saver.  We make the most of our tiny space with these small mudroom ideas.
Mudroom Design
It all starts with the mudroom design.  We carved ours out of a bay in our garage.  It's basically an over-glorified hallway with doors at each end.  Space was limited, but it's honestly one of my favorite spaces in the house.  To make the most of it, I kept it very simple: a bench and two shelves, spanning the full length of the room.
I wanted all the storage left open – no closed bench boxes, closed cubbies, cabinets or drawers. Covered storage is where kids' toys, mittens and loose parts go to die.
[bctt tweet="Small mudroom ideas – keep it open! Covered storage is where kids stuff goes to die. #organization #mudroom #DIY"]
Be smart about your floor choice as well.  The winters of New England are cold and wet.  If you want to use the mudroom for its intended purpose – the dumping ground for those gross boots and wet winter clothes – tile is the best choice. It is easy to clean and won't warp or be easily damaged by puddles of melting snow.
Last but not least, make sure you put 1) a heating vent and 2) an electrical outlet in there.  It is a small space, but being the entry to the garage and our main point of entry to the outdoors, it gets cold.  Not to mention if you ever want soggy gear to dry out, heat helps. And even though the space is small, it has become the perfect place to store our rechargeable stick vaccuum, a family necessity when you have lots of hardwood floors and messy toddlers.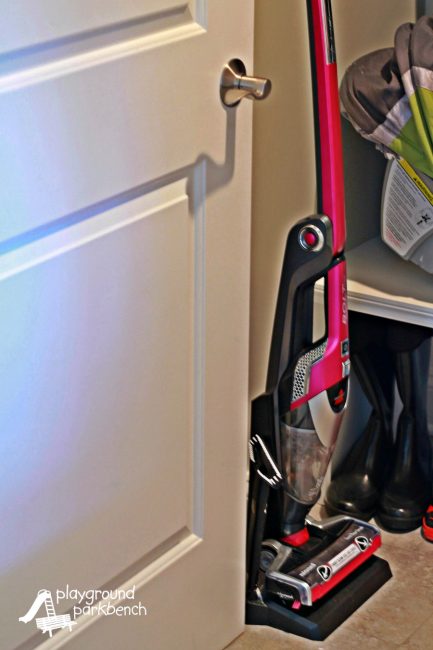 What About Storage?
So by now you are probably asking if all the storage is open, where do you put everything?  Remember those faux wicker storage totes I fell in love with for the pantry?  Those, combined with double hooks
, maximize our open storage. The storage totes look beautiful as an open storage solution in the mudroom, and their resin construction makes them durable enough to withstand the kids' beating too.
Each family member gets a double hook to hang coats, backpacks, and dance bags on.  And above each hook is a small storage tote
 for hats, mittens, scarves, sunglasses, and whatever other loose accessories the girls are obsessed with at the moment.
On the top shelf, I have three large shelf totes I use for household items, like extra boxes of tissues and cleaning supplies (out of any child's reach!).
Family Mudroom Solves All
I can't tell you how many problems the mudroom has solved for us.  The kids know they come in, take off their shoes, coats, and backpacks here.  I do the same, and leave my diaper bag, the baby's car seat and my keys there too.  When it's time to leave, there is no more mad scramble to round up everyone's loose parts because they are all at the back door. Even if they don't make it into their proper bins, they are at least in the room!
And with all the family's gear kept in the mudroom at the back door, where we all come and go from anyway, the coat closet at the front door is clean and actually available for visitors' coats!
---
Even if you don't have an official mudroom, you can still implement many of these tips (open storage, hooks and baskets) at your family's consistent point of entry. Do you have a great mudroom solution or tip?  I'd love to see it!  Leave me a comment below.
If you enjoyed this post, you can find all our Family Organization tips, tricks and more on the series landing page.  Be sure to check out last week's It's Friday, We're In Love – Organize Me!, featuring 70+ Family and Home Organizing Ideas.  You can also find all of these, as well as our favorites from around the web on my Organize Me! board on Pinterest.
Want to save it? Pin THIS!