Thank you to the Chinet® brand for sponsoring this post.
Last month, my daughter's school had multiple Spirit Days, Half-Way Day, the 100th Day of School, a Children's Fair and all the fanfare associated with Valentine's Day – each requiring special attire and more. My husband asked me how I remember all this stuff, while also asking if we have anything going on this weekend, and at the same time complaining that I forgot to buy mouth wash at the store. Welcome to my mom brain. It is absolutely a real condition, impacted by hormones, sleep deprivation and the mental load of motherhood. Here are my 5 simple ways to overcome it, including embracing convenience (and coffee) whenever and wherever you can – like with convenient Chinet® Comfort Cup® insulated hot cups.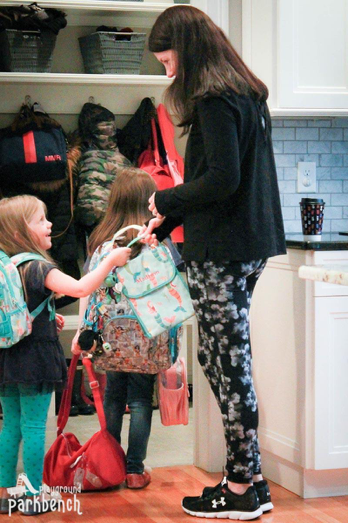 Click on the image above to shop!
---
The Mental Load of Motherhood
I am long past the days of being able to attribute my mom brain to pregnancy hormones, but my mental fog has anything but lifted. If anyone could hear the internal thought process involved in just getting myself and three kids up and out of the house to school, I would likely need to see a therapist… as would every other mom I know.
It starts from the moment I get out of bed, and doesn't quiet until 14+ hours later when I finally get all three kids to bed. And it sounds something like this…
Do I need to shower today? When WAS the last time I showered? Did I already put shampoo in my hair? I can't remember… I'm washing it again, aren't I?
Will I have time to make it to the gym today? Ugh, who am I kidding – like I don't wear athleisure clothes every day anyway. Oh wait, PTO meeting is today – and then it's early dismissal, no gym for me today. Still going to wear these leggings.
Time to get up the kids… does she have spirit day today? Is her school shirt clean? Is it music or gym today? No you can't wear those shoes – you have gym.
She wants to wear her favorite shirt – is it clean? Check the rack in the laundry room… check your sister's closet… check the mudroom. Here – wear this one, it's your next favorite instead.
Time for breakfast. One only eats cereal, two want waffles. She only eats it with butter and jelly – and she has to see the butter before it melts or she doesn't believe I put butter on it and the jelly can't touch the waffles. He only eats it with butter and syrup. Can't mix those up, or I'll be making more waffles. Mental note – need more jelly.
Are you taking lunch today? Did you check the menu? You can't take peanut butter to school (even though you ask for PBJ every day), and you CAN take peanut butter to school, but remember you can't sit at the allergy table if you do… and while she debates this, she decides to buy hot lunch. Does she have money in her lunch account still?
Did you pack your snacks? Don't forget your water cups… don't forget an extra snack for after school – you have dance today. Oh, I have to remember to remind your Dad he's on his own for dinner tonight.
Is it library day today? Did you pack your book? Oh wait, I have to send in money today for the PTO fundraiser. Make sure it goes in your folder to your teacher.
Where's your book buddy bag? Is the book in there? What about the buddy? You have to bring it back today.
I have to bring in paper plates for the preschool special snack today. Or wait, is that next week?
Oh crap… we were supposed to leave 5 minutes ago. I still haven't made my coffee… and your brother just pooped. Where are my keys? Where is my phone? Where are your shoes?!?!?
---
Meanwhile, my husband gets up, showers, dresses himself and departs for work before any of this insanity even begins. He works incredibly hard, long and demanding hours, financially supporting our family. But mentally, the rest is all on me. I am command central for our family of 5.
The number of times I have arrived in the school parking lot, with no memory of the drive there; walked out the door still in my slippers; smelled myself and realized I forgot deodorant today; looked down at the end of the day and realized my underwear are on inside out… as a full-time, stay-at-home-mom to three kids 6, 4 and 2, more days than not, I seriously feel like I am losing my mind.
Mom Brain is Real
Let's be clear about one thing. Mom brain is absolutely, 100% a real physical and physiological thing. Studies have shown that the hormones of pregnancy and sleep-deprivation that comes with having a newborn absolutely induce a mental fog, impacting new mothers for up to a year after delivery.
Other studies of hormones on lab rats demonstrate even longer term effects, with motherhood permanently altering cognition and neuroplasticity, the brain's ability to forge pathways in response to changing factors.
Then add to that the mental obstacles required to coordinate the chaos associated with multiple kids, at multiple schools, extracurricular activities, doctors' appointments, birthday parties, holidays, and managing a household, it is no wonder our brains are on overload.
… But Mom Brain Can Be Overcome
Mom brain is an inescapable reality, as are the mental demands of parenting multiple children while running a household. But you can compensate for your mom brain with just a few simple changes to your lifestyle to reduce your own mental load.
Embrace Convenience
Whenever and wherever you can, embrace goods and services that make motherhood easier. Get groceries delivered. Subscribe for recurring deliveries of essentials like diapers. And opt for convenient, sturdy and double insulated Chinet® Comfort Cup® insulated hot cups for your morning coffee.
You know you never get a chance to drink your coffee at home in the morning, so don't even try.  Chinet® Comfort Cup® insulated hot cups are perfect for use with single-serve machines. I make it while getting the kids breakfast, put on the snap-and-go lid, and set it at the back door to grab on my way out. I can carry it with me to multiple school drop offs, PTO meetings, on errands… and if I happen to leave it behind somewhere, it's disposable, so not the end of the world. One less burden on my overtaxed mom brain.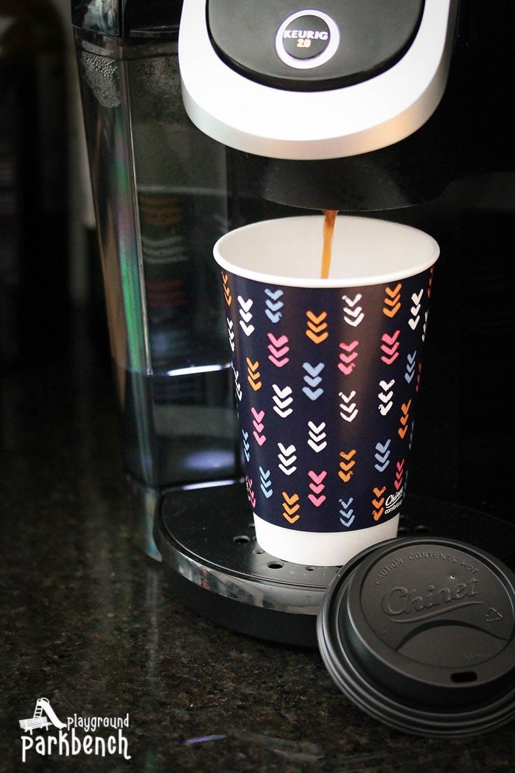 Click on the image above to shop!
Create a Command Center
Be honest with yourself about your mental capacity. I've had a photographic memory my entire life – in college, during exams, I could literally recall where answers were on the page in a textbook. But motherhood has pushed me past my mental recall limit.
With multiple school schedules, special events and activities, early dismissals, and one off parties and appointments, there's no way I can keep it all up in my head. Whether you do it with an online calendar, a paper calendar, or a household whiteboard calendar, have a central command center you can share with your family.
Consolidate all the schedules, events, activities, and carpool demands in one place. It makes conflicts stand out immediately, and it helps keep your husband in the loop too!
Create a Central Depository for Stuff
Everything you and your kids need to grab on your way out the door everyday should be in a single, centralized place – preferably close to the door you leave through. For us, it's our mudroom. The kids' backpacks, dance bags, lunch boxes, coats, shoes and my purse all reside here. It's the smallest, but most sanity saving room in our house. It not only eliminates the clutter of this stuff from elsewhere in the house, but it also keeps it all in one place for when it's time to leave. You can see how I organized our small mudroom (and why it's my favorite room in the house) here.
Empower Your Kids
My kids' preschool teacher makes them carry in their own backpacks. They hang them up, along with their coats, and put their lunch boxes in the refrigerator. At 3 and 4 years old. And if they can do that at school, there's absolutely no reason why they can't do the same at home.
When we forget a Book Buddy, she corrects them when they say "Mommy forgot…" and reminds them it is their responsibility to remember it. Don't shoulder your children's mental load; you have enough to remember. Encourage them to be in charge of their things and schedules.
Establish routines to assist them, and then let them be in control – organize your pantry so they can pack their own lunches. Set up a central location for all their stuff so they can pack their bags, put on their coats and shoes and be ready to head out the door as independently as possible. It may take longer to teach them to do it themselves than doing it for them at first, but in the long run it will make your life infinitely easier – and make them better people at the same time.
Take Brain Breaks
Mom brains are on 24/7. And not just on, operating beyond full capacity. Make sure you give yourself – and your brain – a break. First and foremost, get adequate sleep.
But more than that, find at least 15 minutes a day just for you. Whether it's in prayer, meditation, an uninterrupted shower or an extra-long walk to the mailbox, find a few quiet minutes to be alone with your own thoughts – or block all thoughts out entirely.
---
Are you feeling the effects of mom brain? How do you give yourself a brain break? What tasks do you find most taxing on your mental load? For more tips on how to streamline and organize your family, check out my Family Organization series. You can also find my favorite organizing tips from around the web on my Organize Me board on Pinterest.
Love it? PIN THIS!
---
I was selected for this opportunity as a member of CLEVER and the content and opinions expressed here are all my own. Chinet® and Comfort Cup® are registered trademarks of Huhtamaki, Inc. in the U.S. and other countries.