After the mudroom, my next favorite room in our new house is the playroom!  Getting the toys out of our family room was huge. Having a place for all the kids' stuff AND in sight line of the main living space was a double win. But a playroom can also be a mom's worst nightmare, and since it is in view from the main living space, keeping it organized is key.  See how we make the most of our playspace with these 10+ kids playroom organization ideas and essentials!
---
Kids Playroom Organization & Essentials
A playroom can be a complete sanity saver – a repository for all the kids' stuff that would otherwise be all over the house and a sanctuary where they can play uninhibitedly.  It can also be a mom's worst nightmare at the end of a long day when stuff is everywhere in a disheveled heap.  I find 3 key areas to be of utmost necessity in a kids playroom: a space to read, space to play and a place to create.  See my tips for stocking, organization and storage for each.
A Place to Play
Above all, a playroom should be a place to PLAY!  And with that comes toys.  My husband's proposed organization solution to everything is bins.  He wanted bins and toy chests to throw and conceal everything in.  His mother and I were quick to point out that for toys, that is the worst solution.  Kids stack things on top of them, and then to get toys out, it all gets thrown out on the floor.
Toy storage should be open, clearly labeled to promote organization and clean-up, and easily accessible to provide independence.
Cubby Shelf
For toy storage, I highly recommend an open cubby-style shelf.  We have a large one in the playroom, and small ones in each of the kids' rooms.  They provide open, visible and accessible toy storage.  I am partial to the IKEA Expedit, now known as Kallax, series.  It is affordable, durable and perfect for kids.
Clearly Labeled Bins
Taking a note from the classroom playbook, your kids will be more apt to clean-up and keep things organized if they know everything has a place and where that place is.  I accomplish this in our playroom by clearly labeled bins.
If you've been following my Organization series, you know I fell in love with these Wicker Storage Totes and used them in both my pantry and mudroom. They are made of heavy duty resin, with the look of wicker.  They come in a range of colors and while not inexpensive ($10-15/bin depending on color), they are affordable and their durability makes them worth the price. And the small size fits great in the Kallax shelf.
We use these in the cubby shelf to store all the loose pieces, assigning a category to each bin.  And since both my girls are still in the pre-reading stage, I labeled each bin with a picture of the toys and words.  I printed them out on Avery Name Tags
, which came with plastic protectors and attached them to the bins.  If you're worried about the safety of the the included name tag pins
, you can remove them and affix the labels to the baskets with string or yarn as well.
Dress Up Corner
No playroom would be complete without space and encouragement of dramatic play.  And with two little girls, that means dress up corner overflowing with tutus, princess dresses… and maybe my old cheerleading uniform!
Storage for dress-up clothes can be expensive.  We keep it organized with a combination of bins and a child-sized clothing rack.  This one runs about $30-40 and comes in a range of color choices.  I love it because, like our labeled cubbies and bins, it encourages independent play AND clean-up.  If the girls can hang up their tutus and put away their dress up shoes, they can do the same thing in their rooms with real clothes.
Kids Kitchen
Last but not least, no child's playroom should be without a play kitchen. The Grandmas bought this one for Big M for her second Christmas, but there are numerous models and options out there.  It is far and away the most played with toy in the house!
For more toy storage solutions, check out this Simple Storage Solution for small spaces from Moms & Crafters.
A Place to Read
The next most important area for a kids playroom is a place for books and encouragement of reading.  I love how much my girls love books, and we encourage that passion by making books easily accessible with a cozy place to enjoy them.
The most obvious book storage option is a shelf.  I again love all things IKEA when it comes to kids furniture, and their Billy Bookcases make great options in sizes and finishes.  How you set it up, though, is just as important as what shelf you use.  I keep all the board books on the lower shelves at toddler eye-level, and then books for my preschooler just above that.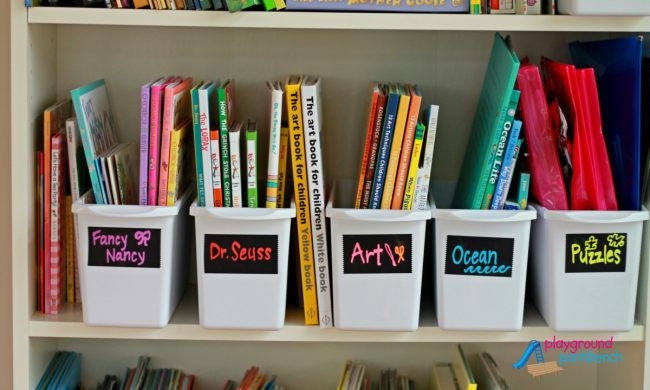 Next, I organize our children's books by series or themes using these clearly labeled bins. When it is the theme or holiday we are currently focused on, I put the books in a basket on the floor next to their reading nook!
Our 'reading nook' is a pop-up tent castle
.  It also makes for great dramatic play too. I got it for $20 last Christmas.  It is not going to stand the test of years of play, but for $20, we have more than gotten our money's worth out of it.  There are fort and knight castle versions of it as well.
For more great book storage ideas, check out Sunny Day Family's portable and space saving book storage solutions.
A Place to Create
And last, but certainly not least, a playroom should provide a place for kids to create – be it crafts, art or whatever else they imagine. To facilitate this, we have three key components for creating: a kids-sized craft table, an easel and a simple way to display their works of art!
We are super lucky to have very generous Grandmas.  They bought the girls the Pottery Barn Kids Carolina Craft Table and Chairs for Christmas last year. It has a second set of legs so the table will grow with them, and it holds and dispenses a Melissa & Doug Craft Paper Roll
. (PGPB Guru tip: this is the exact product Pottery Barn delivers for $9 a roll – get it on Amazon for less!)
Our easel of choice is the Crayola 3-in-1 Double Easel
.  This is the latest version of the one we got Big M for her second birthday.  It has a chalkboard on one side, and a magnetic dry erase board on the other.  Both sides can hold paper for painting or drawing as well.
And with great space to create, you also need a place to display all they create!  We opt for a simple clothesline style gallery.  All you need is twine, some Command hooks
and clothespins.  Currently, it is displaying Big M's letters of the week that she is working through at preschool.
One thing you may note missing from our Create Space – the craft supplies!  With a 4 and 2 year old, I still don't trust them with openly accessible crayons, paint and markers.  I keep craft supplies stored in a kitchen cabinet and dole it out only under supervision, though I'm sure that will change as they grow.
For more create space inspiration, check out this Easy Kid's Art Station for Small Spaces and HEN Family's Art and Craft Wall for Kids.
---
I've been stockpiling ideas for the girls' playroom for years.  It's continues to be a work in progress, I add to and evolve as they grow.  You can find all my inspirations on my Playroom Ideas for Kids board on Pinterest.  If you enjoyed this post, be sure to check out all our posts on Family Organization here.