Do you have a farm set laying around that your kids don't play with much anymore?  Breathe fresh life and inspire an afternoon or more worth of activity by adding the elements to a sensory bin!  With a newborn at home, I am on a quest for quick, easy and loaded with entertainment for our activities these days and this Farm Animals in a Haystack Seek and Find Sensory Bin meets all the requirements.
---
Farm Animals in a Haystack Sensory Bin
This week's Kid Bloggers of Instagram Activity Round-Up theme is On the Farm.  We had a long neglected Melissa and Doug Farm Block Set
, and I was amazed how adding the blocks to a sensory bin immediately attracted the girls to play with it again.  And not just for a 10-15 minutes, but hours… until we had to beg them to let us clean it up and come eat dinner.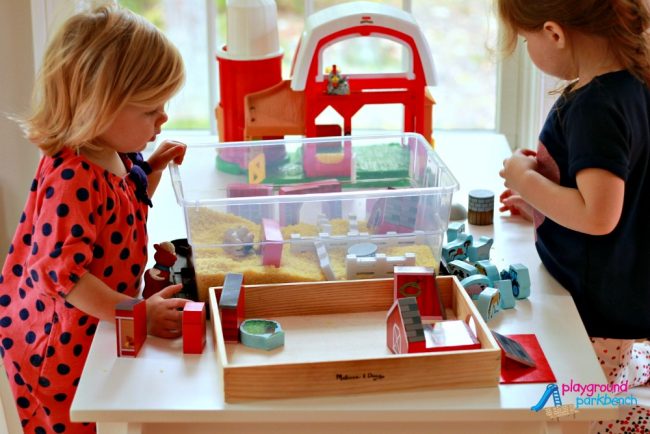 What is it about Sensory Bins?
Confession.  I used to see all the posts on Facebook and Pinterest about sensory bins and think – what's the big deal?  And then I made our first one: the Monet Water Lilies Sensory Bin as part of my Art for Preschool series.  The girls were totally obsessed, played with it forever, and requested to play with it again and again for days.  And it was only a plastic bin full of rice, pipe cleaners and mini muffin wrappers!
A Sensory Bin provides toddlers and preschoolers with a great open-ended learning opportunity, allowing them to explore a limited environment with all their senses, in their own way and at their own pace.  The best part – this is exactly how young children learn best!
Children are "active builders of knowledge-little scientists who construct their own theories of the world." — Piaget #kbnmoms #play

— PGPBMeghan (@PGPBmeghan) October 12, 2015
Sensory Bins provide a great opportunity for children to explore a specific subject matter – like the farm, bring a book or work of art to more tangible life, and best of all for parents: it is self-contained.  While some of the filler may spill out, it still makes for quick clean-up, can be easily stored and brought out again and again.
Farm Animal Sensory Bin Supplies
Building a sensory bin can be as simple or elaborate as you would like.  With a newborn in the house, we are opting for simple these days!
Supplies
Yellow, colored rice
Melissa and Doug Farm Blocks

Plastic storage bin
Cost: Less than $5
Prep Time: Less than 10 minutes (plus 1-2 hours dry time)
Clean Up Time: Less than 5 minutes
Costs to create a sensory bin are minimal, especially if you use props and toys you already have at home.  Just by putting them in a bin with some sensory filler – in this case, colored rice – you will peak your children's interest in toys they may not have played with in weeks!
Coloring the rice is easy too – for our bin, I used one 5 pound bag of white rice.  I use this recipe from Powerful Mothering for coloring rice.  It only takes vinegar, food coloring and a ziploc bag.  And Lil' M likes making the rice as much as playing in it!
Farm Animals in the Haystack – Find and Seek Pairs
Once the rice is dry, just pour it in your bin and add your toy props.  I had it all set up with the animal blocks buried to start.  Once they uncovered them all, they reset their own farmyard and took turns re-burying and uncovering the animals over and over again!
---
Does your child's school do a farm unit study?  What is your favorite farm activity?
If you enjoyed this post, you might also enjoy our Monet Water Lilies Sensory Bin, this fun Halloween Glow in the Dark Sensory Bin or our Constellation Sensory Bag!  You can find all of these on our Sensory Bin board on Pinterest too!