I participated in an Influencer Activation on behalf of Influence Central for the

TB

Blood

Test

. I received a promotional item to thank me for my participation. #TBBloodTest

Are you a teacher or do you volunteer in your child's school?  While regulations and requirements vary by school and state, if you are actively present in a school, chances are you will be subject to mandatory, TB testing, often annually.  If you have ever had one before, you will know it can be a frustrating process, requiring not one, but two doctor visits, with subjective results, that can often be inaccurate.  Now, there is a better way.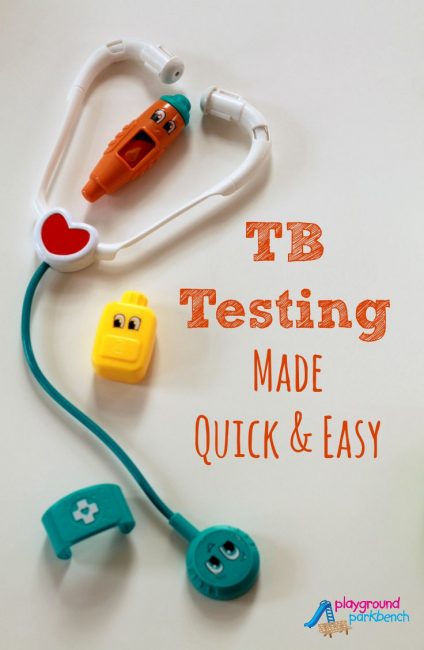 ---
TB Testing Made Quick and Easy
Tuberculosis, commonly known as TB, is an airborne, highly contagious, infectious disease.  It is estimated to infect 30% of the world population.  While it is far less common in the United States, outbreaks can and have occurred.  While many elementary schools do not require testing of all students, many colleges do, and many day cares, preschools and elementary schools do require testing of all personnel – including school volunteers.
My First TB Test
My daughter attends a co-operative preschool, and parents are required to volunteer regularly in the classroom over the course of the school year.  Before you can fulfill your volunteer requirement, you must have a TB test.  I had never had one before, and did not know what to expect.  But now, just a few weeks before the start of preschool, in the midst of the chaos of back to school shopping, school supply lists, physicals and medical paperwork for her (not to mention being home with two kids), I had to schedule two doctor visits for myself.
My doctor's office informed me they prefer to give TB tests as part of annual physicals… and the next opening for a physical appointment was 2.5 months out.  My first parent volunteer date was much sooner than that.  They ultimately allowed me, albeit begrudgingly, to come in just for the test, and return again several days later to have it examined and a subjective ruling made.  Fortunately, my test was negative, and I submitted all my required volunteer paperwork in plenty of time.
The TB Blood Test
There is a better way.  While the skin test, which involves having proteins derived from TB bacteria injected into your body, is the most common test administered by doctors' offices, it is inconvenient for patients and less accurate than the TB Blood Test.  The skin test can often produce false-positives, particularly for those who have been previously immunized against TB.  The second visit is for visual and physical observation of the injection site for signs of reaction by medical personnel.
The TB Blood Test is not only the most accurate test, it is far more convenient for all involved.  Testing requires just 3ml of drawn blood, and clear, objective results can often be determined during your visit.
For more information on the TB Blood Test, please visit TheTBBloodTest.com.
---
Have you ever had to undergo a TB test?  What type of test did you have?
If you found this post informative, you might also enjoy our post on School Fundraising Ideas.  You can find both of these, as well as our favorites from around the web on our Education / Back to School board on Pinterest.