Do you know the story of the Brooklyn Bridge? Twenty One Elephants and Still Standing
tells the tale of the construction of this famous landmark, and serves as the inspiration for this week's Architecture and Engineering activity with a fun engineering science for kids challenge.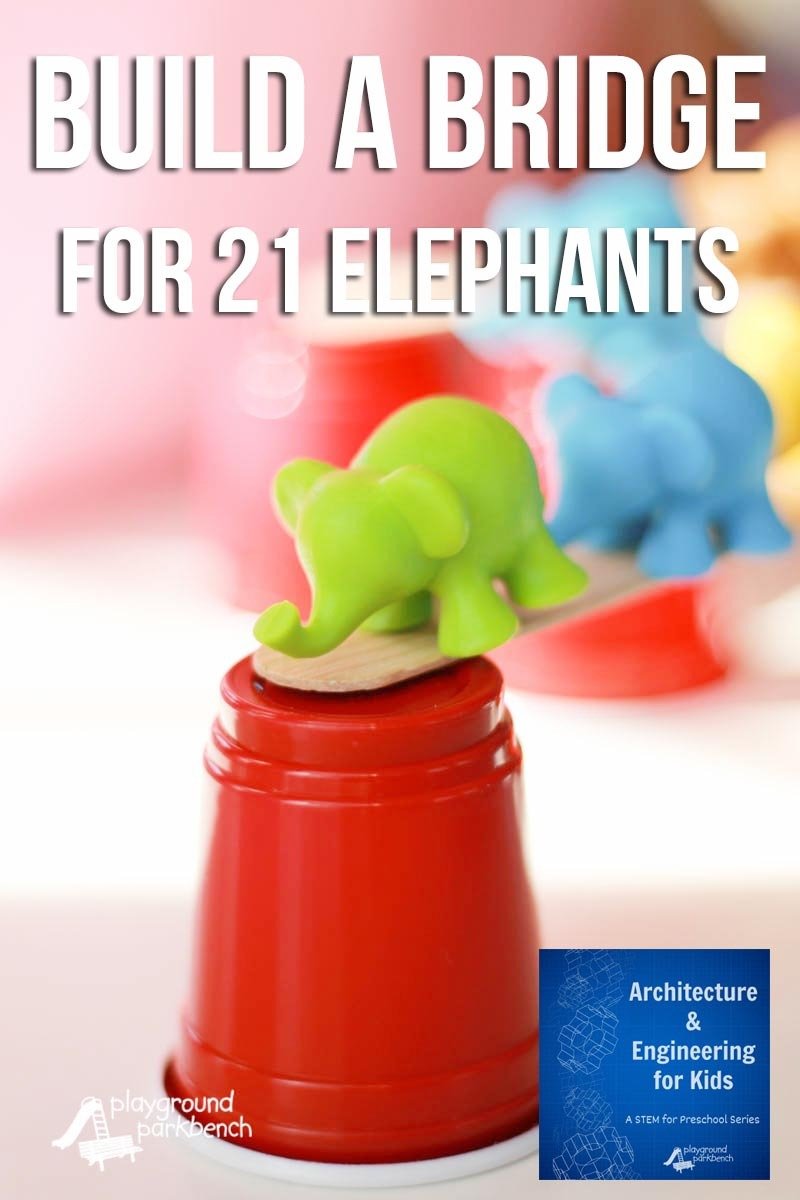 ---
Can You Build A Bridge for Twenty-One Elephants?
Twenty One Elephants and Still Standing
tells the true story of the fourteen year construction of the Brooklyn Bridge, in easy-to-read verse with gorgeous, full page illustrations.
[bctt tweet=" 'Taller and longer, bigger and broader, a bridge of infinite dreams!' Can you build a bridge for 21 elephants? #STEAMedu #engineeringforkids"]
Once the bridge was completed, it linked Brooklyn and New York City.  But many were intimidated by its size, worried about its strength and questioned how long it would stand. P.T. Barnum, the creator of 'The Greatest Show on Earth', decided to stage a public spectacle to prove the bridge's integrity.  He planned a circus in Brooklyn and marched his elephants, all 21 of them, through Manhattan and across the bridge to Brooklyn!
Engineering Science for Kids Challenge
For our Architecture and Engineering Activity this week, after reading the story, I gave Big M (age 4) a tray full of assorted recyclables and household objects and challenged her to build a bridge for 21 elephants.  Our supply set up included the following.
Supplies
Twenty One Elephants and Still Standing

Popsicle craft sticks

Paper towel rolls
Miniature red cups

Learning Resources Jungle Counters
The elephants for our challenge came from a set of jungle-themed counters from Learning Resources… and you might notice, some of our elephants don't have trunks because they are actually hippos!
[otw_is sidebar=otw-sidebar-32]
I let Big M take the lead on constructing with the materials, and she opted to use the cups and popsicle sticks to build her bridge.
When she could only get 3-4 across, she started building up…
… but found it a little wobbly, and opted for adding lanes instead.
In addition to engineering science, this also made for great counting practice.  At age 4, she's working on counting to and beyond 20.  She's pretty good up to about 15 before she starts to stumble.  So we worked on counting all the elephants/hippos every time she added one more.  Until, finally – all 21 were in place!
Let's Build Up!
Want more great construction ideas for kids? Check out my latest collaborative ebook: Up! Featuring 30+ STEM challenge ideas to transform your child's block play into an endless, hands-on learning center. Download your ebook today and get more than 100 pages of printables to go alongside the activities included. Get yours today from the Playground Parkbench store.
Engineering Storybook Science
I am super excited to be part of the month-long Storybook Science series hosted by Inspiration Laboratories.  Check out all the activities this week featuring Engineering, and all the book-inspired science all month long!
---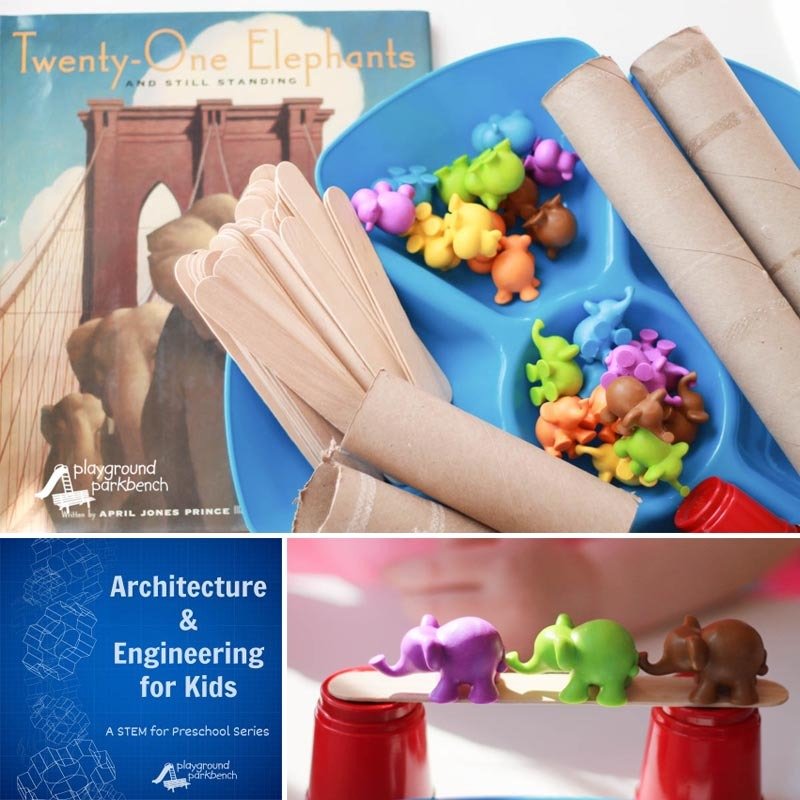 If you enjoyed this week's Engineering Science for Kids challenge, be sure to check out all the posts in our Architecture and Engineering for Kids series.  We add new ones every Wednesday!  You can find them all on our STEM for Kids – Engineering board on Pinterest.
Want to save it? Pin THIS!