Who says preschool subjects have to be limited to ABCs, 123s, dinosaurs and butterflies?  Big M is just as interested in exploring larger topics, often even more so.  Her interests inspired our latest series: Exploring Art History with Preschoolers.  Join us over the next few months as we explore Great Artists, major artistic movements, seek to reproduce preschool interpretations of their famous works, test out different techniques, and more.  There might even be a little for parents to learn along the way (I know I sure am!).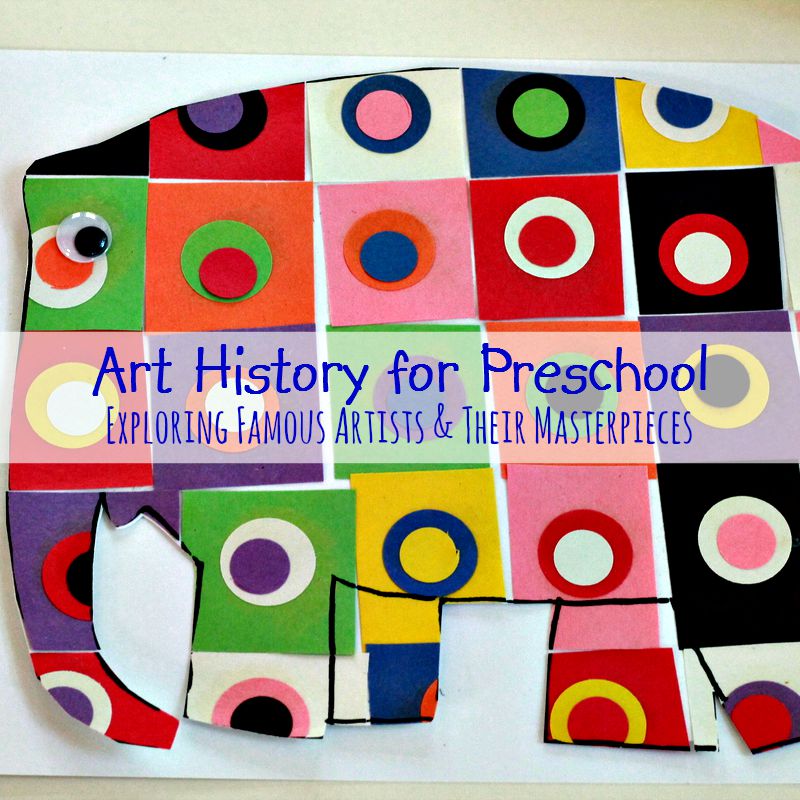 ---
Exploring Art History with Preschoolers
To kick things off, we started with a few posts to serve as resources throughout our art adventure.  First, 40+ books to introduce the concept of art, as well as the Great Artists, in picture books, perfect for young creative minds.  Next, we created a shopping list to augment your craft closet beyond traditional crayons and markers, in preparation for all our projects to follow.
Getting Started – Posts for Reference
Starting from the references above, we began undertaking our preschool interpretations of art throughout the ages.  Posts are organized below based on major art movements and artist.
A movement beyond art that arose from the modernization of Western society with the industrial revolution.  Shaped and informed by industry, growth of cities and eventually, the horror of World War I.  Techniques include experimenting with traditional forms and drawing attention to the processes and materials.
Impressionism (1870 – 1920)
The first Impressionist Exhibition took place in 1874.  After being rejected by the official, state-sponsored exhibition in Paris, known as the Salon, Claude Monet, August Renoir, Edgar Degas, Berthe Morisot, Alfred Sisley, along with several others, decided to organize their own exhibition.  Impressionist works were criticized for their 'lack of finish' and 'mere impressions' by art experts of their day.  Instead of the sharp lines and contours painted in studios the critics were accustomed to seeing from Salon painters, Impressionists used free brush strokes, and often painted in the open air, capturing landscapes and everyday life in different lights.
While never fully accepted in France, collectors outside of Paris gradually came to find value in the vision and style of the Impressionists.  American and other non-French collectors purchased many of their works, and a large share of Impressionist works remains outside French collections today.
| | | |
| --- | --- | --- |
| | | |
| | | |
Post-Impressionism (1886 – 1905)
Post-Impressionism was a primarily French artistic movement, rejecting the limitations of Impressionism (natural depiction of light and color), in favor of stronger geometric forms, distortion, and unnatural or arbitrary color choices.  Leaders of this movement include  Paul Cézanne, Paul Gauguin, Vincent van Gogh, and Georges Seurat.
Expressionism (1900 – 1950)
Expressionism was a modern movement, originating in Germany in poetry and painting at the turn of the 20th century.  It is known for the first truly abstract art, as Expressionists sought to express an emotional experience through their work, rather than physical reality.
| | | |
| --- | --- | --- |
| | | |
Fauvism (1900 – 1910)
Led by Les Fauves, French for The Beasts, works from this movement are known for painterly qualities and strong use of color vs. the more realistic creations of the Impressionists.  The movement was led by Henri Matisse and Andre Derain.
| | | |
| --- | --- | --- |
| | | |
| | | |
Cubism is often considered to be the most influential art movement of the 20th century.  The avant-garde movement dramatically changed sculpture and painting, and inspired related movements in other fields as well, such as architecture, music and literature.  In Cubist works, objects are analyzed, their parts dissembled, and put back together in abstract form.  Pablo Picasso and Georges Braque are considered the pioneers of Cubism, though they were ultimately joined by many others.
Pop Art (1950s – 1960s)
Pop Art emerged first in the UK, and then in the United States, challenging traditional fine art by incorporating elements of popular culture into art.  Often featuring news, advertisements, cartoons, artists works were commentary on mass culture.  In the United States, Andy Warhol is among the most well known Pop Artists of the era.
---
 Have you studied the masters with your preschoolers? What other artists have you explored or would you like to see us study? If you have tried one of the projects from our Art History for Preschooler series, I would love to see it! Share it with me on my Facebook wall or tag us on Instagram anytime with @PGPBMeghan.
You can find all of these and countless more on our Art for Kids board on Pinterest.
Love it? PIN THIS!