Use our Snowflake Printable to create another fun winter craft for kids: DIY Snowflake Window Clings
We are having a strange winter, with very little snow (fingers crossed I didn't just jinx us with another Snowmaggedon in February!). My 5 year old keeps asking me if we went back to Fall. So to keep the winter spirit alive, we have been doing a lot of activities with our snowflake printable, inspired by snow. This week, we decorated our playroom windows with our own DIY Winter Snowflake Window Clings! Watch the video how-to and grab your printable at the end of this post.
---
Winter Crafts for Kids turned Decor
It doesn't really feel like winter in New England without snow on the ground. Every time we get snow, it's gone in days… so the girls decided we needed to make some winter-themed decor for the playroom. After using our snowflake printable templates last week to construct snowflakes, this week we used the same pages to make our own sparkly snowflake window clings.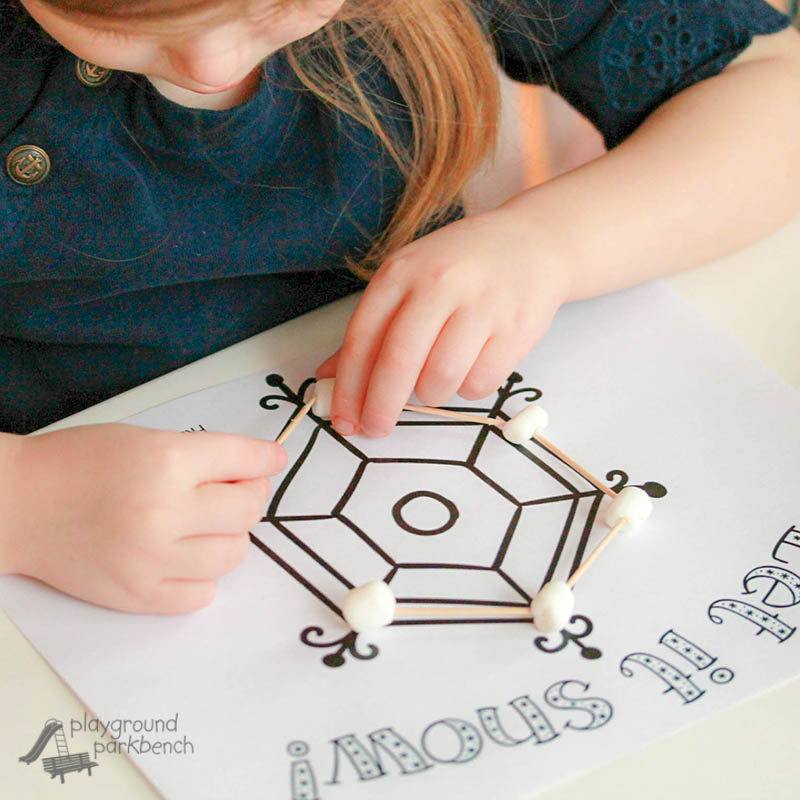 Winter Snowflake Window Clings Supplies
To make your own snowflake window clings, you only need 4 simple supplies
Making Your Snowflake Window Clings
To make your own window clings, first choose which snowflake design you want to make. Then, place a piece of wax paper on top of it. Trace the design with white glue – be heavy handed with the glue. The thicker the lines, the more durable your snowflake will be. So open the glue nozzle all the way, and tell your kids to squeeze!
It makes for great hand strengthening for those little fingers. Once your snowflake is fully outlined with glue, dust your it with glitter so it will sparkle and twinkle in the sun!
Now the hard part – letting it dry. We let ours dry overnight. You will know it is dry when the glue becomes clear. Once it is dry, you can carefully peel the snowflake window clings off the wax paper. You can see my 3 year old's snowflake window cling in the top half of the image below – her lines were too thin and not all connected, so it did not peel off the wax paper well and stay together (but she still had fun being part of the winter craft project!).
Once you remove them from the wax paper, peel and stick them to your window. If they don't cling on their own, you can use a damp sponge to add a little moisture to the backs to help them cling.
Grab Your Snowflake Printable!
Download your 12 unique snowflake templates from our Printables store. Add it to your cart below, and complete the checkout process to instantly download and print!
And watch the complete quick how-to video on our Facebook page!
---
Looking for more Winter fun? Check out our Indoor Obstacle Course to burn off your kiddos cabin fever, or if you do have snow on the ground, bring snow indoors with this no mess sensory play idea. No snow? Make your own Instant Snow with this simple 3 ingredient recipe from Wunder-Mom.
Find all of these and more on our Winter board on Pinterest! And show us how you put our Snowflake printable to work – leave your pictures on our Facebook page or tag us on Instagram with @PGPBMeghan!
Love it? PIN THIS!