We are well into week two of illness and sub-freezing temperatures here.  But that hasn't stopped us from enjoying the beauty of winter from indoors with an endless supply of snow and snowflake crafts!  Today, we add another one to the mix – Marshmallow Snowflakes! Grab your printable snowflake templates at the end of this post.

---
Winter Fine Motor Fun with Marshmallow Snowflakes
This is another craft that is super quick to set up, has little to no clean-up, and can keep them entertained for hours.
Supply List:
Toothpicks
Mini marshmallows
Cost: Less than $5
Set-up Time: Less than 5 minutes
Clean-up Time: Less than 5 minutes
Sometimes the girls find it easier to get started with a new craft, with a little guidance, not just a blank page.  So I created these basic, black and white snowflake printables to use as guides. I told them the lines were where they should place the toothpicks, and the dots represented marshmallows connecting them together.  My 3 year old started off simple…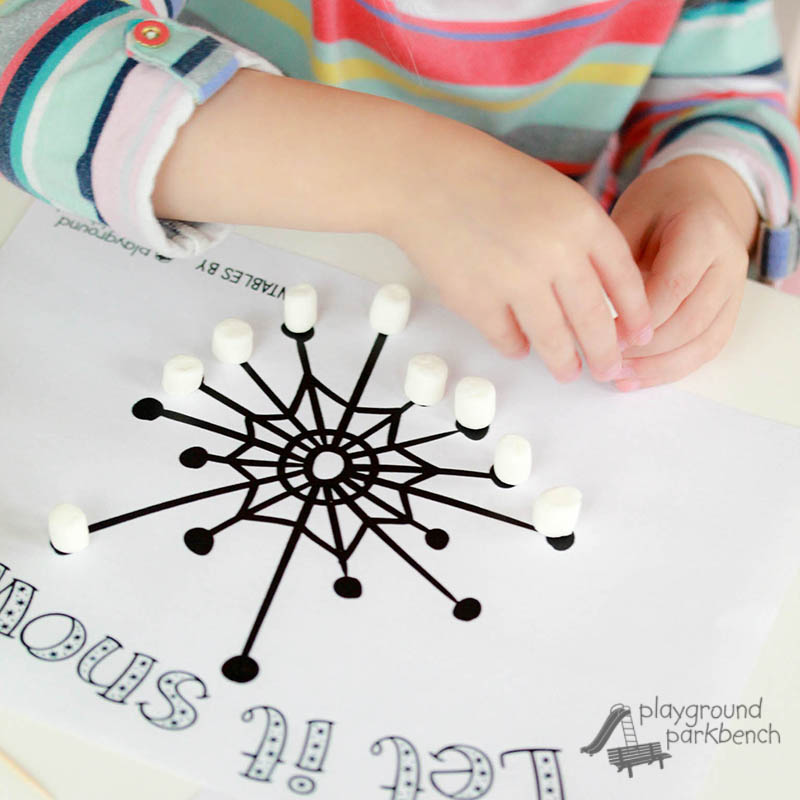 … but quickly was ready to connect the dots!
My 5 year old opted for some slightly more complex snowflake designs.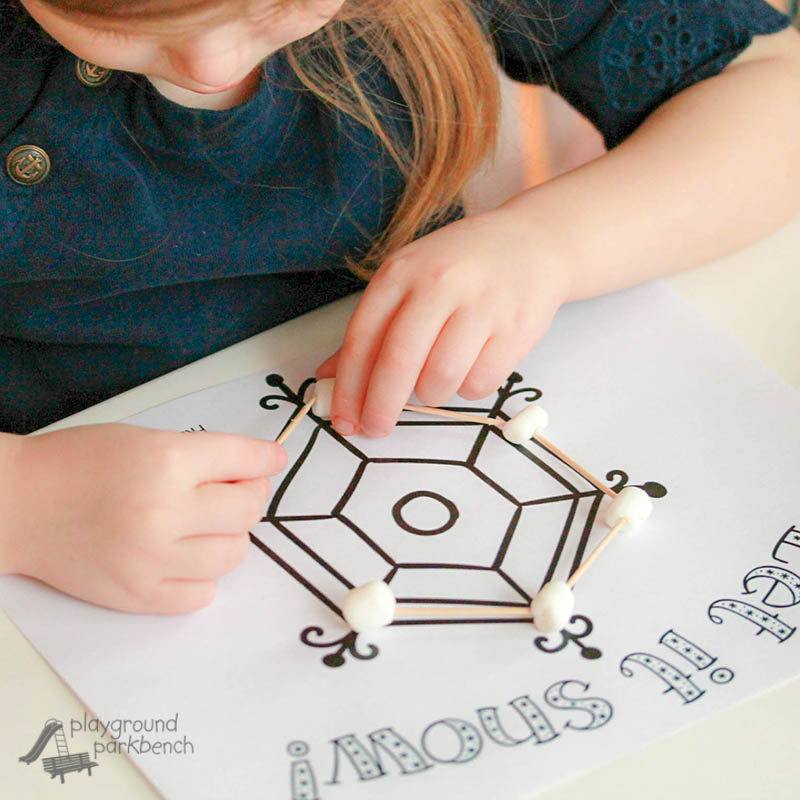 And best of all, they worked at this for a good half hour, side by side, sharing and helping each other beautifully. Those moments don't happen often, but it's always such a great feeling when they do!
Get Your Printable Snowflake Templates
Grab your 12 unique, black and white printable snowflake templates from our printable store below. They are the perfect starting point for any number of winter and snowflake arts and crafts for kids, or make for great simple winter coloring pages too!
More Winter Kids Activities
If you like our Marshmallow Snowflakes, you may also enjoy our Jumbled Snowman, another fun winter fine motor challenge! You can also check out our Winter Crafts Roundup featuring 5 more snow related crafts!