We have been on a quest for indoor entertainment this winter, and this (mostly) Indoor Scavenger Hunt for Kids definitely provided it! Last week in my Architecture and Engineering for Kids series, the girls Made Monuments with Mega Bloks, learning about the majesty of famous and historic architecture.  This week, by exploring the very walls in which we live, I stressed how present architecture and engineering is in our everyday lives.
---
Architectural Scavenger Hunt
We were all bitten by the builder bug last year when building our house that we finally moved into late last summer.  The girls were obsessed with coming to meet the builder, stealing his measuring tape and pretending to be part of the action.  But since we moved in, I realized they hadn't seen much of the infrastructure of the place beyond the four walls.
Learn Basic Architectural Building Blocks
While reading Look at that Building! A First Book of Structures
, Big M (age 4), kept talking about when we were building the house.
"Remember, when they made the foundation here, Mom, remember?"

"Remember, when they framed the walls, Mom, remember? And we could walk through them all?"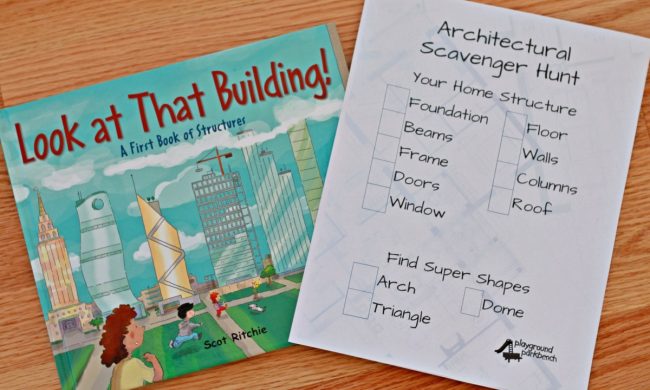 The book tells the story of kids who want to build a house for their dog.  They decide to go to the library to learn how to do it, and learn and observe all the parts involved for building a house.  They cover each of the vocabulary words listed on our Architectural Scavenger Hunt printable.
All my printables are available free to my weekly newsletter subscribers.  Every Friday, you will receive PGPB Guru Weekly, featuring all our content for the week, as well as featured favorites and a weekly special offer.  Upon confirmation of your subscription, you will immediately receive an email with a link and password for the password-protected printables page.
Indoor Scavenger Hunt for Kids
Armed with our architectural features checklist and a camera, we set off through the house to see if we could find all the various items in our own home.
Big M (age 4) wanted to check items off by photographing them. We started in the garage where we could see the top of the foundation exposed, as well as walls, windows and columns.  Next, we headed to the basement, where the framing was still exposed on the unfinished side.  Then, we headed upstairs to the attic to see more framing, beams, the underside of the roof, and the super shape – triangles!
We were missing two super shapes – arch and dome.  Big M was quick to head for our bathroom, where there is one arched window.
And while we don't have any domes in or on our house, she asked if the light fixture over our kitchen table could count.
Architectural Features Everywhere!
The best part about this checklist is you can have an Architectural Scavenger Hunt anywhere.  Take it with you in the car – when you drive through the center of town, does your town hall have columns? Or maybe even a dome?  Can you see the foundation on the bottom of buildings?  Are there new constructions sites where you can see buildings being framed?
Take it with you on vacation or a field trip to a museum.  Use it when your child is building with their blocks or Magnatiles.  Can they point out the walls, roof, columns of their construction?
Let's Build Up!
Want more great construction ideas for kids? Check out my latest collaborative ebook: Up! Featuring 30+ STEM challenge ideas to transform your child's block play into an endless, hands-on learning center. Download your ebook today and get more than 100 pages of printables to go alongside the activities included. Get yours today from the Playground Parkbench store.
---
We will revisit this list next week when we undertake the challenge at the end of Look at that Building! 
to build our own dog house!  First up, designing it… check back next Wednesday for details!
If you enjoyed this post, you might also enjoy Making Monuments and 20+ Architecture & Engineering Books for Kids.  You can find all of these on the Architecture and Engineering for Kids – STEM for Preschool series landing page, as well as on our STEM for Kids – Engineering board on Pinterest.