Confession.  Children's books can be a bit tiresome, especially when your preschooler wants to read the same one for the 100th time.  Therefore, I really appreciate clever ones, like The Three Little Pigs: An Architectural Tale
 which put an intelligent twist on classic children's literature.  It portrays the architectural greats – Frank Lloyd Wright, Frank Gehry and Phillip Johnson – as the three little pigs, along with their famous houses. It also inspired this construction center, perfect for a preschool architectural challenge and the next activity in our Architecture and Engineering for Kids series.
---
Three Media Architectural Challenge
In The Three Little Pigs: An Architectural Tale
, the story follows the traditional tale of three pigs building three different houses – the first pig, Frank Gehry, builds a house of scraps looking strikingly like the Gehry House.  The second pig, Phillip Johnson, opts to build a house of glass, reminiscent of The Glass House built by Johnson just down the road from us in New Canaan, Connecticut.  And the third pig, Frank Lloyd Wright, builds a house of stone and concrete, ala Fallingwater.
While the architectural homages may be a bit over the heads of my preschooler and toddler, as an architectural enthusiast, I thoroughly enjoyed it. And the general story line of the three little pigs provided great inspiration
 for our preschool construction center challenge.
Construction Center Set-Up
Like our architect pigs, I challenged the girls to construct three houses – a house of scraps, a house of 'glass', and a house of 'stones' – to stand up to the huffing and puffing of the wolf.  For our center, I laid out the following:
Supplies
Scraps – pipe cleaners, straws, notched cardboard and play dough
Glass – Magnatiles
Stones – LEGO Duplo

Hair dryer – to blow the houses down
Prep Time: Less than 15 minutes (mostly to make play dough, prep scraps)
Clean-up Time: Less than 5 minutes
House of Scraps:
cardboard, straws, pipe cleaners, play dough

House of Glass:
Magnatiles

 House of Stones:
LEGO Duplo
While Lil' M (age 2) busied herself making play dough dresses for her princesses (she may be a bit obsessed with the Disney Collector!), Big M got to work building her houses!
House of Scraps, Glass and Stones
First up, Big M built a house of scraps.  I helped her shore up the foundation a bit, but she was determined to give it an arch.  With walls and a roof in place, she was ready to try and blow it down… and down it went!
Next, she built a house of glass with Magnatiles.  These are easily the most played with toy in our house these days, so there was no learning curve.  Once she built her house, she decided we needed to put a pig inside.  Unlike in the story, her glass house withstood the dryer test and could not be blown down!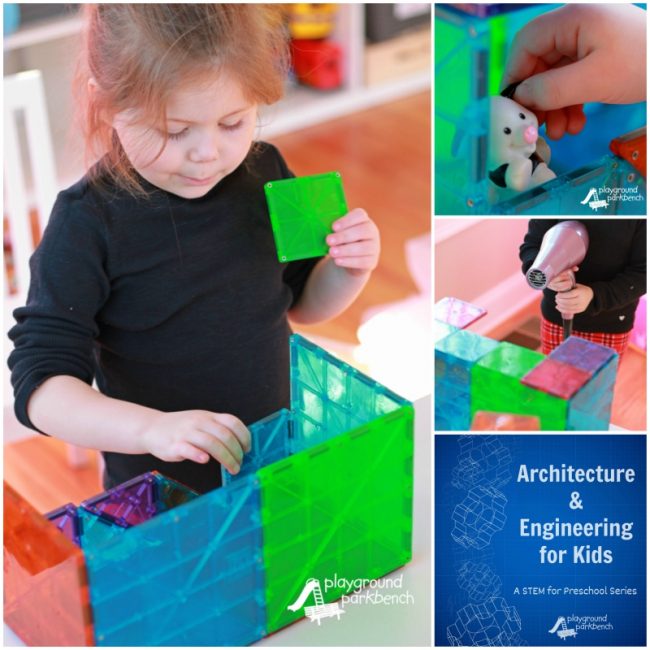 Last up – a house of stones and cement.  We used LEGO Duplo for this one, and while it didn't blow down, it did blow across the table under the gun of the dryer.
Re-Visit Architectural Vocabulary
Constructing houses provides a great opportunity to revisit the architectural vocabulary we learned in last week's activity – Architectural Scavenger Hunt.  As the girls built their houses, I asked them to point out the foundation, walls, columns and beams.  Big M was even quick to point out some super shapes!  We talked about how these shapes add strength to the houses, no matter the construction materials.
Let's Build Up!
Want more great construction ideas for kids? Check out my latest collaborative ebook: Up! Featuring 30+ STEM challenge ideas to transform your child's block play into an endless, hands-on learning center. Download your ebook today and get more than 100 pages of printables to go alongside the activities included. Get yours today from the Playground Parkbench store.
Book-Inspired Crafts & Activities for Kids
In addition to being part of our Architecture and Engineering for Kids series, our Construction Center challenge is also part of Raising Little Superheroes' month long Book-Inspired Crafts & Activities series. Be sure to check out all the great book-inspired ideas added throughout the rest of this month.
---
If you enjoyed this Construction Center Challenge, be sure to visit us every Wednesday for the next activity in our Architecture and Engineering for Kids series!  Up next week? A STEM Challenge – Build a Tower Sky High. You can find all the posts in the series, as well as our favorite STEM activities from around the web, on my STEM for Kids – Engineering board.