I recently reached a major mom milestone. I had just finished weaning my last baby, and I was so ready to burn all those ugly nursing bras. However, after 6 years of being pregnant or nursing, my drawer was full of bras in a multitude of sizes, but no bras that fit. It was time to start over. I had a real bra fitting for the first time in easily a decade, and discovered there was so much I didn't know and was doing totally wrong.
---
You Wear One Everyday – Find Bras that Fit!
There are few items in your closet that get as much mileage as your bras. You wear one everyday, all day long. You probably have a handful of different ones, but only a few that you really love the fit or that actually fit. You know you need to go buy a new one…But bras are expensive – usually starting at around $40+ each.
So between the cost and the amount of time you spend wearing one, you need to stop just walking into stores and buying one because it looks cute or is on sale. Here are 7 things all women should know to find bras that fit every time!
Download and print the FREE Find Bras that Fit printable guide at the end of this post. Keep it in your purse for easy access on your next shopping trip to get a perfect fit every time.
How to Properly Measure Yourself for a Bra
Bras are measured in band and cup size  – are you a 32A or a 36DDD? And how do you find those measurements?
Bra Band Measurement
Band size is the measurement around your rib cage. You can measure yourself while wearing a bra (with little to no padding). To measure, use a soft tape measure
 to measure around your back at band level. Pull it under your arms, and across your chest, ABOVE your breasts, where the straps of your bra meet the cups. This measurement, in inches, is your band size. If your measurement is an odd number, round down to the nearest even number. If you measure 35 inches, you would want a 34 bra.
Common Mistake #1 to Finding Bras that Fit – Your band measurement is not taken around your back and BELOW your bust line!
Cup Size Measurement
Now that you have your band measurement, you need to find your cup size. To measure, use the soft tape measure to again measure around your back at band level, and under your arms. This time, however, you want to measure across the fullest part of your breasts.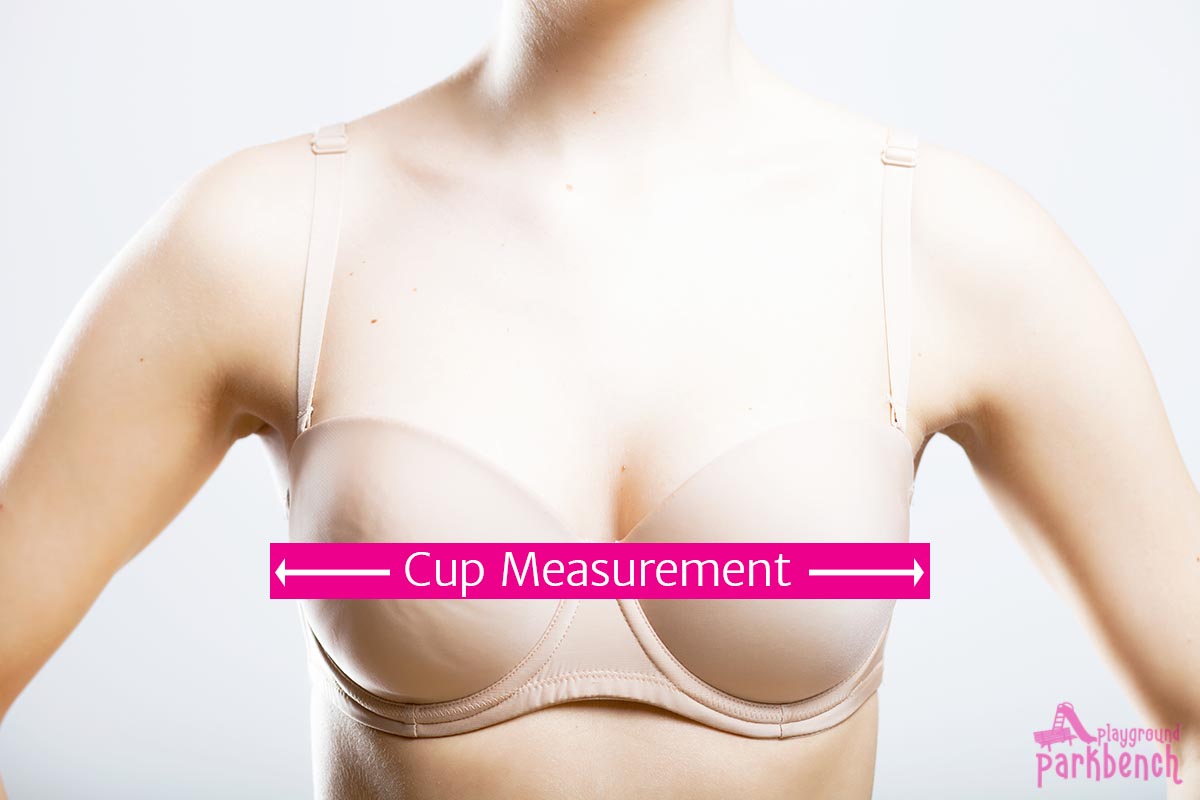 This bust measurement, in inches, less your band measurement determined above, determines your cup size.  Find the difference between the two measurements in the table below to determine your cup size.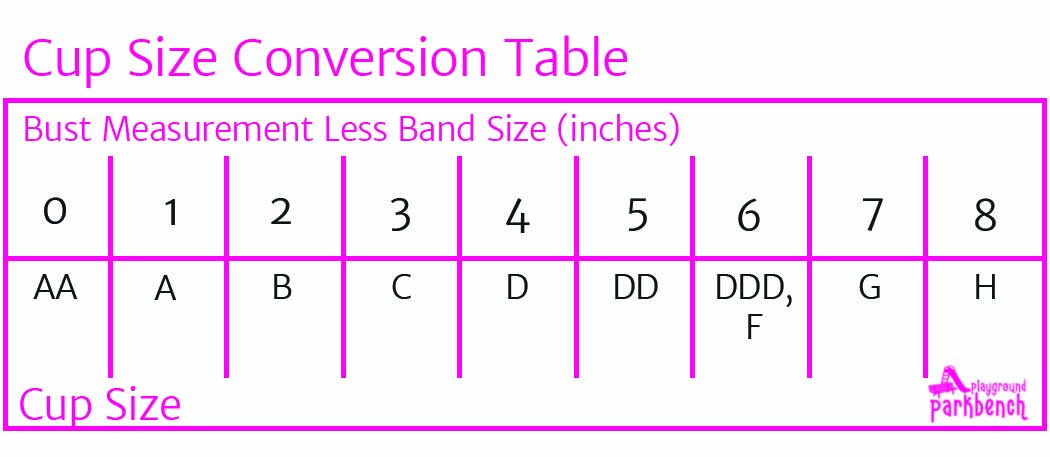 Cup Size Varies with Band Size
Here's where things get complicated. Your measurements above may tell you that you are a 36C. But as we all know too well, all bodies are created differently… and so are cup sizes. A 34C cup is smaller than a 36C cup. A 36C cup is actually the equivalent of a 34D or a 38B .
Common Mistake #2 to Finding Bras that Fit – All cups are not created equal. You are not the same cup size in every band size.
So if you try on a bra in your size, and you find you prefer a tighter band, or if you find that your breasts are spilling out of the cups, you can move up or down from your size using the table below to find a bras that fit you more perfectly. Fit can vary with bra style as well. Use the measurements you determine above as your starting point, but know you may have to move up or down based on the table below in different styles to find the perfect bras that fit.
How to Wear It
Now that you know what bra size (or sizes) to try on, how do you know when you have the perfect bras that fit? A few things to look for.
A snug fitting band – most of your support comes from the band itself. It should fit snugly and at the same level all the way around your front and back. If it rides up, it's too big. If it is digging into your back, it is too small. A new bra should fit snugly, but comfortably on the last hook and eye closure. Elastic wears over time, and you want to be able to tighten your bra as it gives, not start with it on the tightest closure.
Common Mistake #3 to Finding Bras that Fit – Buying brand new bras that fit on the tightest hook and eye closure, leaving no room for stretch over time.
Proper cup size – If your breast tissue is spilling out, the underwire is not resting flat against your body, or you want to reduce your band size, you need to use the table above to go up a cup size. If the cups are digging into your armpits, there are gaps between the cups and your breast tissue, or you want to increase your band size, use the table above to go down a cup size.
Adjust your straps – once you feel you have found the perfect bra, adjust your straps. They should not dig into your shoulders or be so loose they fall off. If you find your straps need constant adjustment, it may be time for a new bra.
Treat with Care
After all the hard work to find the perfect bras that fit (not to mention the expense – bras are so NOT cheap!), you want to make sure you take care of them to maximize their useful life. First, you want to wear them properly. Just like runners don't wear the same sneakers two days in a row, you shouldn't wear the same bra two days in a row. You don't have to wash it with every wear, but you should let it rest and air out. Why? Sweat can cause the elastic to breakdown more rapidly – so let it rest for longer lifetime wear.
Common Mistake #4 to Finding Bras that Fit – Wearing the same bra everyday for days at a time.
Two, wash it properly. Bra materials vary, so follow the care instructions given. Close the hook and eye closure and place bras in a lingerie bag
 so straps and hooks don't catch on other clothing. And NEVER ever put your bras in the dryer. The heat ruins the elastic. Hang or lay flat to dry.
Finally, you want to store your bras properly as well. Avoid folding bras in half. Instead lay flat and stack in a drawer, or hang in your closet to avoid altering cup shapes.
Replace Bras Regularly
Bras have stretch for comfort and fit. But elastic also wears and breaks down over time. You can increase the longevity and fit of your bra by following the care steps above, but if you find your straps need frequent adjustment, or your band is on the last closure and not fitting snugly, it's time to replace your bra. Most experts recommend replacing them every 6 to 12 months.
Common Mistake #5 to Finding Bras that Fit – Wearing the same bra for YEARS.
Re-measure Regularly
Anytime your body goes through a significant change, you should remeasure to find your perfect fit. If you lose or gain more than 5 pounds, pregnancy, post-pregnancy, nursing, post-nursing, menopause – all of those changes potentially affect your bra measurement.
Common Mistake #6 to Finding Bras that Fit – Wearing the same bra for YEARS even after your body undergoes significant changes.
I always knew I was pregnant before I even took a test because I would go up a cup size. While nursing, I went up another 2 cups. After weaning my last, I had a drawer full of bras ranging from 34C to 38DDD, many of which were 5 years old or more. Donate what no longer fits, and replace with bras that fit based on your new measurements.
Get a Proper Fitting
Letting a random stranger measure and adjust your breasts is not exactly anyone's idea of good time. But most lingerie stores and departments have trained professionals on staff to insure you are expertly measured. And they do it over your existing bra – so it's not like you have to bare it all. They can also help you find your perfect fit within their inventory – since just like the fit of a size 10 pair of jeans varies by brand, so does a 32D.
After I trashed all my nursing bras (and the 10+ others that were older than my oldest child, misshapen and overstretched), I went for a proper fitting. And the woman who helped me was amazing – and taught me ALL of this! But if you still aren't sure about it, download our Find Your Perfect Fit bra guide below, so if you happen to get a sales professional who doesn't really know what they are doing, you can still be sure you are making an informed choice to find bras that fit.
Download Find Your Perfect Fit Guide
Get all my tips to measure and find your perfect fit with this FREE one-page printable Perfect Fit bra guide. This one page will walk you through and give you a place to record your band measurement, cup measurement, and includes the size swap table above for quick and easy reference when you go out to find perfect bras that fit!
Just click to add it to your cart below, then complete the checkout process (no charges) and download from the order completion page.
Ready for a new bra?

---
When was the last time you bought a new bra? If it's been more than 6-12 months, it's time to re-measure and make sure your bras still fit. You can find this most and more Mom Lifestyle posts on my Mom Life board on Pinterest.
Need this for later? PIN IT!