If you haven't heard of LuLaRoe yet, you are likely living under a rock. But what you may not know is that it is SO much more than just fun and funky printed leggings. The line spans leggings, tops, dresses, and skirts… and you can wear every piece in a TON of different ways. In case you aren't already Roe-ing, here are a dozen of my favorite hacks and LuLaRoe style ideas to get you totally hooked!
---
I grew up in the South where you ALWAYS dress for an occasion. We dressed to the nines for Friday night football games and if I ever so much as thought of wearing jeans to Sunday mass, my Grandmother would have disowned me. And since old ways die hard, when I first became a SAHM, I swore I would never be 'one of those women' who lived in leggings and yoga pants. But then, my friend Ashley introduced me to LuLaRoe… and now I'm going to introduce you to her!
Are Those LuLaRoe?
These are totally not your run of the mill leggings. They are super soft, and come in an endless array of prints and patterns. Each print is produced in limited quantities, which just feeds the addiction – if you see a pattern you love, you better buy it because you won't see it again.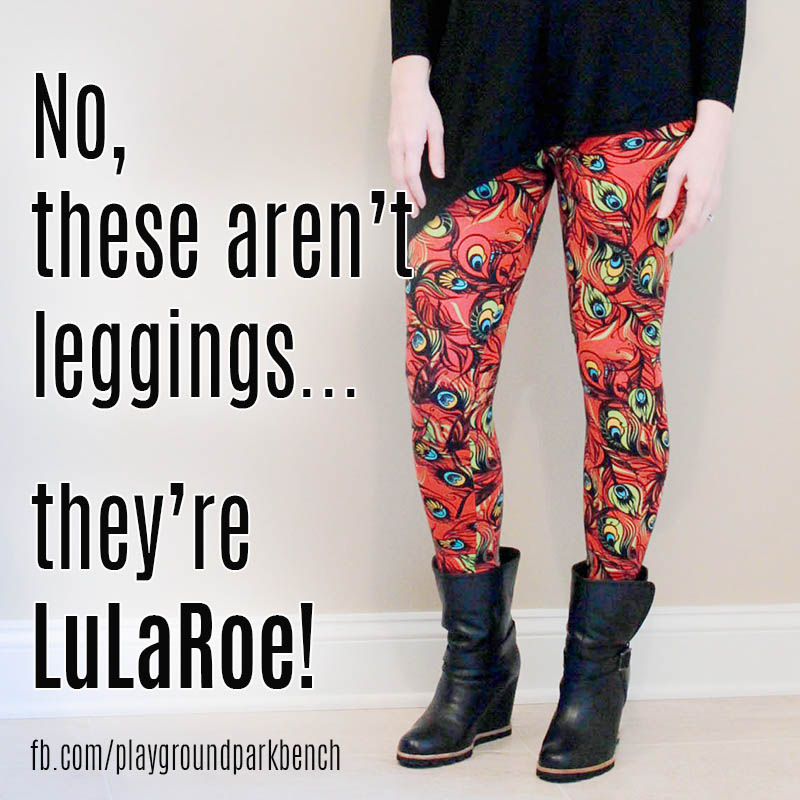 [clickToTweet tweet="12+ style ideas, tricks & hacks for #LuLaRoe #LuLaRoeAddict #LuLaObsessed" quote="No, these aren't leggings… they're LuLaRoe!"]
Every time you wear a pair of LuLaRoe leggings, you will be stopped and asked where you got them, repeatedly… they are that cute and unique. Those hot pink peacock feathers? Those are what those in the Roe world call a 'unicorn' – an awesome print that is in super limited quantity and disappears as fast as they make them. They are my favorite pair (so far!).
7+ LuLaRoe Style Ideas for Leggings
LLR's cult following prides itself on inventing awesome LuLaRoe style ideas for all its different pieces. Black leggings are every mom's go to for working out, cleaning house, daily errands – it's basically a wardrobe staple. But the buttery softness of LLR leggings, for which the brand is most famous, will make you find a way to wear them every day for everything. And with these style ideas, you can definitely try!
The Double Up and Flip
While LLR leggings aren't overly thin, in freezing winter temps, you'll appreciate the double layer of this LuLaRoe style idea. Pick a fun patterned pair and a solid colored pair to match.
Turn the colored pair inside out, and insert it inside the patterned pair.
I find it's easiest to do it like I would put on a pair of tights, reaching my arm through the legs.
Pull them on and flip the colored pair up to make a cute, contrasting cuff at your ankle!
[otw_is sidebar=otw-sidebar-32]
Pop of Color & Holey Jeans
You know you favorite pair of perfectly worn in, holey jeans? You don't have to pack them away in the winter! Pull them on over a pair of LuLaRoe leggings for an added layer of warmth and a fun pop of color during the dreary winter days.
Make Your Own Pattern with Fishnets
This might be my favorite. While fishnets don't add much warmth – you can turn one solid colored pair of leggings into an endless assortment of patterns and textures. Try neon fishnets
over black or darker shades, or layer black fishnets
over any color!
As a Shrug!!!
WHAT?!?! I know it sounds crazy, but you can totally pull this off. Pair a strapless top or dress, or even a white tank with a fun pop of pattern or color, wearing leggings as a shrug. Put an arm through each leg with the waist behind your shoulders. You can pull the lower part of the waist band down to leave a curved look across your back… or tuck it under for a shorter, straight finish.
Layer Under Skirts, Dresses
And you can also layer LLR leggings under dresses and skirts… The Julia is a t-shirt style shift dress…
And the Cassie is a fitted pencil skirt.
What shoes do you wear with leggings?
Not sure what shoes to wear with your leggings? My go to, depending on the season are boots, booties, ballet flats and for a super casual look… Converse
!
3+ Ways to Style the Julia
After leggings, my next favorite LuLaRoe piece is the Julia. It's a t-shirt style shift dress that can be dressed up or dressed down with shoes and accessories. I've worn them for date night and to my kid's birthday parties. But the coolest part is it can be worn as different styles of dresses, and shortened too.
Style Julia as a Tunic
Wear it folded under as a tunic length with leggings…
Wear Julia as a One Shoulder Dress
Pull one arm out and through the neckline, then fold the empty arm inside your dress for an elegant, one shouldered look. You could also wear this tunic length.
Julia Turned Halter
And for a fun summer look – wear it as a halter! Pull both arms out and put them through the neckline.
Then, pull the arms around your neck. You can knot, safety pin or tie them together with a rubberband where they meet behind your neck. Again, you could wear this as the knee length dress, or as a shorter tunic length.
3+ Ways to Wear the Cassie
The Cassie is a fitted, pencil skirt. You can wear it on it's own, or in winter weather, layer it over leggings. But my favorite way to wear it is as a top or an accessory.
Cassie Turned Scarf
Gather the skirt to form an infinity scarf and drape it around your neck…
Cassie Turned Top
You can also wear the Cassie as a strapless top. There are two options. First, you can wear the wide waistband at the top, for a longer, tunic-style strapless top. Or, my preference, turn the skirt upside down. The waistband will be at your waist, with the hemline around your chest. This creates more of a bloused, strapless top.
---
Fair warning, these are only 3 of many different styles Ashley offers. The patterns, soft material and ease to wear, wash and style will soon have LuLaRoe taking over your closet. Learn more by joining Ashley's LuLaRoe group (where she shares LuLaRoe style ideas live ALL the time), and where you can shop Tuesday nights at 8PM ET and Saturday mornings at 12PM ET every week!
For more mom style ideas, visit my friend Rachael's Fashion and Style Guide at Wunder-Mom. You might also enjoy these posts on Maternity Clothes – what to buy, where to buy them… and even where you can rent them! You can find all of these and more on my Mom Life board on Pinterest.