This post has been compensated by Groupon Coupons. All opinions remain 100% my own.
Financial savvy is not only about saving money.  It's also about spending money wisely.  This month's Financially Savvy Friday topic is Savvy Shopping.  To kick off the topic for the month, I'm going to give you the inside scoop on Groupon Coupons to save you money on just about any purchase you make, online or in stores, everyday.  And it's totally FREE!
---
Savvy Shopping with Groupon Coupons
I am so not one of those old school coupon clippers.  Seriously, who has time for that?!? Occasionally, I may tear out a restaurant coupon from a local mailer, or takeout menu… and my anti-clutter husband usually throws it out before we use it.  In today's digital age, you can still save money on nearly every purchase you make with online coupons – for use shopping online and in-stores too. And you don't have to subscribe to every store's newsletter or rewards service to get them either.
Groupon Coupons
Unless you have been living under a rock for the last 7 years, you are familiar with Groupon and their prepaid, limited quantity discounted offers for everything from local restaurants, to trips, sporting events, services and more. What you may not know is they also have a coupons site.
There is ZERO cost to use Groupon Coupons.  All you need to access it is a Groupon account. They have aggregated over 65,000 coupons from nearly 10,000 stores. I use it in three different savvy shopping ways!
Browse Through Today's Top Coupons
From the Groupon Coupons main page, you can quickly scan the best offers of the day.  This may not always be savvy shopping, if you are buying something you don't actually need… but you can find awesome deals!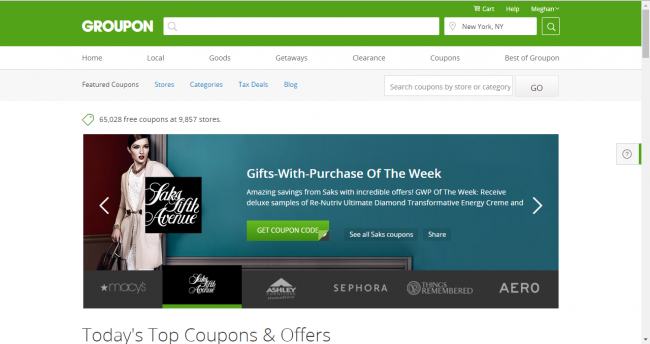 Search Coupons by Category
From the Groupon Coupons main page, you can choose to search for coupons by Categories.  My personal favorite: Babies & Kids.  We always need something – diapers, socks, teething toys, a birthday gift.  Clicking on the category will show me a list of awesome coupons relevant to that segment.
Search by Store Before EVERY Purchase
And my personal favorite way to use Groupon Coupons… before I click enter on any online purchase, or walk up to the cash register at any store, search for the name of the retailer on Groupon Coupons.
Today, my oldest needs new pajamas.  She is growing like a weed, and I swear I just bought her some at Christmas and she has outgrown them all. I went to Carter's.com, found some great pajamas, added them to my cart.  Then, I went to Groupon Coupons and searched for Carter's.  There were 27 coupons to choose from!  I picked the best one for my purchase, copied the coupon code provided, entered it into the spot on the Carter's checkout page, and for about 30 seconds of my time, I saved $10.50 off my purchase.
With nearly 10,000 stores represented, you can almost always find a coupon to save money on your purchase just for taking a few seconds to check on Groupon Coupons.
More Groupon Coupon Retailers
There are almost 10,000 retailers and service providers represented on Groupon Coupon.  A few more of my favorites include:
---
Savvy shopping means making smart purchases at the best price… and never leaving money on the table.  Just think how much you could save with a Groupon Coupon on EVERY purchase you make? Be sure to check the Financially Savvy home page each Friday in April for more Savvy Shopping tips, and don't miss all the posts on Budgeting, Budget Savings and Student Loans shared over the last 3 months! You can find all the posts in the series, as well as my favorite money saving tips from around the web on my Financially Savvy board on Pinterest too!