Today, we continue our Exploring Art History with Preschoolers series, sharing the first preschool reproduction using one of the masters' techniques: Matisse Cutouts!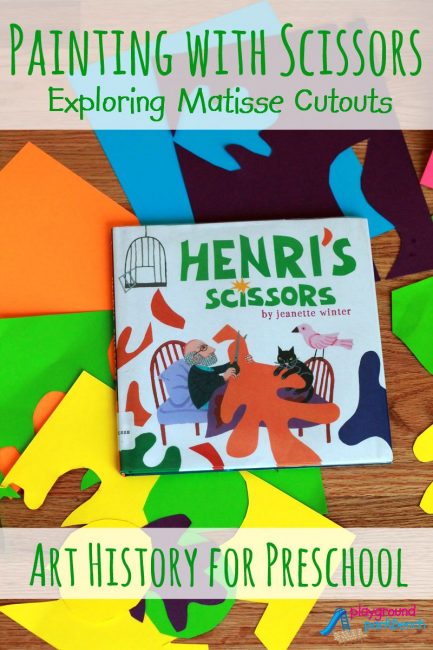 ---
Painting with Scissors – Exploring Matisse Cutouts
This represents a number of firsts for us: the first Kids Activity in our Exploring Art History with Preschoolers series AND the first Kids Activity we actually made in our new house!  This summer has been rough – our current house is on the market, which means we are frequently forced to vacate the premises for hours at a time for showings (and to keep the place clean before the showing) and open houses.  Fortunately, our new house is almost complete, and we have started moving things in, so we have somewhere to go hangout now at least, even if there's still little to no furniture!
Today, I planned this simple activity to explore Matisse cutouts.  First, we read Henri's Scissors
by Jeanette Winter.  This is one of the many books we discovered at the library, perfect for introducing great artists, like Henri Matisse, to preschool artists.
The book tells the story of Matisse and the ups and downs he experienced throughout his career.  Matisse began painting as a young man while recovering from appendicitis.  As an old man, after being bedridden again from illness, he wasn't sure he would ever paint again.  Thus began the famous cutout stage of his career.
Recreating Matisse Cutouts
It doesn't get much more basic than the supplies needed for this art reproduction!
Supplies

Cardstock or construction paper, assorted colors
White paper
Scissors
Glue stick

Cost: Free to Less than $5
Prep Time: Less than 5 minutes
Clean-up Time: Less than 5 minutes
The book alone provides great examples of Matisse's work for inspiration, but for some complete examples of his works, we also checked out a few on my iPad:
I let Big M pick out the colors of cardstock she wanted to use for cutting shapes.  Leave it to the preschooler to choose colors as vibrant as Matisse!  She's still working on scissor skills, so this was great practice for her.  She cut mostly squares and strips, while I helped cutting some more Matisse-esque shapes free-handed.
With our shapes cut out, I let her take over with the glue stick.  At first, she wanted more paper so the shapes didn't overlap, but after revisiting some of Matisse's works, she was convinced to let the shapes touch!
---
 And voila!  Our first piece of art inspired by one of the Masters' techniques…
If you enjoyed this post, you can find all our Exploring Art History with Preschoolers posts here and on our Art for Kids board on Pinterest!
Coming up next… re-creating one of Matisse's oil paintings, Goldfish, with basic shapes!