Growing up, my grandparents had a print of the Matisse Goldfish hanging in their breakfast area.  The Goldfish and many other prints and reproductions they hung in their home were my first exposure to art as a child.  Thirty years later, having seen many great masterpieces in person in museums around the world, Goldfish are still one of my favorites.  Its simple subject matter, along with Matisse's techniques, also make it a great piece to explore with preschoolers, breaking a masterpiece down into basic shapes and colors.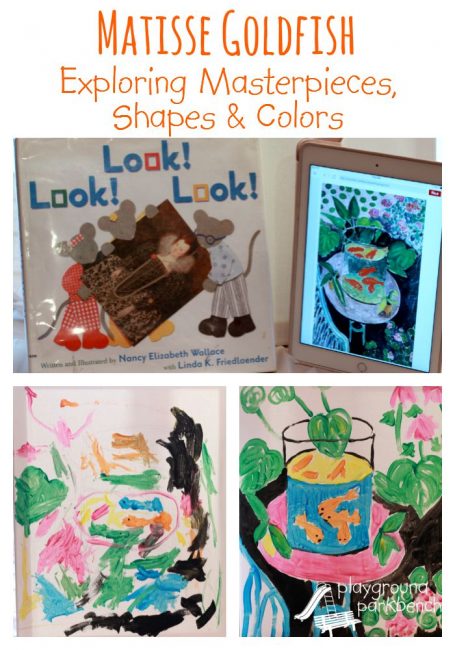 ---
Exploring Masterpieces, Shapes & Color
Before painting our Goldfish reproductions, the Ms and I read a great book by Nancy Elizabeth Wallace: Look! Look! Look! It offers a great way to breakdown a great work of art into basic parts even the youngest creative minds can understand: shapes, patterns and colors.
Using the techniques from Look! Look! Look! and a picture of Goldfish on my iPad, we were ready to create our reproductions of this famous, Matisse masterpiece!
Re-Making The Goldfish
While Matisse's 1912 original was oil on canvas, with a 2 and 3 year old, I'm still sticking with washable paint for now!
Supplies

Canvas
Pencil
Crayola Washable Kids Paint
Crayola Assorted Brushes
Water cup
Paper towel (to dry brushes)

Cost: Less than $10
Prep Time: Less than 5 minutes
Clean-Up Time: Less than 5 minutes
Looking for Shapes
The mice in Look! Look! Look! simplify the painting they find by finding simple lines and shapes within it.  Big M and I looked at Goldfish, and I asked her what shapes she saw.  She quickly pointed out the 4 main circles that make up the patio table and cylindrical fish tank and water level.  I helped her draw the 4 circles on her canvas lightly with pencil.  Then, we sketched in the fish.  Later, as she painted, she noticed more shapes – like the heart-shaped leaves – but the circles were a great place to start.
Selecting Paint Colors
Matisse works are highly attractive to preschoolers (and many grown-ups too!) because of his simple, but vibrant color palettes.  He painted much like a child would!  Big M picked out four colors to use to start: pink, light blue, green and orange.  Later, we also added a little yellow and black.
Time to Paint!
With the basic shapes outlined and our color palette defined, all that was left to do was paint!  She painted and painted and painted… for nearly an hour!  She was very careful to rinse her brush and wipe it dry between colors.  And she didn't mind sharing her colors with me either.
About Goldfish
In 1912, goldfish became a recurring theme in Matisse's work.  Goldfish is part of a series that was painted between spring and early summer of 1912.  It is believed the goldfish inspiration came from spending the winter of 1912 in Morocco, where locals would daydream while staring into fish bowls.  To Matisse, they became symbolic of relaxation, contemplation and tranquility. The use of vibrant color, complementary blues and oranges which appear even brighter when placed next to each other, was a common technique of the Fauves, and common in Matisse's palette throughout his career.
An oil painting on canvas, Goldfish today can be seen at the Pushkin Museum of Art in Moscow.
---
Finding the basic shapes and colors within complex works of art can simplify them for reproduction by even the youngest of artists! I had fun making my own Goldfish reproduction as well.  What is one masterpiece that stands out in your memory from your childhood?  Where did you first see it?  What stands out about it?
If you enjoyed this post, be sure to check out the rest of the Art History for Preschool series, including 40+ Books to help you get started.  You can find all of these on our Art for Kids board on Pinterest too!
Looking for more painting projects?  This is our contribution to Paint-a-thon: 101+ Painting Ideas for Kids!  Be sure to check them all out!!
Next up in our series?  Introducing your preschooler to Picasso, one of Matisse's rivals, friends and contemporaries.