Last week, I kicked off our Art History for Preschool series.  I started by sharing a great list of books to help you and your preschooler get excited about art, and the great artists.  You will find many of our upcoming projects reference books from that list as our series continues.  While most of the projects will use basic craft supplies you likely already have on hand, a few will require specific art media.  To help you stock up to follow along, I've put together a list based on the projects we already have on the calendar through the Fall…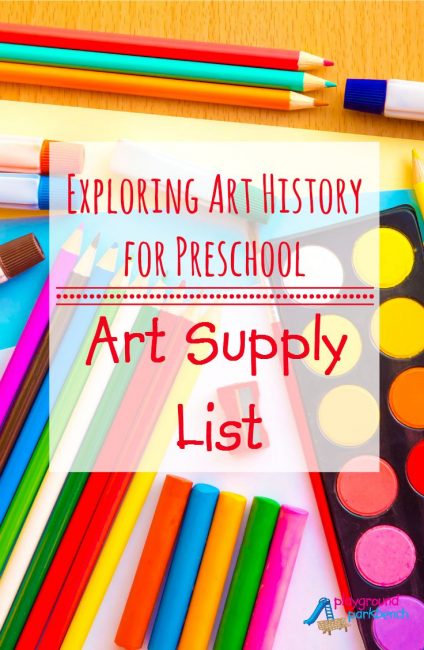 ---
Art for Preschool – Supply List
We have a fairly well stocked craft closet to begin with, and while I plan to keep our Art series to the basics for preschool, there are a few extra materials we have secured in preparation for our upcoming projects.  I hope you plan to follow along, and this art supply list will leave you well prepared!
Paper and Canvas
While most of our projects can easily be completed with whatever white craft paper you typically use, nothing makes your pint-sized Picasso feel like a real artist like specialty papers and canvases.  And our projects will definitely feature some of both!
Canvas
, Value Pack
Assorted cardstock

Pastels paper

Watercolor paper
Paint, Color and Paint Supplies
While the masters may have used acrylics and oil paints, I am still doing these projects with a nearly 4 and 2 year old… I'm not that brave yet, and I didn't want to break the bank on supplies we would only be using once or twice.
Water colors

Washable paint

Washable tempura paint

Oil pastels

Assorted brushes
Steals from the Kitchen, Bathroom
Some of our favorite art supplies come from around the house… just make sure to have these on hand in your pantry.
White paper plates (Dollar Store variety work great!)
White cupcake wrappers, large and small
White rice
Vinegar
Ziploc bags
Food coloring
Q-tips
Trash to Art Treasure
I love turning trash and recyclables into art and crafting treasure – this series will feature some of that as well!
Old fashion magazines
Paint chips, assorted colors
Styrofoam (save takeout box)
Other
Scissors

Glue sticks

Painters' tape

Pipe cleaners, white

Fixative spray

Paper punches,
1″ and 1/2″
Dollar Store table cloths (drop cloths)
---
So hopefully, most of these art supplies you already have on hand in your crafting arsenal.  If not, now's your chance to stock up in preparation to follow along with all the projects in our series.  Check out all the posts in the Art History for Preschool series here, and on our Art for Kids board on Pinterest.  Be sure to come back tomorrow, to see the next project in our series, inspired by Picasso portraits!