I received complementary product from Oriental Trading featured in this post. As always, opinions remain 100% my own.
What kind of surprise party do you throw for a man who lives, eats and breathes the great outdoors? A hunting themed birthday party, of course! When we decided to throw a surprise party for my father-in-law's 70th birthday, the theme was a no-brainer.  Finding all the supplies to do it justice was a little bit tougher, but the end result was awesome and a lot of fun!
---
 Happy Hunting Party, Grandpa!
My father-in-law is a mighty hunter. He lives in a hunting and fishing community, where he can do both nearly year round. He has two, highly trained bird dogs. He bow hunts. He goes on regular hunting expeditions throughout New England and beyond. When we started planning a surprise party for his big birthday, there was no question what the theme would be… when I began searching for hunting themed birthday party supplies, however, I realized I would have to get a little creative.

Hunter Orange, Green and Camouflage Party Decor
For our party decor, I scoured the internet – there are a lot of camo party supplies out there, but most have more of a military bent to them. I found the best option for our hunting themed party at Oriental Trading.  I paired accessories from their Camouflage Wedding line with solid, hunter orange and green paper goods and balloons.
We were hosting over 50 people for the surprise party. For a party of that size, purchasing hunting themed party paper goods for everything can get expensive very quickly. To make my dollar go further,  I bought camo dessert plates, which come in larger quantities, and accessories, like the awesome Camouflage Table Runners, then paired them with solid, hunter orange colored napkins, cups and heavier white plates for dinner.
Personalized Rustic Hunting Themed Centerpieces
These were my favorite part of our party. Instead of doing flowers, we made hunting themed jars with battery powered candles and these fun personalized hunting themed frames for photos of our guest of honor, which I then gifted to my in-laws.
Rustic Wood Slice Frames
A few weeks before the party, we had a freak storm that took out 3 beech trees in our backyard. Ironically, my father-in-law came to our rescue and cut the trees into pieces for us.  While he was at it, I asked if he would cut me some wood slices for a future to be determined craft project. Turned out, that project was for his own party!
Supplies
1″ wood slices
Printed photos
Glue dots

Mod podge

Foam brush

Woodland animals

Shotgun shells
Hot glue
To make our frames, I first cleaned off the wood slices to remove all excess sawdust. Next, I sized the photos to fit our wood slices and printed them on cardstock. Fix your photo to your wood slice with glue dots.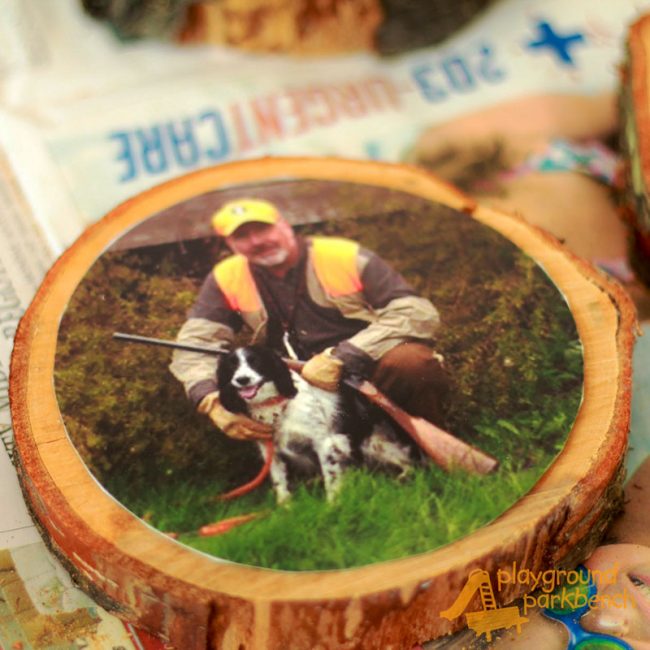 Then, liberally paint over the photo with Mod Podge on a foam brush. Make stroked in all directions.  Let dry for 30 minutes, and apply a second coat. Repeat if necessary.
Once the photo slices are dry, I used hot glue to add shotgun shells (collected from one of his hunting buddies!), and the fun woodland animals to the wood slices.  These served double purpose as fun festive flair, and added stability to our frames.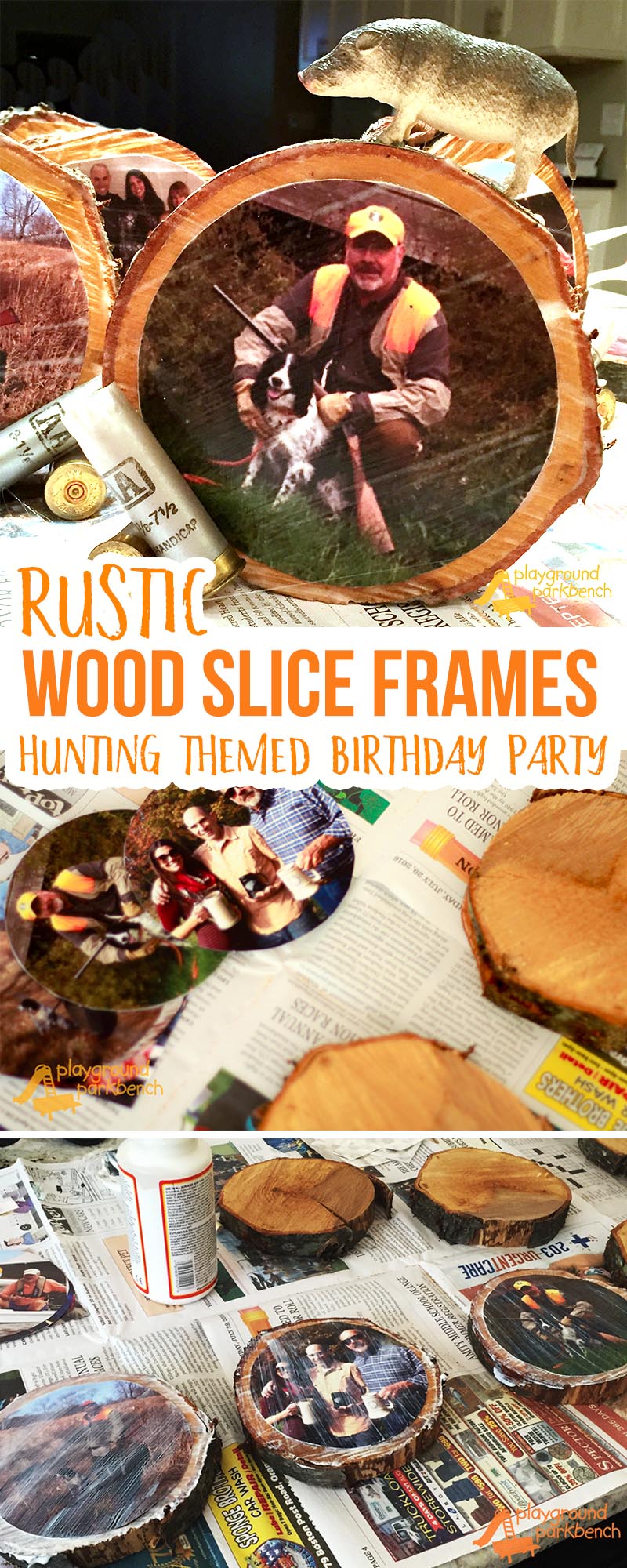 Hunting Themed Table Lantern Centerpieces
Instead of doing floral centerpieces, I opted for something more manly and in keeping with our theme.  It took me maybe 15 minutes total to make these hunting themed table lanterns for our birthday party.  And best of all, they are easily dissembled and I can use most of the components again for the next birthday party or holiday decor. The supplies were way more affordable than fresh flowers, which probably would have died in the extreme heat of the day anyway.
Supplies
Mason Jars – half gallon
 (6) and pint size
 (12)
10 lbs wild bird seed

Camouflage Gorilla tape

7/8 inch Hunter Orange grosgrain ribbon

Woodland animals

Hot glue

Battery powered votive candles

Battery powered tea light candles

Shotgun shells
These were such quick and easy party decor, and with just a few simple additions and 15 minutes, they were the perfect addition to our hunting themed birthday party. First, I wrapped a strip of camouflage tape
around the bottom of the half gallon mason jars
, about 1 inch from the bottom of the jar.
Next, I wrapped a piece of hunter orange grosgrain ribbon
around the center of the tape, and hot glued the ends in place. Then, I filled the large jars about half way full of wild bird seed
, and put an inch or two in the small jars. The 10 pound bag was the perfect amount for all 6 large jars and the 12 smaller jars. I added battery powered votive candles
to the large jars, along with a few shotgun shells, and the tealights to the smaller jars. Last, I hot glued a woodland animal
to the top of the large jars for a fun finish!
Each table was set with a camouflage table runner, one large hunting themed table lantern, two smaller ones and a rustic wood slice photo frame. The lanterns also doubled as anchors for our green and orange balloons!
Hunting Party Photo Booth
A photo booth is always a fun activity for any party.  When my husband and his siblings decided to buy their Dad the life-size black bear archery target
 (we got ours at Bass Pro Shop) he had been eyeing, we had the perfect accessory to center our photo booth around!
Supplies
Printable Hunting Themed Photo Booth Props
12″ Wooden craft  dowels

Hot glue

8×10 inch Styrofoam sheet
Wicker basket
I paired the bear with a basket of fun hunting themed photo props I found on Etsy. I had the printable file printed on heavy cardstock at FedEx Kinko's, cut them out and hot glued them to the wood craft dowels
. I stuck the dowels into a styrofoam sheet that we concealed in a wicker basket
I borrowed from the girls' playroom! Lots of fun family photos were made here.
More Fun Hunting Themed Birthday Party Touches
We had a few more simple party touches reflecting our hunting theme. In lieu of gifts, we requested guests make donations to a charity near and dear to our family's heart – the Hope Lodge in NYC. The Camouflage Wedding Card Box was perfect for this!
Hope Lodge provides free housing to care givers and patients receiving long-term outpatient care at Memorial Sloan Kettering. Many patients receive recurring care multiple times per week at this world-renowned cancer treatment facility, traveling from all over New England, and even the world. The onerous cost of care, added to the cost of long-term housing in Manhattan, is far greater than most patients can afford, making Hope Lodge an awesome miracle in the midst of very difficult illness and treatment.
We complemented the hunting theme and color scheme throughout with custom signs labeling our food table, scotch and cigars, and our Build Your Own S'mores Bar.
All signs were printed on plain paper, then mounted on poster board with green and orange construction paper matting. Check out our S'more Bar Printables here!
For the birthday cake, we ordered a cake from Costco.  You can't beat the price – less than $20 for a cake that feeds 40+, though decorative options are limited. We went with green and orange balloons, and jazzed it up to fit our hunting party theme with these fun camo candles
and some more of our woodland animals
!
It was a beautiful day, a hugely successful surprise, and the hunting theme was the perfect fit for this 70th birthday party!  A special thanks to all our party vendors: Ricky D's Rib Shack (catering), Oriental Trading (party supplies), Costco (cake), and Taylor Rentals (tables, chairs and tent).

---
Do you have a hunting enthusiast to celebrate? What was your favorite part of our Happy Hunting themed birthday party? If you have any questions, feel free to ask away. For more fun party ideas, follow our Birthday Party Ideas board on Pinterest. And stay tuned for our next party – a boy/girl double birthday for my soon to be 1 and 5 year olds!
Love it? PIN THIS!