People thought I was crazy when I took Big M, then age 3, to see The Nutcracker
last holiday season.  She was captivated from the opening curtain to the final curtsies.  She still watches it almost daily, narrates the scenes, requests to listen to the soundtrack in the car, and re-enacts it from start to finish in the family room.  So we were super excited to partner with the fabulously creative Grace at Eats Amazing to create a series to Plan Your Perfect Nutcracker Holiday Party! Today, I am kicking the series off with an Invitation to Create: Design Your Own Ballerina Nutcracker Ornaments!
---
Invitation to Create Nutcracker Ornaments
This makes for the perfect afternoon kids craft, or can feature as an activity at your child's Nutcracker-themed holiday party, with the end product doubling as a party favor.  And don't miss the perfect snack to go with your ballerina ornament making – Ballerina Bananas from Grace!
Design Your Own Dancer Supplies
Wooden doll-peg clothespins
Wooden doll heads
Pipe cleaners (cut in half)
Tulle squares
Assorted cupcake wrappers
Small pom poms
Silver ric rac
Fine point paint markers
Hot glue (with adult supervision only) or Craft glue

Cost: $20-40 to make 20 dolls
Prep Time: Less than 15 minutes
Clean-Up Time: Less than 15 minutes
To organize and make all the supplies easily accessible, I like to put them out in a sorting tray.  This would also make for the perfect set-up for an activity table at a holiday party or center at preschool.  I used hot glue because of the quick dry convenience.  If you are not comfortable using it around children, you can use craft glue as well, though they will take longer to dry.
Design Your Own Dancer
If you have ever seen The Nutcracker, you know Clara falls asleep and dreams she travels across the world, seeing different themed dances as she goes.  From Waltz of the Snowflakes to the Kingdom of Sweets and the Sugar Plum Fairy, the Waltz of the Flowers to the Arabian Dance, the girls and I were inspired by them all.
To create each Nutcracker ornament, you will need to choose one of the following for each dancer:
A doll peg clothespin
A head
1/2 of a pipe cleaner for arms
1 cupcake liner and 1 piece of tulle for the tutu
1 pom pom for the bun
Paint markers to draw face, bodice and dance shoes
We found a great assortment of cupcake wrappers perfect for our various dancers in the baking section of our local craft store.  I loved these flower ones for our Waltz of the Flowers dancers.
Assembling Your Nutcracker Ornaments
I made a short video to demonstrate how to assemble your peg doll clothespin dancer.  If you prefer a written how-to and to see all variations of our Nutcracker ornaments, read on below.
To build your ornament, first, draw on your shoes and bodice with a paint marker.  Then, wrap and twist the pipe cleaner around the knob of the clothespin.  This will create your dancer's arms.  Next, put glue into the hole in the wooden head, and affix it on top of the knob of the clothespin.
Now, layer the tulle over your flattened cupcake liner, and cut a small 'X' in the center of both.  Add a line of glue just above the split in the clothespin, and insert your peg doll, feet first, through the 'X'.  Push up the tulle and cupcake liner until the flaps of the X adhere to the glue.
Last, use hot glue to affix the pom pom to your dancer's head for a bun, and apply paint markers to create a face, hair and any additional details you would like to create.
You may choose to add a hanger with hot glue to the back of your ballerina's head, or you can attach them to a tree branch with the split between their feet.
If you're party-goers are more patient than the Ms, you could transform your white cupcake wrappers into snowflakes for your Snowflake dancer ornaments, like these from Craftulate.
For our Arabian dancer ornament, we skipped the cupcake liner tutu.  Cut a square of tulle in half and slide the two halves between the legs of the clothespin.  With hot glue, affix the top and bottom edges of the tulle to the clothespin at the dancer's 'waist' and 'feet'.  Big M declared she looked just like Jasmine!
Big M is my perfectionist, and preferred picking out the components and instructing me in creating her ornaments.  Lil' M, fiercely independent at 2, was all about doing it herself (except for the hot glue, because while I'm brave, I don't trust a 2 year old with a glue gun just yet!). I love it!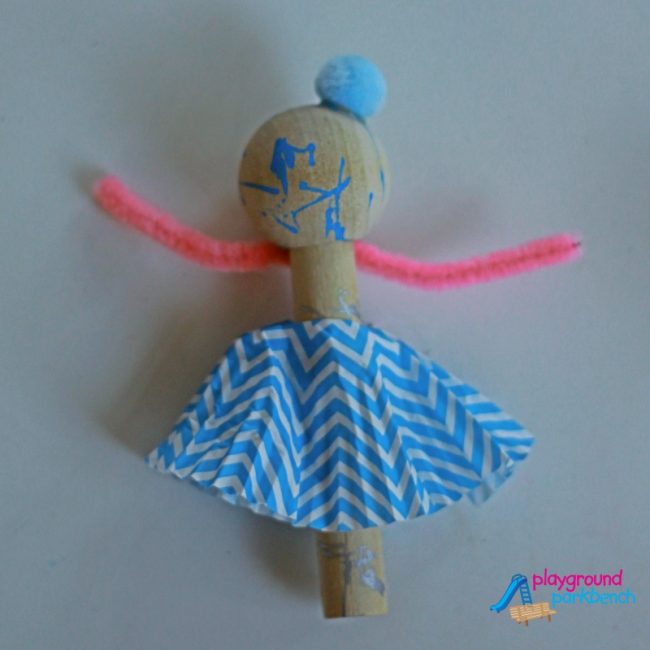 A Complete Nutcracker Ornament Suite
Big M decided she didn't want to hang them on the tree, and instead, wanted to 'play with them like people'.  So she started ripping off all their hangers and re-enacting The Nutcracker on the craft table!
#KBIGRoundUp
This is our contribution to this week's Kid Bloggers of Instagram Monday Activity Round-Up, theme – Holiday Ornaments.  Visit me on Instagram at @PGPBMeghan every Monday at 10AM to catch 12 great ideas from our favorite kids' activity bloggers.  Catch a sneak peek of a few of the contributions by visiting the Holiday Ornament posts below!
Paint Chip Christmas Tree from Sunny Day Family
Ornaments Inspired by World Cultures by Multicultural Kids Blog
Christmas Ornaments for Toddlers by My Bored Toddler
Glitter Glue Gingerbread Man from Adventures of Adam
Super Easy Light Up Rudolph Ornament by Left Brain Craft Brain
Kids Ornament – Bird Feeder from Craft Create Calm
---
If you enjoyed this post, be sure to follow our series running through December 16th!  You will find all of both my and Grace's posts on my series landing page, Plan the Perfect Nutcracker Party, as well as on my Christmas board on Pinterest.
Like this post? PIN this image and share with your friends!