Happy Friday, y'all… and welcome to another edition of We Love Weekends!  Sadly, this is also my last installment – but not to worry, the rest of my co-hosts will continue to carry on this great weekly link-up for all your family fun.  I have loved getting to know many of you through your great posts, and loved sharing all your awesome contributions.  As we gear up to move this month, and have a new baby the month after, I just needed to reduce my weekly commitments.  I look forward to continuing to support my co-hosts by returning as a contributor!  This Friday, in my final edition of We Love Weekends, I am featuring three awesome book recommendations for kids, from toddler age through the preteen years.
---
Book Recommendations for Kids of All Ages
This week, we are featuring three book lists or book-activities for kids across age groups.  Books are easily the most popular toy in our house – the girls would happily read and be read to all day longs, so we are always on the lookout for great reading lists, and book-related activities.
First up, for the toddler to preschool age group, I loved this Go Dog Go storytelling basket from Munchkins and Moms.  This is one of my girls favorite Dr. Seuss books – Big M used to make me read her the board book version all the time, and now has it memorized and reads it to herself or her little sister.  Can't wait to set this up for them to re-enact it as they read along!
Next, from Soph and Jack, I really enjoyed checking out their recurring weekly booklist: Books We Are Reading this Week.  Their list this week features two of our current favorites, Rosie Revere, Engineer and Miss Rumphius.  Stay tuned for exciting week long series featuring Miss Rumphius and a giveaway coming up on our blog in August!
And last but not least, Brain Power Boy has put together a fantastic list of a dozen book series for preteen boys.  While some are classic favorites, like Harry Potter and A Wrinkle in Time series, many I was unfamiliar with and can't wait to check out!
Looking for more great book recommendations and related activities?  Follow our Read! Read! Read! board on Pinterest, and you might also enjoy…
Great Read-Aloud Chapter Books for Preschoolers
Word Formation with Playdough – Inspired by Charlotte's Web
---
We Love Weekends Co-Hosts
We Love Weekends is brought to you each week by 101 Things to do with the Kids, Peakle Pie, Playground Parkbench, Something2Offer and Witty Hoots.  Please visit my co-hosts, check out their featured posts from last weekend, and follow them on social media.
Facebook • Pinterest • Twitter • Google+
Facebook • Pinterest • Twitter • Google+
Facebook • Pinterest • Twitter • Instagram
Facebook • Pinterest • Twitter • Instagram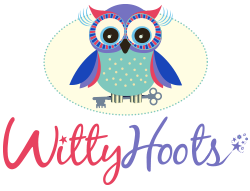 Facebook • Pinterest • Twitter • Google+
Be sure to follow my We Love Weekends Pinterest board, where you will find all of the posts I have featured as well as my and my fellow co-hosts weekly posts!
Follow Meghan @ PlaygroundParkbench's board We Love Weekends on Pinterest.
---
We Love Weekends Link-Up
Now, for the link-up!  Bloggers, please share your favorite activities, recipes, adventures and anything else that shows why YOU Love Weekends!  All linked posts will be displayed across all co-hosts' blogs, and our favorites will be featured and pinned.  Be sure to take a look around, check out the content from your fellow bloggers and leave a note to say #WeLoveWeekends! If you are not a blogger, feel free to check out all the great family-friendly content shared from kid-bloggers everywhere to see why We Love Weekends!
Thanks for sharing your blog posts with all of us!  By linking up you give my co-hosts and me permission to use a picture from your post to feature individually or as part of a collage our sites or through social media sites such as Facebook or Twitter.  Pictures will only be used to feature the post that you shared and will always contain a link directly to your blog.