The Peanuts Holiday movies
are one of my favorite holiday traditions.  I remember watching It's the Great Pumpkin, Charlie Brown
, A Charlie Brown Thanksgiving
 and A Charlie Brown Christmas
 each October, November and December for as long as I can remember.  And I have loved passing this tradition on to my kids… albeit when Big M called Lil' M a Block Head last week, I have Charlie Brown to thank!  So it is no surprise that we are all beyond excited to go see The Peanuts Movie coming out this weekend.  To feed this excitement, we made these quick and easy, 3-ingredient Charlie Brown Cookies!
---
3-Ingredient Charlie Brown Cookies
Since seeing the preview for The Peanuts Movie aired during last month's It's the Great Pumpkin, Charlie Brown special, Big M has asked me nearly every day when we can go see the 'new Charlie Brown movie.'  To appease her until the weekend, we made these super simple Charlie Brown Cookies!
---
3-Ingredient Charlie Brown Cookies
Quick and easy Charlie Brown cookies to celebrate the release of The Peanuts Movie!
Ingredients
1 box Lemon Cake Mix
1/3 cup vegetable oil
2 eggs
Black frosting for decorating
Instructions
Preheat oven to 350 degrees.
In a mixing bowl, stir together cake mix, oil and eggs until mixture is fully moistened.
Form 1 inch balls and place them 2 inches apart on an ungreased cookie sheet.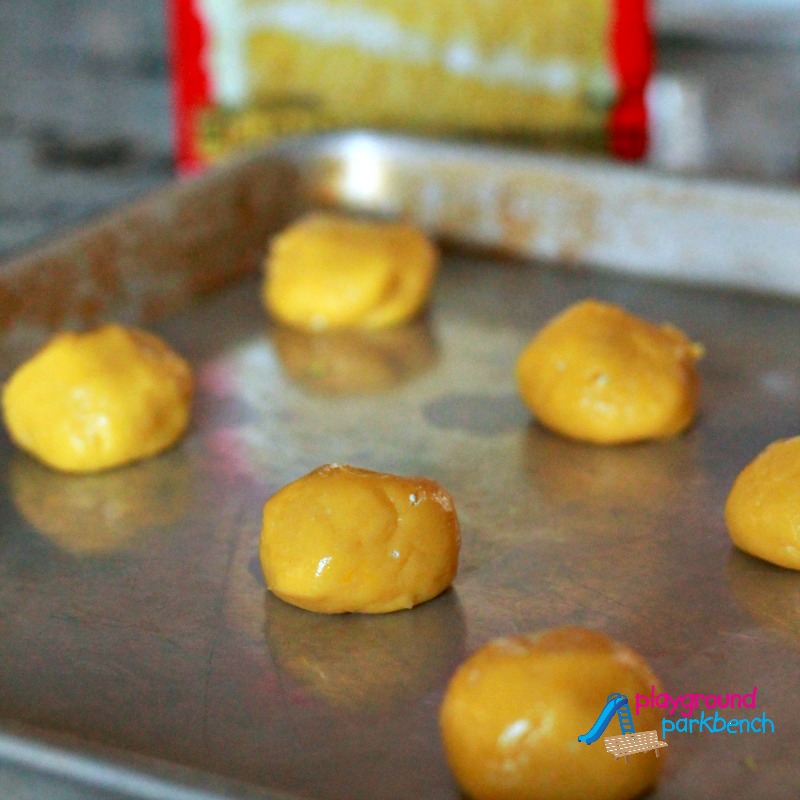 Using the bottom of a class dipped in flour, press each ball until it is 1/4 inch thick. To prevent cookie from sticking, dip glass in flour each time.
Bake at 350 degrees for 8-10 minutes.
Allow to cool and remove from tray with spatula. Cookies will firm as they cool.
Decorate with black frosting.
https://playgroundparkbench.com/3-ingredient-charlie-brown-cookies/
All Rights Reserved by Playground Parkbench, LLC
After I made the two example cookies, Big M wanted to take over.  It was a great fine motor skill challenge for her to press the store-bought black frosting canister, though she got a little frustrated with her inability to both apply enough pressure to make it come out and control the design.
She quickly cheered up when it was time to taste test!
---
We also have the Great Pumpkin book
, which Lil' M takes to bed with her almost every night.  They both know all the characters already too!  Stay tuned for I'm sure this will be the first of several Peanuts projects to come.
Want to find some more great Peanuts ideas in the mean time?  Check out these great ideas:
The Ultimate Peanuts Gift Guide from Sunny Day Family
DIY Charlie Brown Christmas Tree by Study at Home Mama
Great Pumpkin Pudding Cups by Bubbly Nature Creations
Charlie Brown & Snoopy Paper Plate Craft for Kids from Glued to My Crafts
Super Simple Charlie Brown Pudding Snacks by Lemon Lime Adventures