Happy Friday!  It's time once again for We Love Weekends, a chance for my fellow bloggers to showcase all their great family fun, and for you, my followers to get a great pool of ideas to keep your family loving weekends too.
Last Weekend
We had a great, long Easter weekend.  It was a little atypical because for the first time I can remember, it was just us – me, the hubby and the Ms.  Grandma and Grandpa aren't back from Florida yet for the winter, and my family is all in Texas.  Saturday, we stayed entertained working on some final Easter decorations… Stain glass Easter eggs with contact paper and tissue squares.
Sunday morning the girls had a blast going through their Easter baskets.  Then, we went to mass, where Big M sang songs from the Frozen soundtrack while the choir sang songs of worship and admired the "fancy princess windows", aka stained glass. As a fun added bonus, mass was said by a visiting priest from our alma mater, Notre Dame.  Go IRISH!
After mass, we went to a fancy brunch at our favorite local restaurant.  Big M thought it was great fun to pick out all her own food, especially desserts, and proclaimed, "I LOVE brunch!"  Lil' M ate the equivalent of her own body weight in pasta, bacon and dessert, and was more than ready for a nap when we got home.  I entertained Big M during quiet time, playing a memory game and doing a giant floor puzzle, while the Easter bunny was busy hiding eggs… She about sprinted down the stairs and out the back door when she heard the egg hunt was on!
We wound down the day by making Get Well cards for our neighbor, and grabbing a bite out for dinner.  How was your Easter or Passover weekend?
---
Featured Posts
Thank you to all the bloggers who joined in for We Love Weekends on a holiday weekend!  While it was hard to pick just three, these were my favorite posts of the weekend.
I am a big fan of trash to crafting treasure… which two of this week's features fulfill.
From Nemcsok Farms, I loved these Egg Carton Bumble Bees.  With all the egg cartons holding the remnants of last week's hard boiled colored eggs, we certainly have the supplies on hand to try these!
My second trash to crafting treasure fav comes from Best Toys 4 Toddlers with her how to on creating Tin Foil Bangles.  My girls LOVE jewelry, so I know they will be ecstatic to make these and wear them all the time.
And last but not least, Royal Little Lambs shared a great outdoor activity exploring primary colors with Rain Painting.  We have done several color mixing activities in the past, and Big M always thinks it is magical.  With April upon us, there should certainly be plenty of rain to test this activity with.
---
We Love Weekends Co-Hosts
We Love Weekends is brought to you each week by 101 Things to do with the Kids, Peakle Pie, Playground Parkbench, Something2Offer and Witty Hoots.  Please visit my co-hosts, check out their featured posts from last weekend, and follow them on social media.
Facebook • Pinterest • Twitter • Google+
Facebook • Pinterest • Twitter • Google+
Facebook • Pinterest • Twitter • Instagram
Facebook • Pinterest • Twitter • Instagram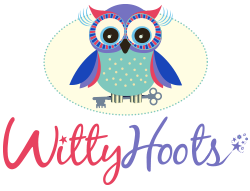 Facebook • Pinterest • Twitter • Google+
Be sure to follow my We Love Weekends Pinterest board, where you will find all of the posts I have featured and the collaborative We Love Weekends Pinterest board where you will find all the co-hosts featured post round-ups!
Follow Meghan @ PlaygroundParkbench's board We Love Weekends on Pinterest. Follow Peakle Pie's board We Love Weekends Co-Hosts Board on Pinterest.
---
We Love Weekends Link-Up
So, without further ado, bloggers, please share your favorite activities, recipes, adventures and anything else that shows why YOU Love Weekends!  All linked posts will be displayed across all co-hosts' blogs, and our favorites will be featured and pinned.  Be sure to take a look around, check out the content from your fellow bloggers and leave a note to say #WeLoveWeekends! If you are not a blogger, feel free to check out all the great family-friendly content shared from the bloggers to see why We Love Weekends!
Thanks for sharing your blog posts with all of us!  By linking up you give my co-hosts and me permission to use a picture from your post to feature individually or as part of a collage our sites or through social media sites such as Facebook or Twitter.  Pictures will only be used to feature the post that you shared and will always contain a link directly to your blog.