Starting the seeds for our garden on Earth Day is quickly becoming an annual tradition in our family. The wonder and awe the growing process inspires in young children makes gardening even more fun!  To turn our garden into a season-long learning process this year, I created a Preschool Garden Journal to record all our observations, and harvest counts throughout the season.  And you can get one too!
---
Hands-On Learning in the Garden
Last year, we started our seeds in the hopes of transplanting them to a garden in our new backyard.  But our move was delayed to the end of the summer, and our seeds never got to move.  So this year, the girls were more eager than ever to start a garden.
Last month, they were ready to get started, but it was still too early to start seeds up here in New England.  They settled for preparing for the garden by making their very own DIY Garden Markers.  We've since gifted a set to Grandma and made more for ourselves!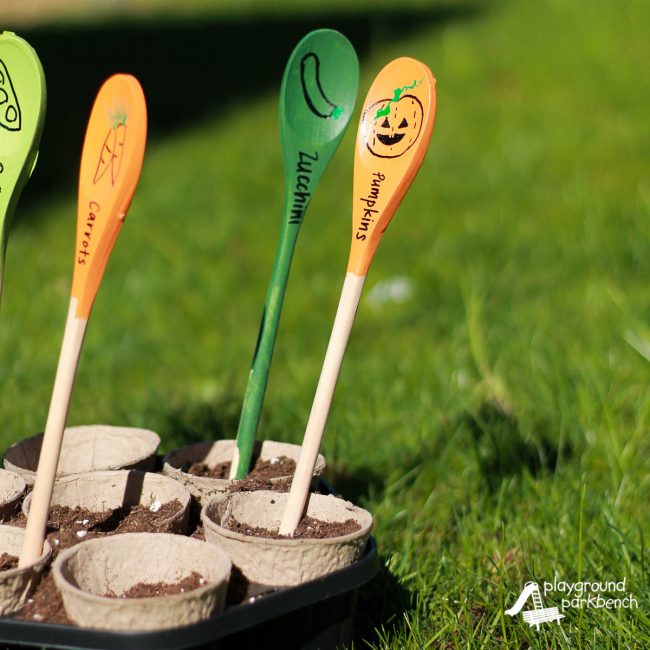 Starting Seeds
Last week, Grandma was down to visit and helped us with our annual Earth Day tradition, starting our seeds!
To answer all the girls' questions last year, we made and observed Germination Windows.  This year, now that they understand the process seeds go through to grow, I decided to take our learning one step further, by recording the complete life cycle of our plants, from seed to eventual harvest!
Preschool Garden Journal
Both my toddler and preschooler love checking on the progress of our garden every day.  They love to help water it, and eagerly await each stage of growth, carefully looking for signs of changes – from sprout, to new leaves, and eventually buds, flowers and edible fruits and vegetables!
To channel this enthusiasm into a learning opportunity, I created a Garden Observation Journal.  The girls' are recording each stage of the plants life, from seed to vegetable, in their journals.  The complete journal includes more than 20 pages, with customized pages for all different vegetables, fruits, a generic flower page and a blank page to add as many additional plants as you wish!
The complete Garden Observation Journal, including more than 20 pages of vegetables, fruits, as well as the blank template and a flower page, is available for purchase and download in our new Playground Parkbench digital shop!
Recording Observations
Every day, the girls are eager to record observations in their preschool garden journal.  For each of our plants, we recorded the date we started our seeds (our tomatoes and herbs we purchased as plants), and taped in a sample of each seed on its respective page.  We can't wait to draw what each sprout looks like once they emerge over the next week or two!
Depending on the age of your child, you can choose to let them draw each stage, take pictures and paste them in each box, or even take leaf samples to place in your Garden Observation Journal.  The bottom of the page includes a space to make tally marks to count your total harvest over the season.  Date each stage to track how long it takes each plant to mature from seed to bearing fruit.
---
Gardening with Kids
Gardening with kids offers so many awesome learning opportunities.  Not to mention, it also is a great way to get kids excited about EATING what they grow and trying foods they may not have otherwise.  For more great ideas to learn from gardening, be sure to check out our Germination Windows, and watch seeds sprout before your very eyes.
You might also love playing with this Garden Sensory Bottle from my friend Laura at Sunny Day Family, while you wait for your seeds to sprout!  And if you've never planted anything before ever, I swear anyone can do it! Check out all the great beginning gardening tutorials and timelines from my friend Evelyne at Nemcsok Farms, starting with The 7 Easiest Vegetables You Can Grow. Find all of these and more on my How Does Your Garden Grow? board on Pinterest.
Love it? Pin THIS!