With two teachers for grandmas, the girls are frequent recipients of books.  The grandmas often think alike too, and this Spring, both gave Big M mermaid-themed books.  MerMer, our Texas grandma, gave her Fancy Nancy and the Mermaid Ballet when she came to visit for Spring Break.  Today, we are guest posting on Rainy Day Mum for Storybook Summer, featuring this book and a DIY Mermaid Tiara to go with it!  And a few weeks later, when Grandma returned from wintering in Florida, she brought Big M The Mermaid's Shoes.  Both of these have become library favorites, and after making Mermaid Tiaras, it wasn't long before Big M decided we should make a DIY mermaid tail too!
---
Dress the Part! DIY Mermaid Tail for Kids
The Mermaid's Shoes is a beautifully illustrated story about a little girl, who discovers a pair of abandoned fins, aka 'mermaid shoes', on the last day of her beach vacation.  She wears them everywhere, creates her own tail from her mother's skirt, and sets off to find a place to call home.  The book has its own website, app and the author invites you to share images of your mermaid with her as well!
Making the Mermaid Tails
To make our mermaid tails, we used a few basic craft supplies
:
Supplies
Roll of craft or builder's paper (see our Crafting with Kids – A Survival Guide)
Sharpie
Coffee filters
Regular-sized cupcake wrappers, white
Mini cupcake wrappers, white
Glue stick
Assorted glitter tempera paint
Ribbon
Hot glue (adult supervision required)
Cost: Less than $10
Prep Time: Less than 10 minutes
Clean-Up Time: Less than 10 minutes
For each tail, I had the girls lie down on the ground and cut a length of builder's paper to fit, at a minimum, the length of their legs.  Then, I had them lay on the paper, and using a Sharpie, I drew a tail shape around their legs, with fins at their feet.  I hung each of their tails on the wall outside.  Big M insisted I make one for myself as well!  I'm a big fan of builder's paper – it comes in giant rolls, is more affordable than white craft paper, and more durable, to withstand all the glue and paint young crafters are apt to slap on.
Next, I cut all the coffee filters and cupcake wrappers in half.  I showed Big M how to put on a line of glue stick, then press the top edge of the filter to the paper, and repeat to form the rows, as shown.  We used the larger coffee filters for the top third of the tail, then the regular sized cupcake wrappers for the next third, and the mini-wrappers for the fins.  She lost patience with the mini-cupcake wrappers and asked for help.
Lil' M had zero patience for gluing the filters and just wanted to paint.  She played while we made our scales, and joined in when the paint came out!
We used an assortment of washable glitter tempera paints, including green, blue, purple and silver.  You can see Big M's (almost 4 years old) on the left, Lil' M's (almost 2 years old) in the middle, and my version on the far right.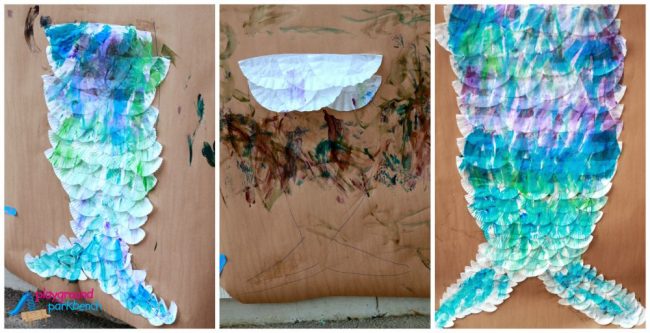 After the tails dried, I cut them out of the paper.  Measuring a length of ribbon long enough to tie around their waste, I hot glued it to the top edge of the mermaid tails, folding the paper over it, and gluing it down again to increase the durability.  They wanted to wear them immediately!
Our Mermaid Library
And of course, now that we were dressed the part, we had to read ALL the mermaid stories in our collection. In addition to The Mermaid's Shoes; and Fancy Nancy and the Mermaid Ballet, our other favorites include: the latest installment in the Pinkalicious series, Aqualicious; and for the toddler set, That's Not My Mermaid, a touch and feel board book!
Complete Your Ensemble
In addition to our mermaid tails, we also made mermaid tiaras, and got some pukka beads to complete our ensembles.  To make your own DIY Mermaid Tiara, be sure to check out our guest post on Rainy Day Mum, as part of Ocean Week for Storybook Summer!
---
What is your little reader's favorite book theme this summer?  For other great book-inspired activities, you might also enjoy 10+ Read Aloud Chapter Books and Activities for Preschoolers,  Weaving Word Webs, a Charlotte's Web Inspired Activity and Color Magic with Mouse Paint.  You can find all of these and our favorites from around the web on our Read! Read! Read! board on Pinterest.