Do your kids pick the same book at the library over and over?  We go to our local library fairly regularly to check out books and participate in story time.  I always let the girls select their own books, and they always seem to gravitate toward the same handful of shelves, and given their eye-level, often choose the same books again and again.  One of these recurring favorites is Mouse Paint by Ellen Walsh Stoll.  I happened to mention to my mom, a multi-decade kindergarten teacher, that the girls had checked out the book for the fifth time, and being the educator she is, gave us an amazing activity to do with the book – create color magic with play dough, strengthening our fine motor skills at the same time!
---
Making the Play Dough
I like to use a cooked play dough recipe – it only requires a handful of ingredients, and is ready, from start to finish in 10-15 minutes.  I made all three batches for this activity in less than an hour.
Basic Play Dough Recipe
1 cup water
1 cup flour
1/4 cup salt
2 TBSP vegetable oil
1/2 TBSP cream of tartar
Food coloring
Directions:
Pour all ingredients into a sauce pan over low heat.  Stir together.  It will appear lumpy at first, but will smooth and solidify over the heat as you continue to stir.
When it pulls away from the sides of the pan without sticking, remove to cool surface.  Knead together until smooth.
Cost: Less than $5
Prep Time: Less than 15 minutes
Clean-up Time: Less than 5 minutes
To get the super vibrant colors I used for our Color Magic, I recommend using Gel Food Coloring.  You can get a set on Amazon, or find it in individual colors in the baking section at your local craft store.  You will need to make three batches of play dough: one each of red, blue and yellow.  You can make one triple batch, split it into three after and then work food coloring into it, but I find it less messy and the color more evenly distributes when I add the color at the liquid stage before cooking.
Story Time and Play Dough Mat
With our play dough ready, I read the girls Mouse Paint again, with the three colored balls in the center of the table as props.  Then, I gave each of them a play dough mat and two balls of each color.
We talked about how the mouse made new colors by mixing red, yellow and blue together.  I told them they were now going to make new colors by squishing and mixing their play dough balls together, two at a time.  The squishing and mixing is great for strengthening their tiny fingers and hands, improving fine motor skills.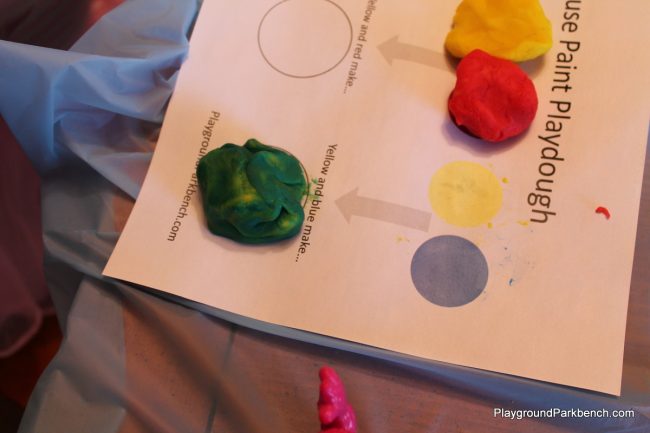 Big M thought this was great fun, and as the new colors emerged, declared, "It's kinda like magic!"  At 18 months, Lil' M was more interested in just squishing everything together in one big heap.
The play dough mat printable is available, along with all our free printables to our weekly newsletter subscribers.  Sign up to get your free printables with the form below!
OK Go!
To further reinforce the concept of primary colors and color magic, I played the girls OK Go's "Three Primary Colors" Video.  If you've never heard of OK Go, it is an American alternative rock band, famous for their super creative, but often low-budget music videos, which they often promote via YouTube.  Among their most famous videos, "Here It Goes Again," where the band jumps among and between moving treadmills, won the 2007 Grammy for Best Music Video.  In 2012, they made "Three Primary Colors" for Sesame Street to teach the wonder of mixing primary colors.  The M&M's love it, and requested to watch it again and again as they continued to mix their play dough.
---
After the colors were mixed, the Ms happily continued to play with their multi-colored play dough until it was time to clean up for lunch.  And days later, Big M is still singing "Red and yellow make what?  Red and yellow make orange!  Blue and yellow make what?  Blue and yellow make green!"  Mission accomplished!
Have you taught your kids about the primary color magic?  What media did you use to enforce the message?