The iconic children's classic, Make Way for Ducklings
, celebrates its 75th anniversary this year. It has inspired a love of ducks in generations of children. And the desire to interact with ducks in public parks everywhere. How many of you went to feed the ducks as a child, and have taken your own children to as well? But do you actually know what to feed ducks? Turns out, it shouldn't be that stale bread from the pantry.
---
Let's Go Feed the Ducks!
For generations, families have read Make Way for Ducklings
. And for 75 years, it has inspired families to go visit and feed the ducks in their local parks and waterways. I know as a kid, a stale loaf of bread was the driving force behind a trip to go feed the ducks.  But did you know that is one of the worst things to feed these birds?
What to Feed Ducks
As it turns out, the very foods that most people feed to ducks: bread, crackers, popcorn, chips and other low nutrition carbohydrates – are the worst foods for ducks.  Bread and other white carbohydrates are filling without providing adequate nutrition.  If ducks and other birds over consume these foods, they won't eat enough of the nutrients they need for proper growth and development. And you should absolutely never feed them moldy or spoiled bread as some molds can actually kill ducks.
So what should you feed to ducks? Just like for people, whole grains and vegetables carry higher nutritional value and are better for ducks.  Corn, whole wheat, barley, oats, rice, salad greens, peas, cut vegetables are all better alternatives to bread and crackers. Bird seed and duck pellets, purchased from a pet or animal feed store are great as well, but not absolutely necessary.
Homemade Duck Feed
While you can certainly purchase bird seed or duck feed from an animal supply store, you can still go feed the ducks with food from your own kitchen.  Just skip the bread.  To celebrate the 75th anniversary of Make Way for Ducklings
, the girls and I made homemade duck feed using the simple recipe below:
2 cups Old Fashioned Quaker Oats
1 cup brown rice
1 bag frozen assorted vegetables (peas, corn, carrots and green beans)
The girls had great fun mixing their homemade duck feed in a bucket, and couldn't wait to go feed the ducks!
A Trip to the Duck Pond
Our town center actually has a Duck Pond, home to ducks, Canadian geese and assorted other geese, that the girls and I like to call 'fairy tale geese' because they look like the geese in Cinderella!
I recommend holding the bucket yourself, and letting the kids use small cups or grab a handful of feed to toss at a time.  Often, once the birds see food, especially if they are used to being fed, they may surround the food source and can get aggressive at times.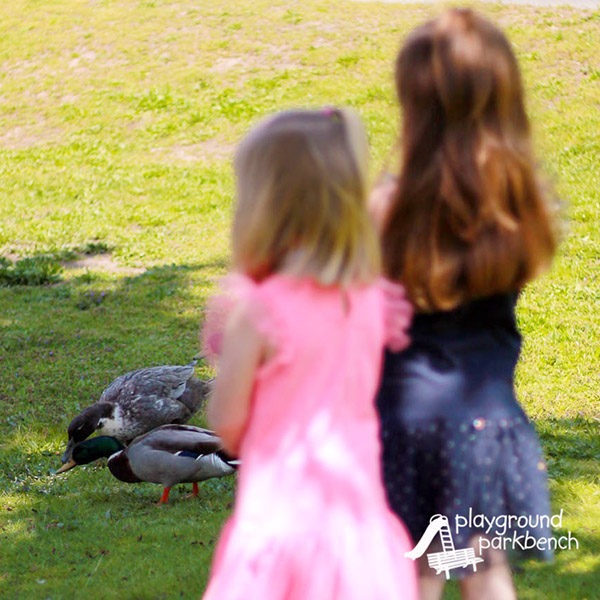 Once our bucket of homemade duck feed was empty, we stepped back and watched the ducks and geese gobble it up! The girls had a blast and can't wait to feed the ducks again.
Happy 75th to Make Way For Ducklings
If you enjoyed our Homemade Duck Feed recipe, be sure to check out these other fun activities inspired by Make Way for Ducklings too!
Make Way for Ducklings Book Activity for Preschoolers | Sunny Day Family
Make Way for Ducklings Busy Bag | Craftulate
Make Way For Ducklings ABC Activity |Growing Book by Book
Catch a Duckling Fine Motor Skills Game | Learning Toy Guide
---
If you enjoyed this post, you might also enjoy this Montessori Animal Match activity for Toddlers and Sewing Buttons for Corduroy, another iconic children's classic!
Love it? Pin THIS!