Need a preschool craft for summer camp? Or maybe a kids' craft table at your summer Lobster Bake?  I've got your covered.  These Red White and Blue Patriotic Station Necklaces will be the hit at all your summer festivities from Memorial Day through the 4th of July!
---
Red White and Blue Sea Necklace
I often am asked where I come up with the girls' craft projects.  This time, inspiration struck in the pasta aisle at Whole Foods.  I spotted this lobster, crab and sea star pasta in red and white, and fireworks went off!  It's not often that the reality turns out even better than what I imagined… but this totally does!  And the girls loved every second of it.
Patriotic Craft Supplies
Supplies don't get much simpler (or more affordable) than this!
Supplies
Sea-themed pasta (see below)
Twine
Ziploc bag
Hand sanitizer
Blue food coloring
Tape
Cost: Less than $5
Prep Time: Less than 5 minutes (less dry time)
Clean-Up Time: Less than 5 minutes
As I mentioned, I found this adorable pasta assortment at Whole Foods for $2.99.  One bag would easily be enough to make 20 or more necklaces. If you don't live near one or yours doesn't carry it, I found a few options on Amazon featuring all lobsters
, all crabs
, or an American Flag collection with stars and flags
.
Making Your Necklace
First, have your toddler or preschooler sort the pasta by shapes and color.  A fun learning activity, it also makes creating patterns as you build your necklaces easier later.  Our pasta included lobsters, crabs and sea stars in red and white.
Next, it's time to add some blue to complete our patriotic craft assortment! Add 5-10 pumps of the hand sanitizer to the Ziploc bag, along with your blue food coloring.  We used gel food coloring (2 squirts).  If you use liquid, I would estimate you need 10-15 drops.
Mix the two together in the bag. Add a handful of each of the different white pasta shapes to the bag.  Shake until all the pasta is well covered.  Pour colored pasta out onto a paper towel lined cookie sheet to dry.  The alcohol in the hand sanitizer evaporates relatively quickly and pasta should be fully dry in an hour or two, though we let ours dry overnight.
Now it's time to string your necklace.  Cut twine in 18-24 inch lengths, and wrap one end with tape to prevent it from unraveling as you thread your pasta. This is an excellent fine motor skill challenge for small fingers!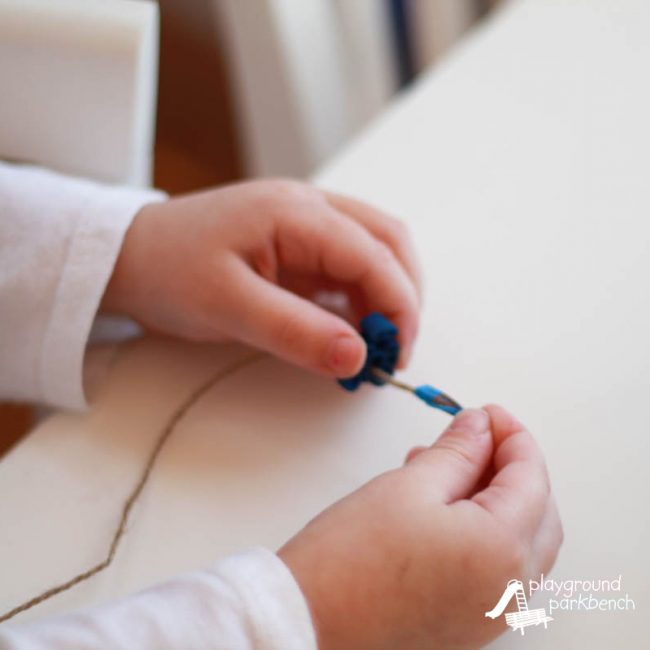 We threaded ours three different ways.  My toddler just ran twine through one hole on each piece of pasta so it all bunched together.  She made a necklace and bracelet and won't remove them days later!
For my preschooler, I showed her how to thread it in one side and out the other so the shapes laid flat and were more visible, creating a patriotic station necklace.  We placed each shape about 1 inch apart.
I also made one, hanging each piece of pasta from the twine and knotting it in place.
---
These Red White and Blue Patriotic Station Necklaces were so simple to make, and turned out so great! Make them as party favors, set it up as a kids activity table at your Memorial Day picnic, lobster bake or July 4th BBQ, or make them as a craft at summer camp. They are sure to be the perfect fit at all your summer festivities.
If you enjoyed this post, you will LOVE our Red White and Blue Cookies, no food coloring involved!  Be sure to also set the stage for your Patriotic festivities with our Kidmade July 4th Banner. You can find all our Patriotic fun here, and on our Patriotic board on Pinterest!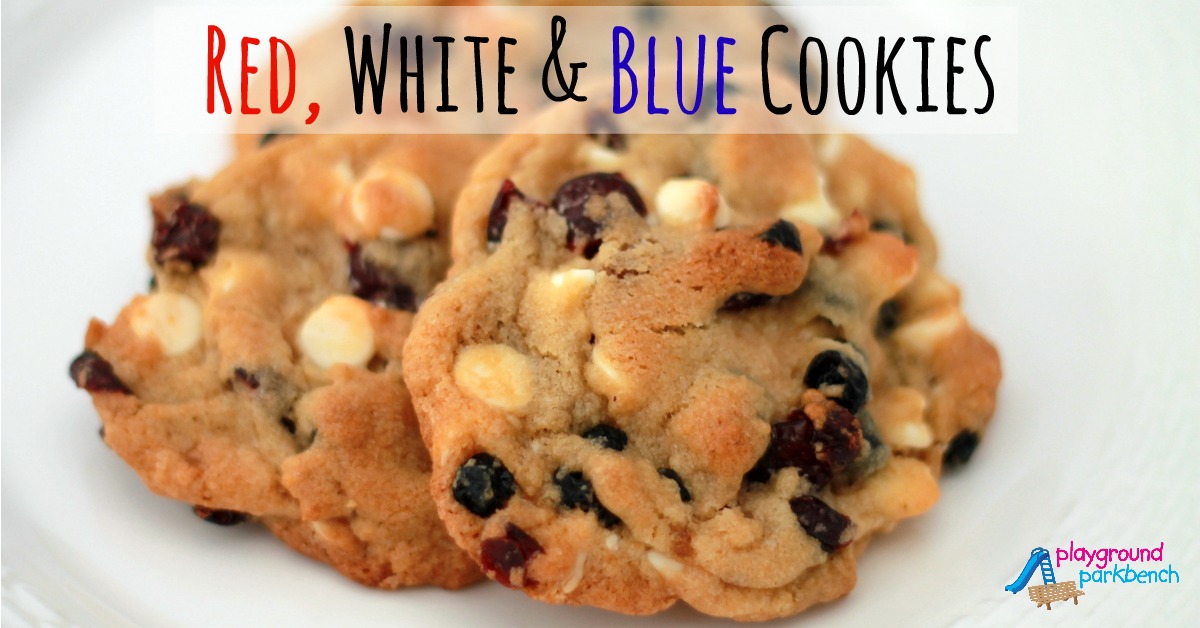 Love these? Pin THIS!