Sometimes our projects are invented out of the need for distraction!  This weekend we made one of my favorite family outings – to the pumpkin patch.  And of course the girls immediately wanted to carve our pumpkins as soon as we got home.  To buy us another week before turning our pumpkins into Jack-o'-lanterns, I created these free printable Jack-o'-lantern pattern cards for a Halloween-themed matching game, perfect for your Pre-K aged child or class!
---
Pre-K Jack-o'-Lantern Pattern and Matching Game
One of our family's annual Fall traditions is a visit to the Jones Family Farm Pumpkin Patch on appropriately named, Pumpkinseed Hill.  It is always a trip full of amazing photo ops, and this year, we got to bring not only our new Baby M, but my mom who is up visiting from Texas and had never been to a real, pumpkin patch before!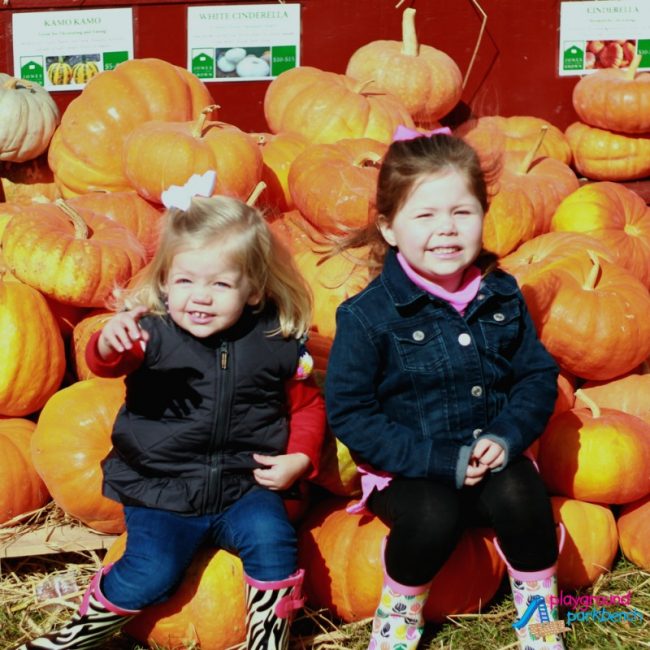 After visiting the pigs, chickens, and playing in all the adorable sets the farm puts out every year, we finally selected our pumpkins.  As soon as we got home, the girls of course wanted to make their Jack-o'-lanterns.  To buy us another week, I put together these fun Jack-o'-lantern pattern cards for the girls to practice designing their Jack-o'-lantern faces.
Supplies
This activity requires minimal supplies, and we had them all on hand already.
Supplies

Orange dessert plates
Black construction paper
Sorting tray
PGPB Printable Jack-o'-lantern Pattern Cards

Cost: Free to less than $5
Prep Time: Less than 5 minutes
Clean-Up Time: Less than 5 minutes
All of our printables are available FREE to our weekly newsletter subscribers.  If you haven't subscribed already, sign-up below!  Once your subscription is confirmed, you will have access to all our printables!
Jack-o'-Lantern Matching Game

To play the game, print out the face cards and cut them such that you have one Jack-o'-lantern per card.  Next, using your black construction paper, cut out shapes to build your faces: circles, squares, triangles, ovals and crescents for smiles.  Cut out more than you think you will need.  Big M, my 4 year old, did not want to disrupt her faces once she had made them, so we needed more shapes than I initially thought! Sort your cut out shapes into a sorting tray, give your child a plate and allow them to select a pattern card.
Big M liked to pick out all the shapes she needed first, and lay them out to create her own game plan, before placing them on her plate.
She decided we should use Mega Blocks to create a little card holder for her pattern cards too!  Gotta love the ingenuity of 4 year olds!
Monday Weekly #KBIGRoundUp
This activity is one of 12 as part of our Kid Bloggers of Instragram Weekly Activity Round-Up.  Every Monday, at 10AM ET, 12 of our favorite Kid Bloggers share a themed activity on Instagram – follow me @PGPBMeghan or #KBIGRoundUp to catch all 12 each week.  This week is PUMPKINS!  Catch a sneek peak of our feed below…
This message is only visible to admins

Please connect a business account on the Instagram Feed settings page in order to display hashtag feeds
Please see this post for more information.
---
This has provided lots of inspiration for our ultimate Jack-o'-lantern designs next weekend.  I can't wait to see what the girls come up with!  If you enjoyed this post, be sure to pin it and share with your friends!
Looking for more great Halloween activities?  Check out our Spider Web Jumble and all our favorite Halloween Activities on our Halloween board on Pinterest.