If you have ever seen Lil' M wield a paintbrush, you will understand why we take many of our crafting activities outdoors when weather permits.  At almost 2, she has a fierce independent streak, wants to do it herself, and when I try to help, she gets mad and paint brushes start flying!  To even protect the outdoor elements, like the side of the house, I tend to blow things up to life-size murals so the paper fully captures her reach.  And thus was born, the girls most often requested activity of this summer – Graffiti Art for Kids!
---
Graffiti Art for Kids
This activity was originally inspired by Fireflies and Mudpies Squirt Gun Painting.  And despite her warnings, I bought the cheap, multi-pack squirt guns at the Dollar Store and attempted to fill them with watered-down tempera paint.  It took FOREVER – the openings were tiny, and I resorted to filling them with the children's Tylenol syringe.  It took the girls about 5 minutes to empty them, after I had spent nearly half an hour filling three of them.  Enter Plan B.
Supplies
Dollar Store Spray Bottles (8 oz.)
Assorted Washable Tempera Paint
Water
Roll of craft paper
Painter's Tape
Cost: Less than $10
Prep Time: Less than 15 minutes
Clean-Up Time: Less than 10 minutes
On the same trip to the Dollar Store, they also had these super cool, small metal spray bottles, that were just the right size for tiny hands.  I had bought 4 of them, because they were $1, and I knew I'd find a use for them.
The disappointed little faces quickly brightened when two minutes after the paint ran out in the squirt guns, I emerged with four filled spray bottles.  I put 1-2 ounces of paint in the bottle, filled the rest with water, and gave them a few shakes.  The filled spray bottles lasted us through 3 different afternoons making life-size graffiti art murals before requiring refills.
To set up your mural, I use the painter's tape to tape up two strips of craft paper down the length of the side of our house.  This stretches from the ground, beyond the top of Big M's head and her reach, to catch nearly all errant paint spray.  The good news is – our house is siding and the paint is watered-down and washable, so even if some does get on the house, it sprays right off with the hose.
Guru Tip: It works best to tape up the bottom layer first, then the top one, with a few pieces of tape tucked on the underside of each to hold it down from the wind.
It did take Lil' M a few attempts with the spray bottles, including a few direct shots to her face, before she figured it out.  It definitely takes some hand-strength to squeeze the sprayer, but it makes for a great activity to strengthen those little hands and improve fine motor skills.  Big M quickly discovered she could adjust the nozzles to make more direct spray with big drips or finer spray that was less concentrated.  She was a fan of the drips!  I love that the murals show their different eye-levels!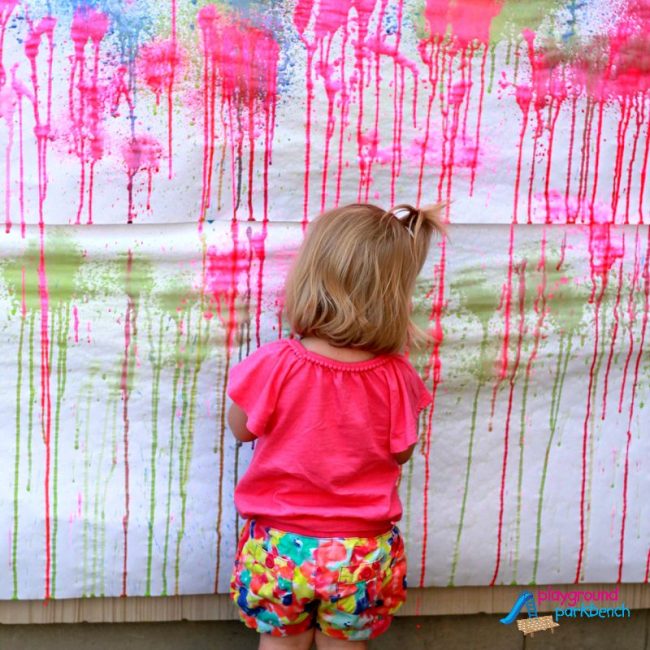 Another reason we like to craft outside?  Lil' M's attention span is miniscule compared to her older sister.  While Big M will paint for hours, Lil' M flits between painting and playing.  She's all about gross motor activities – riding her tricycle, playing with her mini-golf set, kicking the soccer ball.  At the end of this painting foray, she decided to make a getaway with all the spray paint…
… She got caught!
And since our only rules for this activity were no spraying the house or each other, that afternoon's mural came to an abrupt end.  But boy did they have fun in the interim!  And the best part is clean-up is super easy – I roll up the mural and throw it in the trash, and hose off the kids, the house and the driveway.
---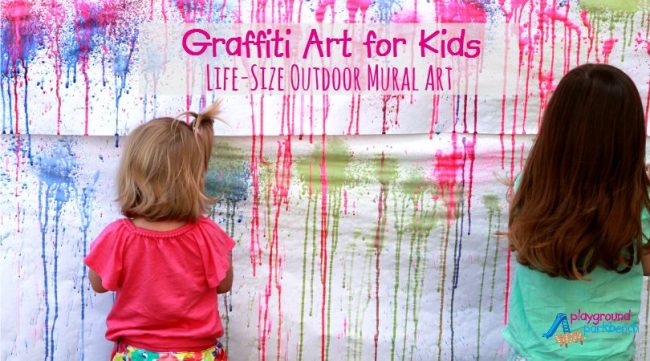 The girls still request this activity at least once a week… any time they spot the bottles on the shelf in the garage.  What's your favorite way to craft outside?  Have you ever tried any graffiti art with your kids?
If you enjoyed this post, you might also enjoy Swatter Mural Art and Massive Floor Murals. For more awesome creative outdoor ideas be sure to check out these 50 Awesome Summer Activities for Toddlers from Busy Toddler and these 15 Awesome Outdoor Action Art Ideas from Hello Wonderful.