What better way to celebrate Earth Day than to get your hands in the dirt and start a garden?  That's exactly what we did last year, when we started our seeds… which launched a whole study of seeds and germination.  This year, we are kicking things off in the garden again, but adding a little whimsy to our garden with festive DIY Garden Markers.  And in case you don't LOVE ours, there are 9 more great ones to choose from!
---
 Top 10 Garden Markers for Earth Day
Garden markers can come in all shapes, sizes and materials… last year, we made quick and dirty ones just using Sharpies on craft sticks, and while they did the trick for marking our seedlings, they did not stand the test of time.  Here are some options that will be more durable, while also adding some color and whimsy to your garden.
Wooden Spoon Markers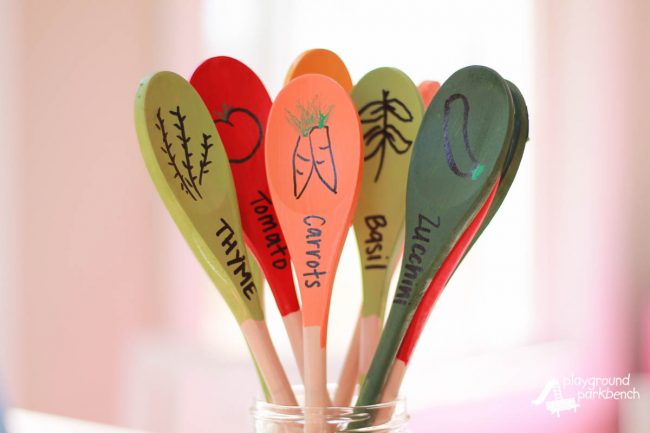 We made these DIY Garden Markers last month, and they have been quite a hit.  We gave them along with all the herbs to match to my mother-in-law for her birthday last weekend, and all the guests were clamoring for the how-to.  They have also appeared in countless Mother's Day DIY Gift round-ups, and are taking Pinterest by storm!
I also love these Striped Wooden Spoon Garden Markers from A Dash of Meg Nut.  I love the assortment of wooden spoons and spatulas, unified by the vibrant, bright striped pattern.
Garden Markers from Sticks and Stones
While our craft stick markers were quick and didn't last long, these more durable versions using paint stirring sticks and assorted stones are great options!
I love these River Rock Garden Markers from West Valley Moms Blog.  The natural stones feature picture and word labels for all your garden treasures.
Want to get the whole family involved? Let kids of any age Make Garden Markers by Painting Stones for this version from Adventure in a Box.  Once they add the color, you can add the finished details for more character.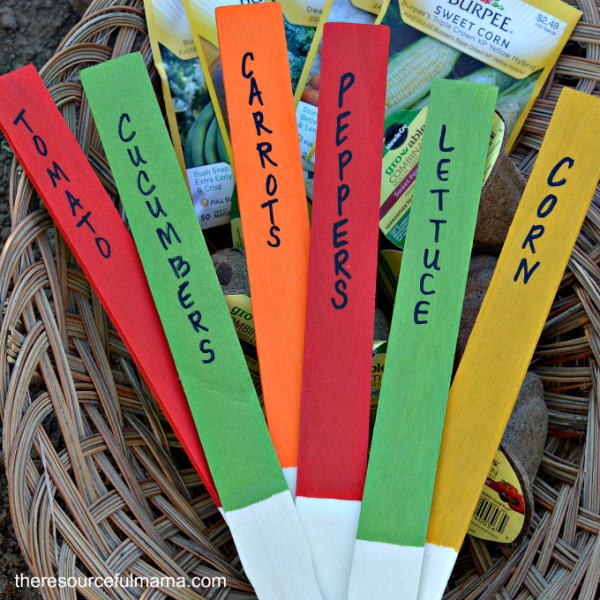 The Resourceful Mama made these Simple Garden Markers from Paint Sticks.  They add great color to your garden, while serving their purpose.
Living Well Spending Less also uses paint stirrers for their DIY Rainbow Garden Markers, but I like their fun labeling twist!

More Garden Marker Options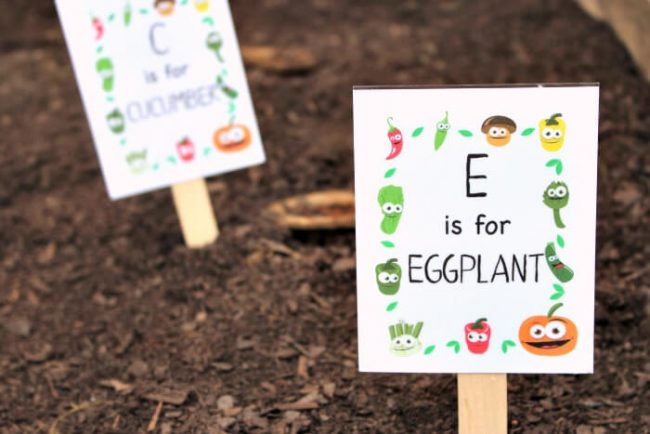 For some other non-traditional options, you can print your own garden markers from Sunny Day Family! Her Printable Alphabet Garden Markers are great for preschoolers working on letter recognition.
For craftier DIY garden markers, Wellnesting turned clay into understated, garden elegance with these Stamped Clay Garden Markers.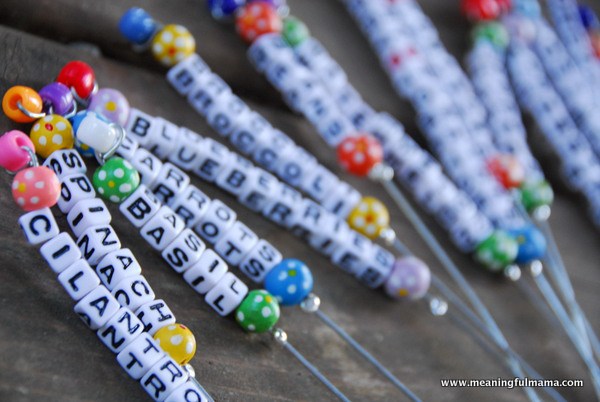 I also totally love these colorful Beaded DIY Garden Markers from Meaningful Mama.  I think these are on our list for next year's garden!
And last but not least, I love how Simple Details upcycled building bricks into Brick Herb Garden Markers.
Gardening with Kids
Gardening with kids provides so many amazing learning opportunities!  Let your little gardener record all their garden observations and document the plant life cycle with our Garden Observation Journal!
More Ways to Celebrate Earth Day
If you are in search of more ways to celebrate Earth Day this year, you can find loads more from my friends at the links below! You can find all of these and more on my Spring board on Pinterest!
Top 10 DIY Recycled Toys | Our Whimsical Days
Top 10 Earth Day Printables for Kids | Living Life and Learning
Top 10 Cardboard Box Toys | Craftulate
Top Ten Upcycling Projects | Teach me Mommy
Top 10 Lorax Crafts & Activities for Earth Day | Sunny Day Family
Top 10 Earth Day Food Tips | Our Good Life
Top 10 Earth Day Fine Motor Skills Activities | Happy Brown House
Top 10 DIY Bird Feeders from Recyclables | The Resourceful Mama
Top 10 Earth Day Sensory Activities | Adventures of Adam
---