I love Christmas, don't get me wrong… who doesn't love stockings hung over a crackling fire and a tree full of ornament memories and twinkling lights?  But there's something about the green grass, birds chirping and warmth of Spring that adds a little extra sunshine to Easter.  I love shopping for the girls' Easter baskets, and honestly, I started over a month ago, picking up little odds and ends that reminded me of them, and filling an Amazon Wish List with small toys I wanted to order.  And I've managed to successfully fill them both this year without any candy too!  Check out the full list of non-candy Easter basket ideas below.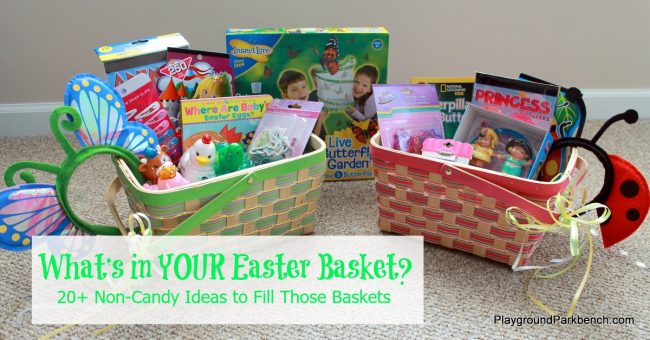 ---
 What's in YOUR Easter Basket?
As you may remember from my Christmas posts, my family took holidays to a whole new level.  Easter was no exception.  My Grandfather used to hide Easter eggs across an acre at his ranch when we were little, and after he sold it, he hosted two separate egg hunts at his house – one in the front yard, with money eggs for grown ups, and one in the backyard with candy eggs for kids.  My mom continued the holiday extravaganza with fully-stocked Easter baskets, though she often skipped the candy (or kept it at a minimum), since we were sure to get plenty from egg hunts and the grandparents.  So just what exactly did she (and now I) fill those baskets with?
Books
As a teacher, you can bet there were always books in our Easter basket.  My girls are getting books this year too!  A Karen Katz book for Lil' M, a butterfly non-fiction book for Big M, to go with the BIG Easter surprise for this year, and if she had started asking all her questions earlier, I would have also gotten her The Easter Story… it's on the list for next year!  Books are great for older kids too!
Small toys/collectibles
Every child has something small they play with or collect that is perfect for an Easter basket.  This year, Big M is getting a Jasmine and Aladdin for her Fisher Price Little People Disney Princess Palace, one of the few she doesn't already have.  Lil' M is getting a few more animal cars for her VTech Smart Animals Playset.
For boys, you can do matchbox cars or Star Wars figures.  For older kids, Lego sets are a great option.  As kids, I always remember getting Silly Putty in our Easter baskets – that little egg container makes it holiday apropos.
Face Paint
Big M got her face painted for the first time last summer at a summer festival.  Then again, at Daddy's office summer picnic.  Then multiple times for her Halloween costume – and it's become an obsession ever since.  Face painting is great fun, and even more fun when you can wear it and wash it off in the outdoors, making it a perfect Easter basket filler.

Butterfly or Ladybug Kit
This is the big surprise for the girls this Easter – a grow your own butterflies kit.  I won't lie – I think I am as excited to do this as they are going to be.  It comes with the enclosure and a card to mail away for your caterpillars when you are ready to grow your butterflies – which I'm sure we will be mailing out Easter Monday.  Don't worry – we will post all about our butterfly growing.  And if you've already done butterflies, there's a kit to grow your own lady bugs too!

Cascarones
My personal favorite Easter basket filler – ¡Cascarones!  Instead of candy-filled eggs, offer real egg shells full of fun… to learn more about what cascarones are and how to make them, read our post here.
Craft Supplies
A great category to fill Easter baskets with is craft supplies.  It's no secret we do a lot of crafting at our house, or as Big M likes to call them, "Projects!"  Since I am buying the stuff anyway, why not use it for basket filler?  You can also find many of these at the Dollar Store.
Outdoor Fun
Easter truly signals the coming of Spring – warmer weather means more time for fun outdoors.  That makes outdoor supplies, like beach toys and sidewalk chalk, the perfect Easter basket stuffer!
Bubbles
Sidewalk Chalk
Kites
Sunglasses – I am partial to Babiators (pricey, but indestructible, and perfectly sized for little faces!)
Flip flops
Sand toys
Girly 'Stuff'
As mother to two girls, I will admit, this category doesn't apply to boys – but boy, do both my girls love every bit of all of it!  And the good news is – girls never age out of this stuff.  As a 30-something year old, I'd happily accept a basket full of the stuff still!
Hair accessories – I got Lil' M some clips to keep her new cute little bob out of her eyes, and Big M some colorful rubber bands.  And for some added holiday fun, I found these super cute butterfly and ladybug headbands at the Dollar Store.
Nail polish – one of my girlfriends just hosted a Jamberry party.  I've never done it before, but I ordered some to try, and they make 'Junior Jams' so I ordered some for the girls too (non-toxic, no dry time!).  I also got Big M some quick dry polish, just in case they don't arrive in time.
Lip gloss/chapstick
Edibles
Last, but not least… just because theses are 20+ Non-Candy Ideas, doesn't mean I don't include anything edible.  I often fill up the Easter baskets with some Annie fruit snacks or individual serving size crackers or bunny grahams – they are organic and, bonus, bunny shaped!
---
Did I give you some new ideas?  What do you put in YOUR kids' Easter baskets?  I would love to see some photos of your baskets Easter morning – share them with us on Instagram, @PGPBMeghan #EasterBaskets!  You can check out all our Easter activities here and on our Easter board on Pinterest.  Happy Holy Week everyone!
Want to save it? Pin THIS!